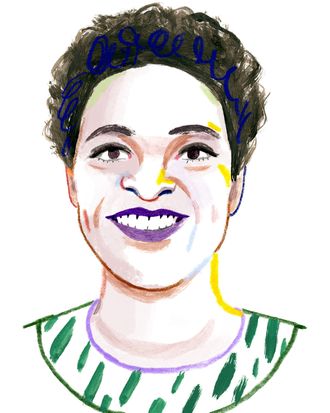 Elvira Dyangani Ose.
Illustration: Rebecca Clarke
Elvira Dyangani Ose is a senior curator for Creative Time and a professor at Goldsmiths University in the U.K. She has curated exhibits by Theaster Gates, Nástio Mosquito, Betye Saar, and Carrie Mae Weems, and was a former curator of international art at the Tate Modern. She splits her time between London and New York, and had her first child last year. She likes to really get involved with a local community when she's curating in their city. Here's how she gets it all done.
On what it's like to curate an exhibit in a foreign place or city:
While I was preparing for the opening of a show I had curated at the Fondazione Prada in Milan in July, I lived there for two or three weeks. I tend to rent an apartment in places where I'm curating because I believe it is important for the curatorial experience to embrace context: the place, the communities in that particularly area, the people, the people in the institution I work with. Generally speaking, I tend to wake up very early. At the time, I was five months pregnant, so it was a little different, but typically I'm up at around 6:30 or 7. I work on my own a little bit, sending emails, when I know that none of my colleagues are around.
I would say I'm a hands-off curator. I like to start a conversation with the artist and the producer of the show. What happens in the space is a result of a longer conversation we've had over time. We talk with communities and individuals, and we are questioning their specific concerns or a specific contingency of the time, and all of a sudden that is under the spotlight at the time of the exhibition.
On what an art curator does to stay on top of changing times and changing perspectives:
I've always said that my life is straddled between the curatorial world and the academic world. You have to ground your knowledge somewhere. What are the current reflections? What are the current ideas? A colleague said that we should write history with the making of a work of art. Artists are public intellectuals. They help us to grow, to interrogate, to change, in a very particular way.
It shouldn't only be individuals that engage with works of art, but institutions in these cities and the communities. Together, we are academic historians. I think artists are public intellectuals, curators are public intellectuals, but so are members of the community who are participating in making this history, too.
On how an art curator sharpens her sense for finding interesting artists to work with:
I tend to work with artists who question things that they've developed over time. It makes the prospect of working with these artists so satisfying. For example, when I was curating the Theaster Gates exhibition, we were having a lot of conversations about reflections of masculinity, about how we believe that there is a crisis around what masculinity even means. He was thinking of the idea of the hardware store as a source of knowledge. It's not only a store, it's a space where the community gathers. That became very important.
What you need to do to find these important voices is to go where they are, to have a conversation with the people that are there. It's important to do research. You have to be in the field. I'll go to Johannesburg, or Accra, or Kumasi, or Nairobi. I will meet the people there and try to understand the context of their works. These are the most exciting experiences. My job is so interesting because a lot of it entails bringing knowledge that is already available to an international audience.
On what it's like to be a curator in a time when the arts are threatened:
I remember having a conversation when Obama won (this was a time when I was living in Ithaca). For the first time, I was talking to people who were saying, "This is my president." If you think about that, this means that the presidents up until then didn't feel the same for those people. Now, there are more people saying about the U.S.' current leader, "That's not my president." That's interesting!
All of a sudden, we have a conversation where a large part of the population, they are saying, "This is not my president." What happens to certain communities actually happened to all of us. This should be an opportunity to start thinking about what you can do beyond discourse that is enclosed in your community. This is happening to all of us, not only in the States but in the world. It's time to understand that this is for all of us to learn and grow from. It could be an opportunity to engage with a bigger group of people. We need to explore. We should have an opportunity to leave aside the limits that we had before.
On what she hopes her first child will learn from being around all that art:
This is my first child. I was five and a half months pregnant when I was installing the Theaster Gates exhibit. My late father was an architect; we would see him drawing all the time. When my child was born, I used to think about how he would see me, if I'm working or if I go to museums. I want him to experience that. At least until he decides, "Mommy, I'm so tired of museums, let me go play basketball now."
This interview has been condensed and edited for clarity.