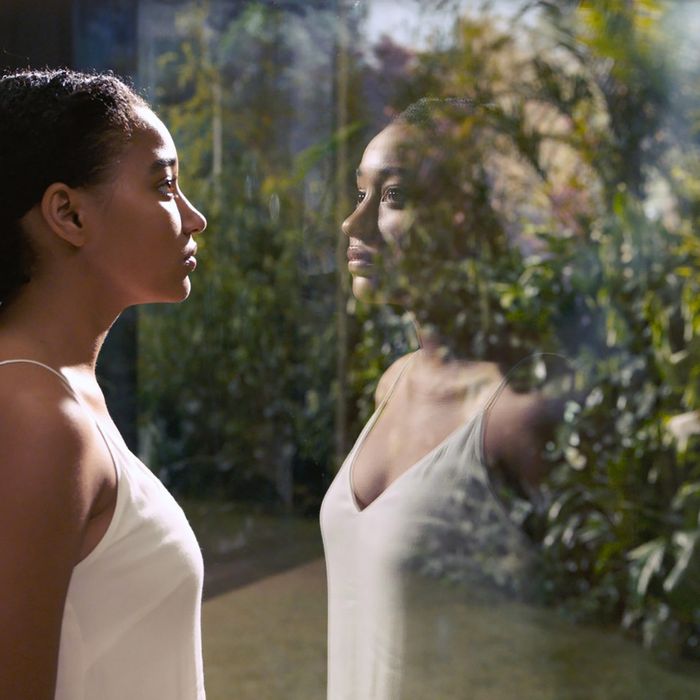 Like any other young adult reader, I had a phase in which the only thing that interested me was teen-disease porn. I loved those novels about beautiful young women who suddenly contracted some sort of rare terminal illness and had to learn how to really live and fall in love before expiring, too soon. Too soon.
I wrote Lurlene McDaniel fan letters about Till Death Do Us Part. (Spoiler alert: Death parted them real soon.) I read A Time for Dancing by Davida Wills Hurwin like 80 times. Eventually I graduated to Jodi Picoult and her deeply romantic yet surprisingly graphic death narratives. But if it was an adolescent dream to receive my first (and last) kiss while bravely coughing in a hospital bed, I had trouble seeing myself in those books and movies —not just because I didn't have a terminal illness, but also because every one of these heroines was basically a variation on Mandy Moore in A Walk to Remember. The Very Sick Teen in Love was just another narrative that seemed reserved for white girls.
"When I was growing up, it was the same thing," YA author Nicola Yoon told me over the phone. "Like it was only Ali MacGraw. I hardly ever got to see myself or anyone who looked like me. The first time was in Toni Morrison's The Bluest Eye."

Enter Everything, Everything, Yoon's weepy sick-teen YA novel, the film adaptation of which opened last week. The movie follows Madeline Whittier, an 18-year-old with a rare autoimmune disease that means she can't leave the house without getting horribly sick. She can't go to classes or the beach. She cannot have visitors. She cannot go to prom. For some reason that I'm fairly certain isn't medical, she has to wear all white. One cold could kill her — so, instead of having real-life friends, she just hangs out on internet forums. Until she meets Olly, the boy who makes her risk it all! By leaving the house!
It has everything you could ever want out of a teen movie: Olly is the emotionally intelligent, slightly troubled skater-boy of your teenage dreams. He has the kind of hair that could "save your life," as Maddy says. Mac DeMarco is on the soundtrack. And for once, the dramatically ill, lovesick heroine who risks her life for the messy-haired boy she loves is a bi-racial teenager played by Amandla Stenberg. It's like Bubble Boy, except she's black and a woman and stuck in an amazing mansion in California, not a giant hamster wheel.

Yoon says she's always a little shocked by the fact that this — having a biracial YA heroine — remains remarkable. "We live in a diverse world and the truth is to write diversely — that's the world we live in," she says. "It seems so simple, and yet it's 2017 and we're still talking about this. It's astonishing." Looking across the the young adult landscape, though, she didn't see anyone who looked like herself or her daughter, who is black and Korean.
"Maddy looks the way she does because my little girl looks like that. I didn't want her to have the same experience I did, not being able to see herself in the book when she grew up. I think that everyone should see themselves as a hero of the story."
And besides "Will there be a sequel?" that's the feedback Yoon has gotten the most from fans: how grateful they are to finally see themselves in one of these stories. "I get a lot of emails, and for this book, saying I've never seen myself in this book, I've never seen a black girl or a biracial girl," she says. Yoon has created a universe where qualities like fragility and vulnerability (and the chance to be loved by a dopey-eyed dude) are not only for heroines with the pallor of a Victorian consumptive. And, most importantly, she does all of that without heavy-handed gesturing to race. "I get a lot of people saying they were glad it wasn't primarily about race," she told me. "That it was just about being in love."
Maybe there's something about a fictional universe that romanticizes teen illness that makes it easy for the issue of race to take a back seat. There are so many other things to worry about — overprotective parents, the best way to run away from said parents, figuring out if it's okay to have sex when your bones are so fragile they might break — that there's little space for much else. Maddy is a black teen, her relationship is an interracial one, but her story is no different than any other terminally ill teenage heroine with a crush. "We figure out that we're more alike than we are different," says Yoon. She's paraphrasing Maya Angelou, who would probably be ecstatic to know that her words can apply to those finally getting to see themselves as a teenager with a debilitating illness and a skater boyfriend for whom to live.