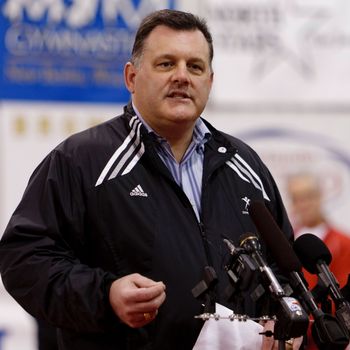 Steve Penny.
Photo: Bob Levey/Getty Images
A Los Angeles County judge ruled that the ex-CEO of USA Gymnastics can delay his deposition in a sexual-abuse case so he can network at the Indianapolis 500.
Steve Penny resigned as president in March following the sexual-assault allegations against team doctor Larry Nassar. The deposition is related to the subsequent lawsuits against Nassar. As of February, over 80 women have accused Nassar of sexual assault, according to Deadspin.
The suit at hand, filed by a U.S. national team member from 2006–2011, says that Penny, "oversaw a wide-ranging, calculated concealment of numerous instances, complaints, and allegations of sexual abuse and misconduct among the participants and members of USA Gymnastics," per the Orange County Register.
The Register also reported that the attorneys representing the former gymnast offered five dates in May for the deposition, but Penny is unavailable until June 5 so he can attend the Indianapolis 500 on May 28. The following email from Penny's attorney Daniel White was obtained by the Register.
Steve Penny is no longer employed. Because of his former position, he has many contacts who will be attending Race Week. He intends to participate in as many pre-race function as possible in an effort to connect with those who may be of some assistance in his re-employment efforts. I can assure you he feels the need to do this is critical to the needs of his family.
The gymnast's attorney, Vince Finaldi, replied with a resounding "no."
I hope you can step back for a second, evaluate, and see how ludicrous your client's position is. We have motions to oppose and he can't participate in discovery because he has parties to attend. That is just beyond the pale. Especially considering how many children were sexually abused on his watch. It just supports our position that he never really did care much about the kids. It was all about his job and the bottom line.
Finaldi followed up that evening with, "exactly how many parties is he going to be attending? It's just inconceivable to me that he is unavailable at all until June 5 because of these soirees."