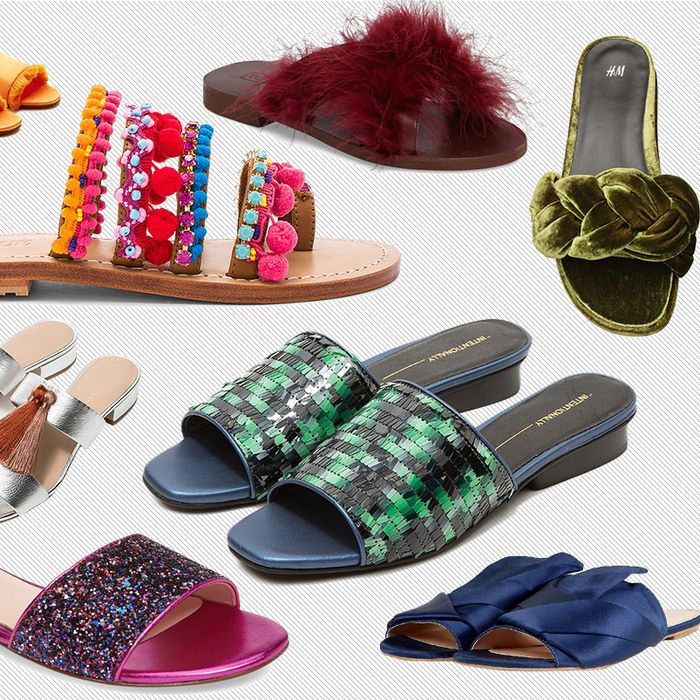 We're approaching peak wedding season, and if a fridge covered in save-the-dates with vague dress codes like "beach chic" fills you with panic about having nothing to wear, worry not. The Cut's devoting a full week to making it easier to get dressed when it seems like you're spending every other weekend raising a glass to the happy couple.
There comes a point toward the end of every wedding when you're fairly drunk and the DJ decides to finally play Beyoncé. Those high heels that looked so amazing in every photo have turned from tolerable to pure hell so you do the only logical thing: Kick them off and go barefoot. If this scenario sounds familiar, it might be time to swap those stilettos for more comfortable (but still formal) flat shoes.

It's tempting to equate dressing up with painful heels but there are plenty of fancy slides that look just as good with a cocktail dress. And while you might stand up straighter in pair of satin pumps, wearing these flats signals a different kind of confidence. The woman who wears them knows she doesn't have to suffer to look good. So the next time you put together an outfit for a wedding, try a pair. Then thank me when you're on the dance floor, throwing your hands up to "Single Ladies."
Try these with a bright-red pedicure — the two colors will contrast nicely.
Original Price: $78
The combination of the shredded detailing and bright-orange satin makes these look far more expensive than they cost.
The rich velvet and braided detail give these a Renaissance-princess vibe.
A giant rhinestone detail takes these slides up a notch and makes them black-tie wedding worthy.
Photo: afront
Remember those fluffy mules glamorous women would wear with a satin bathrobe in vintage movies? This is the modern-day equivalent.
Photo: afront
You really can't go overboard with a flat shoe so why not buy a pink one covered in sprinkles?
The little green-and-black metallic scales on this pair give them an artsy touch that's the ideal complement to a minimalist dress.
Photo: REVOLVE STILLS #1
Nothing could be more appropriate or festive for a beach wedding than these.
These are the most expensive of the group but the leather is buttery soft and will hold its silver sheen. Plus, they happen to be marked down by $45.
Original Price: $295
If you buy something through our links, New York may earn an affiliate commission.