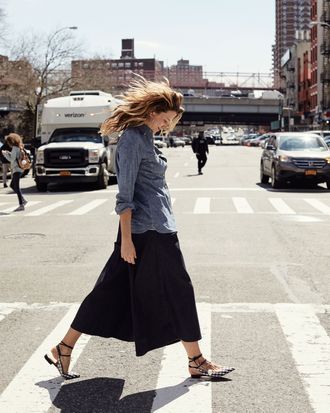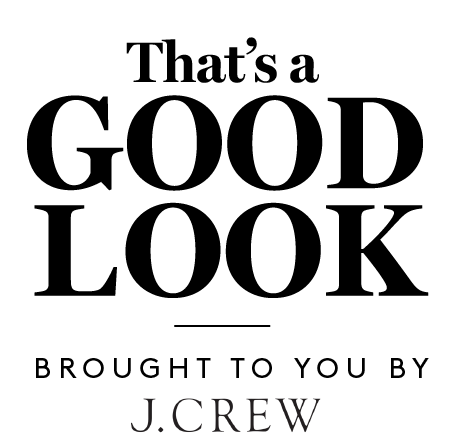 That's a Good Look is a column devoted to the art of simple styling, with a twist. Do try this at home.
Not to be the bearer of bad news, but we're barely midway through the unflattering pants renaissance of the 2010s, so you may as well strap in and get comfortable. Wide pants, frayed pants, ankle-cut jeans, pants that fall a little above the belly but not enough to be shapely, they're everywhere, and when a certain style appears everywhere, no one is free from its influence. Black culottes and a button-down chambray shirt? You've got four or five variations of both just taking up space in your drawers. And you're not alone.
So what can be done to jazz up that one outfit everyone has? Think about prints. Think about pant leg length. Think about an unconventional tuck. All those other unflattering pants you own will start stepping their game up the minute they look down and see gingham, ankle-tie flats working overtime to bring something exciting to a familiar go-to. A gold earring never hurts, either. Let these small touches go the extra mile for you. Now that's a good look.
Photos by Erik Tanner; styled by Danielle Nachmani; hair by Megan Robinson of White Rose Collective; makeup by Allie Smith of Bridge Artists; modeled by Nane Feist; photo assistance by Elizabeth Stemmler; style assistance by Caroline Edison.
That's A Good Look is a new discovery platform from The Cut featuring impressive women with impressive style. While each product featured is independently selected, That's A Good Look may include paid promotion or additional compensation from our partners.