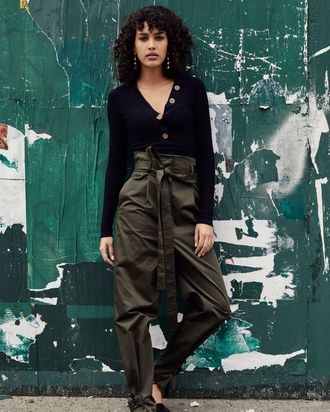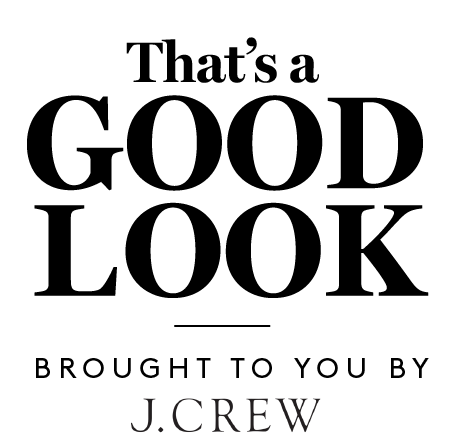 That's a Good Look is a column devoted to the art of simple styling, with a twist. Do try this at home.
If the dream is to be as cool as Rihanna while as comfortable as Roseanne, then the options for dressing can feel few and far between. Loose, fabric-y pants are great in theory, but if they hang a little weird, you might wish you'd just thrown on those sweatpants you bought in bulk from Costco. A cozy Henley has the built-in benefit of being hygge (on-trend) but the threat of making you feel like a teen on a date at the drive-in.
In this look, it's all about shape and details. Army-green slacks with a super-high waist and a loosely tied ribbon do you the favor of being tailored while also cozy, cool, and casual. Espadrilles echo the aesthetic — more ribbons to tie — and a string of gold globes that double as earrings are a nice touch of disco glamour. The Henley gives it away that you're still easygoing, though an asymmetrical button structure is the subtle detail that will make you more Rihanna than Roseanne. Now that's a good look.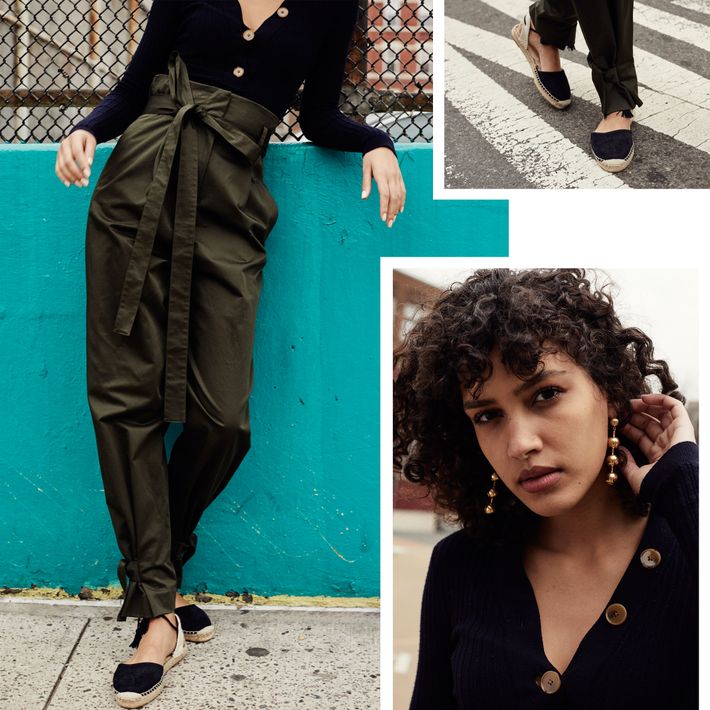 Photos by Erik Tanner; styled by Danielle Nachmani; hair by Megan Robinson of White Rose Collective; makeup by Allie Smith of Bridge Artists; modeled by Jonelle Alert; photo assistance by Elizabeth Stemmler; style assistance by Caroline Edison.
That's A Good Look is a new discovery platform from The Cut featuring impressive women with impressive style. While each product featured is independently selected, That's A Good Look may include paid promotion or additional compensation from our partners.