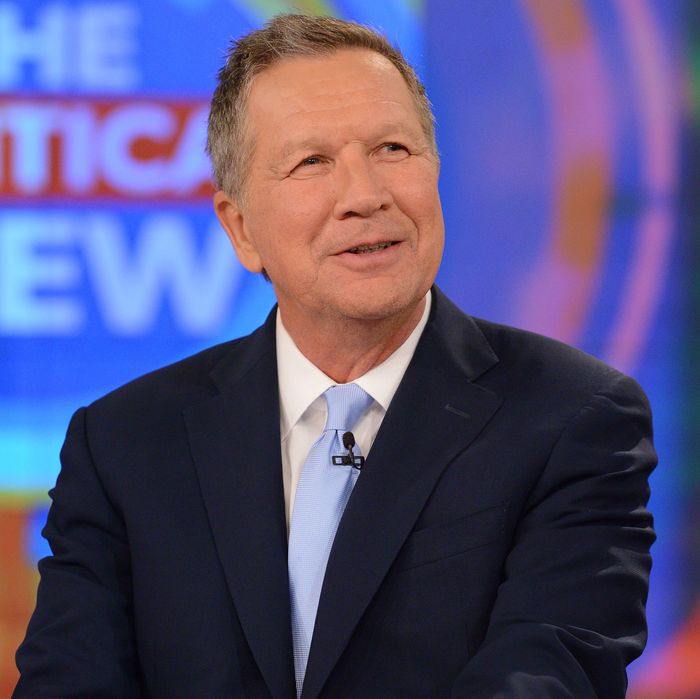 John Kasich
Photo: Lorenzo Bevilaqua/ABC via Getty Images
During the Republican primary, America got the chance to hear where Ohio Governor John Kasich stood on issues facing the country. But not until today did we get to hear his stance on the most important issue of all: the feud between Taylor Swift and Katy Perry.
In a surprising turn, it turns out that Kasich is something of a savant when it comes to inane pop-culture gossip. Here's what Kasich had to say when The View co-hosts asked him to weigh in on the feud this morning:
"It's shocking everybody, you know what the thing is, don't ever steal anybody's dancers is the message. Maybe they're just trying to get some extra press, though I don't know Taylor Swift needs any more press, she kind of went into hiding and now they're saying she's going to emerge with a new sound. She does have a new sound … she put out the song 'I Don't Want to Live Forever' with Zayn, who's a One Direction guy, and it's a lot different. Then she wrote this song with Calvin Harris who's the big DJ, you all know that. And that was a song called Lightning that Rihanna … you know, Taylor did date [Calvin] for a couple weeks."
Okay, so that last line might be Fake News, but this recap of events is still more comprehensive and informative than the 80 percent of the official communications put out by the Trump White House. Just imagine the strides we could have made on the Swift–Perry peace process if Kasich had made it into office.