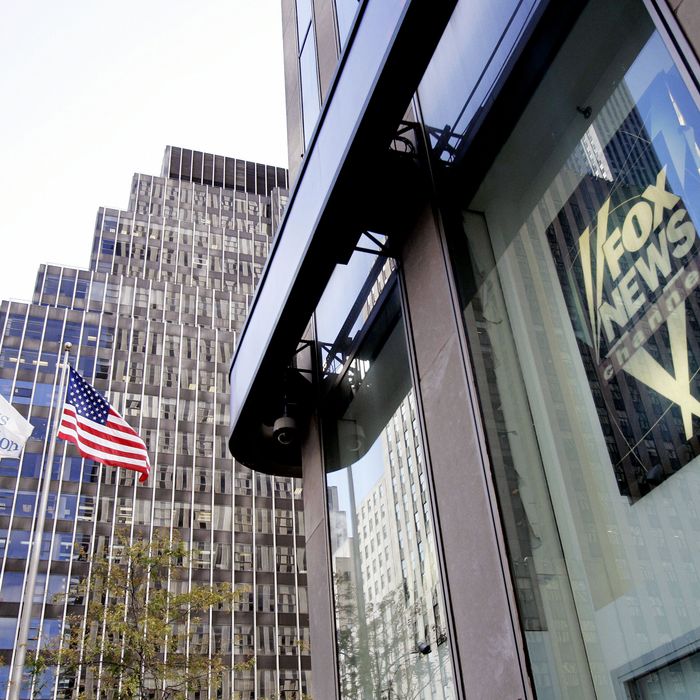 More female employees are suing Fox.
Photo: Getty Images
Bill O'Reilly, Roger Ailes, and Bob Beckel are all out at Fox News, but the network's legal nightmare is ongoing. On Monday, yet another lawsuit was filed against the network by two female employees who said they faced racist harassment and were fired over their pregnancies, and a third who said she faced regular sexual harassment from a male colleague.
The latter, which was filed by Fox News Radio shift editor Kathleen Lee, claimed that radio anchor Ron Flatter subjected her to "unrelenting sexual harassment" after he was hired in 2013. According to the suit, Flatter "used sexually explicit and inappropriate language," called female colleagues "sluts" and "whores," and referred to one female anchor as "the Title IX anchor." He would allegedly time how long it took Lee to use the bathroom, repeatedly call her "useless," and comment on female anchors' body types, hair, and attractiveness.
The suit also alleges that Flatter's behavior was catching on — because of his comments, "other male employees were emboldened to similarly demean and threaten female co-workers," it reads. In one instance, another male colleague told Lee he hoped she "choked to death," which prompted a female co-worker of Lee's to email Fox News Radio VP Mitch Davis. "No one should have to deal with abuse like that," the female co-worker wrote. "Please address this ASAP."
According to the suit, Davis did nothing to address the situation, and when Lee brought the issue to him herself, he told her to "deal with it." She went to an HR higher-up, but that person also "looked the other way and failed to act."
The other two plaintiffs say Judith Slater — the network's former controller, who was fired in March — made racist comments to them, and both said they were fired shortly after telling their bosses they were pregnant.
Fox is working on an overhaul of sorts, but many of the people who made the network's sexist culture possible are still in place. "All of the senior leadership is the same," Margaret Hoover, a former Fox employee, said when discussing O'Reilly's firing back in April. "The culture is still there because the executives are still there."
Update [5/22/17, 4:20 p.m.]: After publication, the Cut received the following statement from Fox News:
We have consistently demonstrated that the Company is committed to a diverse workplace that is free from all forms of discrimination, takes any complaint of discrimination seriously, and in these particular matters took prompt, effective and, where necessary, strong remedial action. We believe these latest claims are without legal basis and look forward to proving that the Company at all times has acted appropriately, and lawfully, in connection with these matters.