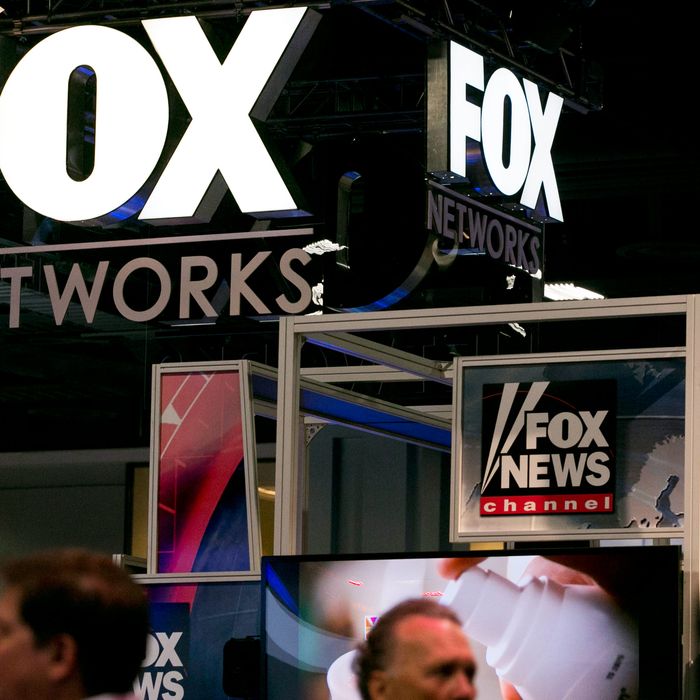 Fox News.
Photo: Andrew Harrer/Bloomberg via Getty Images
After being hit with a slew of sexual-harassment and discrimination claims, Fox News encouraged its employees to report harassment directly through a "hotline." But on Thursday, a Fox News radio correspondent filed a new lawsuit against the company, claiming she was fired for actually using the hotline to complain about sex discrimination.
As Reuters reports, the lawsuit alleges Jessica Golloher, who covers North Africa and the Middle East for Fox News Radio Network, followed protocol in April when she reported sex discrimination to an attorney at Paul, Weiss, Rifkind, Wharton & Garrison, the firm retained by the company to conduct an internal investigation into harassment complaints. However, Golloher was told the following day that because of budgetary concerns, she'd be laid off by August.
Filed in New York state court, the lawsuit claims the company isn't addressing complaints through the harassment hotline. Instead, Fox is using the hotline "to paint the targets on the back of employees."
Golloher's attorney, Douglas Wigdor, told Reuters, "Terminating an employee within 24 hours of utilizing the 'hotline' … is yet another indication of (Fox's) lack of oversight and retaliatory animus for those that are brave enough to report unlawful conduct." Meanwhile, a Fox News spokesperson told Reuters that the lawsuit's claims were baseless.
In the lawsuit, Golloher claims that a male London-based reporter — who didn't speak Russian — was chosen to be Fox's lead reporter for the 2014 Winter Olympics in Sochi, Russia, despite the fact that Golloher was based in Moscow at the time. Furthermore, she also alleges Dave Anthony, a Fox Radio anchor based in New York, regularly spoke down to her and acted as if she were a "vapid, unintelligent female reporter." Golloher is seeking unspecified damages.
The news comes just days after Fox News online reporter Diana Falzone hit the company with yet another sex-discrimination lawsuit, which at the time brought the total number of lawsuits against the company to at least 15. In her suit, Falzone claimed she was demoted after publishing an essay in January on Fox News' website about suffering from endometriosis. Like Golloher, Falzone said she filed a formal complaint on the 21st Century Fox "hotline," but the company did not address the matter.