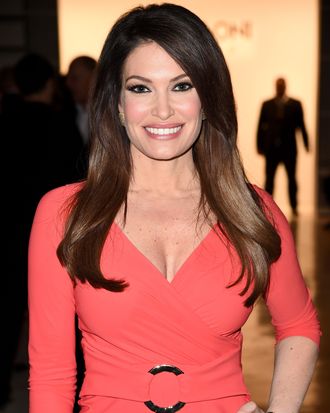 Kim Guilfoyle won't be taking over for Sean Spicer.
Photo: Nicholas Hunt/Getty Images for New York Fashion Week: The Shows
When the New York Times reported last week that President Trump was considering a major staff shake-up, noting that he was "increasingly dissatisfied" with Sean Spicer's performance in particular, Fox News host Kimberly Guilfoyle lost no time in suggesting that maybe she could do a better job.
"I'm a patriot, and it would be an honor to serve the country," she said. "I think it'd be a fascinating job … you need someone really determined and focused, a great communicator in there with deep knowledge to be able to handle that position."
According to the Washington Examiner, President Trump picked up on her not-so-subtle message, but it had the opposite effect: Instead of endearing her to the president, Guilfoyle's remarks reportedly made him "furious." (She also called Spicer a "very nice man" who "puts a lot of effort into it," which the White House reportedly saw as a "diss.")
"Trump gets angry every time he sees those stories," an "insider" told the paper. "He believes that she is using him to better her own situation."
Guilfoyle, who co-hosts Fox's The Five, quickly backtracked, releasing a statement saying her current job is "tough to beat." She also happens to be under contract with Fox for at least three more years, according to the Examiner — which is good, because if there's one thing Trump is great at, it's holding grudges.