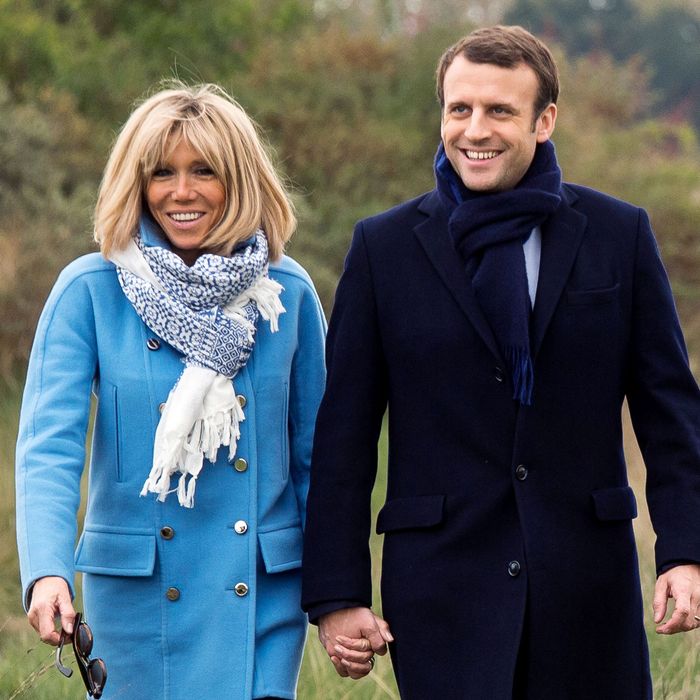 Ooh la la.
Photo: PHILIPPE HUGUEN/AFP/Getty Images
Shortly after Emmanuel Macron won the first round of the French presidential elections, a fun fact about his personal life began to circulate worldwide: The 39-year-old is married to a woman 25 years his senior … who happens to be his former high-school teacher.
It certainly hasn't appeared to harm his chances. For starters, Macron, a centrist, is running against a far more controversial opponent — the vehemently far-right Marine Le Pen. And, of course, the French are decidedly more chill than we are when it comes to matters of the heart (and the loins).
It's been observed that in his home country, "nobody really cares" about the details of their relationship, while the Washington Post spoke to a handful of French women who vehemently defended the age gap. For instance …
Martine Bergossi, owner of a secondhand-couture store: "Why can't we marry younger men? I date them all the time."
Karin Lewin, artist: "Did men ask anybody when they started marrying younger women? Who sets the rules?"
Lilach Eliyahu, fashion designer: [The fact that Macron's wife] "has wrinkles and cellulite makes me think of him as a feminist. He is the opposite of Donald Trump."
Say no more.