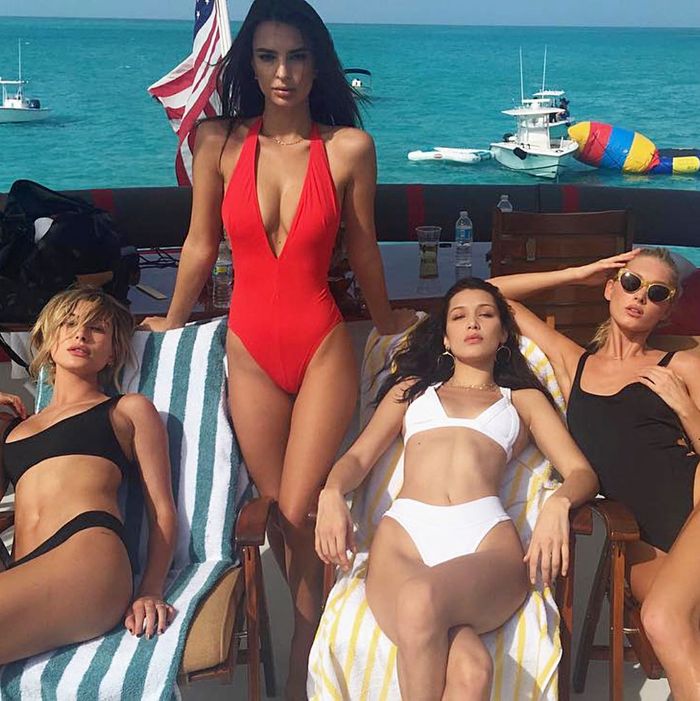 Models for Fyre Festival.
Photo: Courtesy of Instagram/haileybaldwin
New information continues to emerge about what exactly led to the Great Fyre Festival Disaster, the luxury-music-festival-turned-FEMA-camp event. A report from Vice details how exactly everything went so haywire so quickly — and by that we mean, how the festival organizers apparently blew all their early funding on models, jets, and yachts, and couldn't afford to pull off anything they'd promised.
As Vice reports, Fyre Festival's 25-year-old founder, Billy McFarland, came up with the idea of the luxury private-island music festival in October 2016, but didn't really begin looking into the logistics of actually planning the festival until March or April (even though he started promoting it in November). Before he started reaching out to vendors about bathrooms, accommodations, and other things necessary to temporarily house people on an island, he apparently spent "millions on models, private jets, and yachts to promote what would be his first-ever large-scale event."
Per Vice:
He spent $250,000 on a single Instagram post from Kim Kardashian's half-sister Kendall Jenner and laid out hundreds of thousands more on lesser-name "influencers," none of whom were paid less than $20,000, one person familiar with the payments said.
Fyre Festival employees told Vice that planning the event started to feel like "an extended Spring Break frat party," as McFarland and other members of his team would fly down "every other weekend for lavish vacations" on islands close to Exuma, where the event was set to take place. However, only male employees and models were allowed to go on these trips.
"Billy would take all the boys down there, it would be boys only," the employee said. "They talk about f—ing bitches and hoes in conference meetings."
In the meantime, employees and artists slotted to perform at the festival weren't getting paid — and if they were, the money came "directly from McFarland." Vice reports that "payroll abruptly stopped in the Fyre Media office in October," and by March, "things were starting to get desperate" as the festival was running low on cash.
McFarland and his team started soliciting a second round of investments, said several people familiar with the offering. In at least one meeting with an investor, McFarland intimated that Fyre had spent several million dollars on celebrity endorsements and marketing and now needed cash to pay vendors, staffers, and artists.
Cash-flow problems aside, it's not surprising that the festival ended up being a disaster when you consider the fact that organizers apparently hired Instagram meme factory FuckJerry to handle its marketing.