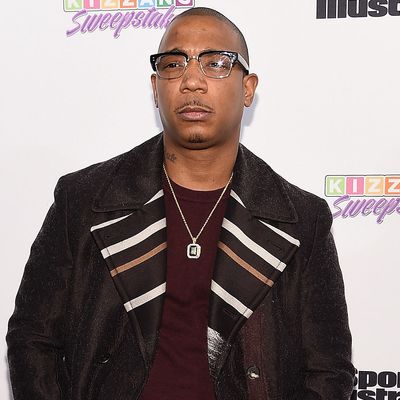 Ja Rule.
Photo: Dave Kotinsky/Getty Images for Sports Illustrated
Less than a week after the Great Fyre Festival Disaster (never forget), organizers of the luxury-music-festival-turned-FEMA-camp have already been hit with a second class-action lawsuit. On Monday, a $100 million lawsuit was filed on behalf of concertgoers, and on Tuesday, a second class-action suit was filed, accusing Fyre Festival organizers of tricking people into attending the event.
According to the Hollywood Reporter, the latest suit was filed in Los Angeles Superior Court against Ja Rule, Billy McFarland, and Fyre Media, alleging they tricked consumers by paying more than 400 social-media influencers and celebrities to promote the festival. Festivalgoers were allegedly led to believe the event would be chock-full of the "social elite," including Kendall Jenner, Bella Hadid, and Emily Ratajkowski. Instead, influencers ended up staying home, while concertgoers ended up stranded on the private island in the Bahamas eating meals of untoasted bread with cheese and salad.
The lawsuit claims the festival's social-media campaign violated FTC regulations. "Social media 'influencers' made no attempt to disclose to consumers that they were being compensated for promoting the Fyre Festival," the complaint alleges.
Furthermore, the suit claims guests were told that more than 30 musical acts — including Migos, Major Lazer, and Blink-182 — would be performing at the event, which promotional materials purportedly showed would take place at "stunning beach side villas, yachts with models draped over the top," and the like. Instead, the conditions the plaintiffs found were "horrific," according to personal-injury attorney John Girardi.
"As Plaintiffs began to grasp the dire nature of the situation, upon witnessing the complete lack of infrastructure necessary to host such an event, a panic enveloped the crowd," the suit says. "Plaintiffs were stuck on the island, with no way off."
We'll update if the defendants issue a response. Of course, Ja Rule already posted an apology on Twitter (before the suits were filed) that reads, "I truly apologize as this is NOT MY FAULT."