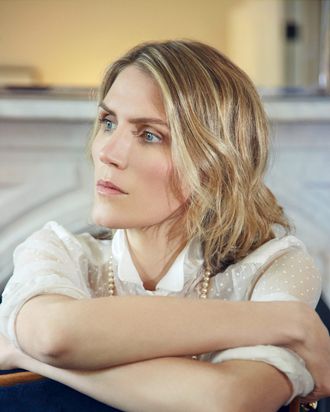 Uruguay-born, New York-based designer Gabriela Hearst has come a long way from the T-shirt line she started under the name Candela in 2004. After evolving Candela into a full contemporary brand, Hearst took things a big step further, launching an eponymous ready-to-wear line in 2015. This new line was partly a reinvention of the designer's fashion identity, but also largely an embrace of what had been there all along: a commitment to "sustainability, quality, and authenticity," whatever the cost. And the fashion world has fallen hard for Hearst's clothes, which center around covetable dresses, knitwear, suiting, and accessories in opulent but ethically sourced fabrications. The designer was recently awarded the 2016/17 International Woolmark Prize and nominated for the prestigious CFDA Swarovski Award for Emerging Talent.
Hearst grew up on a ranch in Uruguay, which she inherited in 2011, and its influence is palpable in both her designs and her way of doing business: always focused on the environment, with a less-is-more ethos. At a serious designer price point, the clothes certainly aren't intended to be bought in bulk (a poplin shirtdress could set you back $1,795). But the clean lines, feminine silhouettes, and rancher-approved leathers make each piece worth the investment. Her calf leather Nina bag, for example, has been the toast of the fashion world since it launched last year. It's available in limited qualities only, for ecological reasons — a shopping hurdle that's only made it more desirable. "You have to put yourself on the waiting list," Hearst says, noting that the bags are "actually what has driven our business to be profitable this year."
Below, the designer talks sustainability, politics, and her new collaboration with Planned Parenthood. Read on for the full interview.
What inspired you to move from designing your contemporary line to starting Gabriela Hearst?
It started from a passion for quality. When I was doing a contemporary line [Candela], I was being pushed to have cheaper prices and cheaper quality. That is so far from my core beliefs, especially as a rancher; I felt very fragmented between what my beliefs are and what I was creating. The Gabriela Hearst brand really has a commitment to quality. Our factories and our vendors for our materials are usually Italian and French. They are family businesses, multigenerationals that have dedicated their lives to their craft. It was important to work with the best ingredients possible, like a chef: If you have access to the best ingredients, you know your food is going to get better.
Tell us more about your brand ethos.
A lot of people say to me, "You're so authentic, and the clothes are so authentic, and you're so real." I got used to hearing that, and I think it means that I try to not have a fragmented personality. I am the same way in my personal life as I am in my professional life. What I care about is the same.
What about your factories and producers in Europe?
The Italians are really, really good, because they've been doing it for thousands of years, from Roman times. If you've ever dealt with a Italian supplier and made a comment or a critical comment on the product, it's like you're offending their child. It's really an emotional connection to the product. In America, we have this point of view of, "You know, it's just business." For me, business is personal. It's the way you conduct yourself. When they say, "That's a good person," my grandfather used to say, "I wouldn't know it, because I haven't done business with him." Maybe it's the Latin way.
Tell us more about the ranch.
The ranch really hasn't changed much in nearly 200 years, and we've always been sustainable; we're so off the grid. There's no central heating. There's no AC. You have to have fireplaces in the winter, and you have to put on a lot of wool blankets, because it gets cold, and in the summer you have to close up the whole house and put the shades down so you can keep the coolness.
How have you addressed environmental issues with Gabriela Hearst?
I believe in sustainable practices, but it's extremely daunting, You become obsessed with it. For example, getting coffee in the morning, and seeing the lid, I was like, "Oh, shit. This will take 500 years to biodegrade." So it's like, "Okay, no lid. I'm just going to get the cup." It's really about paying attention. One of the things that we've done was buy deadstock from the top mills — kind of [going] back to the time of owning less. When quantity starts to surpass quality, we all lose.
I have a complete hatred of plastic; I cannot describe it in another way. I found this material called Tipa, created by an Israeli woman, Daphna Nissenbaum, who's a software engineer. It's basically a flexible packaging alternative, meaning it's a type of film that looks like plastic. You throw it in with your compost, and it will decompose in 24 weeks. It's a solution to a big problem.
Everything you're wearing right now, at one point, came wrapped in plastic. We're small guys, but if we get to implement this and show that it works, then hopefully one of the big guys can copy and use it.
You've done a special sweater to benefit Planned Parenthood. What's the story behind the design?
Since November, I felt that everything we were evolving to as a society had been attacked. We woke up to the "what the fuck?!" reality, right? I also became an American citizen in November, a week after the election, so I felt it was my duty to protect those things that are sacred in this country. Immigration, as an immigrant, is a sacred thing, and women's rights. It's not only about "our bodies, our choice," but Planned Parenthood does so much more than that. I felt I had to do something. When I was doing the Woolmark competition, I had done a sketch with a ram and ovaries combining the idea of the ram and wool — my background — and the ovaries. Signs of strength. I did it as a sweater, and then people started to ask me about it. I have this mission of making $50,000 for Planned Parenthood, so I am selling these sweaters to benefit them.
Where in the city do you live?
The West Village. My kids go to school on the Upper East Side and my office is in Chelsea. So by 9 a.m., I've traveled all over Manhattan.
What's your favorite neighborhood spot?
I have this space where I have breakfast all the time called High Street on Hudson. They have the best eggs, the best bread — everything's amazing there.
What can't you live without?
Coffee and chocolate. My favorite is Pierre Marcolini, from Belgium. But they don't have it in New York anymore so I buy it when I travel. Then I like Pierre Hermé and Vosges, the peanut butter one with sea salt — chocolate is very good for you.
What's your fashion uniform?
Suits, in all permutations. I'm very comfortable wearing my uniform; I don't have a lot of time to think about what I'm wearing. I like shoes that are not very high or are only platforms, because I'm not in the business of torturing women. I design my own; it cannot be a high heel anymore. It hurts your knees and ankles — forget about it.
What's in your bag?
Right now I'm carrying my backpack, the Billie. In it, I have a seven-pepper powder with cayenne and turmeric. I was at a lunch in Texas sitting next to this client, Moll Anderson, and she pulled out spices she makes herself to spice up her food, and I was like, "I must try that!" I now have it with me all the time. I also have these ginger tablets from Juice Press. Then I have a Pilot erasable pen, my Smythson journal that I write in everyday, and small Aspinal sketchbooks so I can sketch on the go — and a chocolate bar!
Which person from history would you most like to have dinner with?
From the fashion world, I would think Elsa Schiaparelli. Non-fashion would be Queen Victoria. I like how she strategized to marry all her children to all the different monarchies in Europe. Also, Elizabeth I. And from the art world, Salvador Dalí. And if I could bring someone else, Buñuel. That would be a very interesting dinner party.
What's your astrological sign?
I'm definitely a Scorpio. We're a little bit witchy, juju. I notice especially days before my period, I get very sensitive and I can see things and figure things out very quickly.
What is on your reading list right now?
I'm reading Sapiens: A Brief History of Humankind and the book by Obama's deputy chief of staff, Alyssa Mastromonaco; it's about her experience working for his administration.
What's next?
We're defining where we want our retail store, which we hope to have open in a year. I think to get a wider audience to appreciate the product, you need to touch it and feel it. We're looking at the Upper East Side, off Madison. Another one of the big things is that we actually took wool from our sheep farm and gave it to an Italian mill to produce fabric for the collection. This was my husband's idea. We are actually going to have suits made out of wool from the sheep of my farm in Uruguay! It came out beautiful.
Who would you like to see wearing your designs?
Cecile Richards, the president of Planned Parenthood, is going to be wearing our dress when she gets honored at the CFDA awards, so I'm looking forward to seeing her in it. I wouldn't mind seeing [senators] Catherine Cortez Masto or Kamala Harris — women who are very intelligent, but use their abilities in service of others.