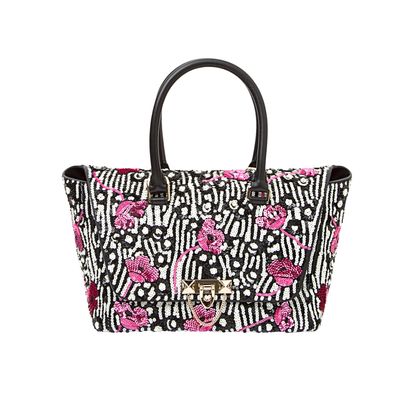 This bag is exclusive to Bergdorf Goodman.
Photo: Courtesy of Valentino
Even if you don't have Summer Fridays, it's that time of year when you can sneak out of the office a little earlier without feeling too guilty. If that's your game plan for today, and you're looking to kill some time before your more conscientious friends can join you at happy hour, consider going to Bergdorf Goodman. They're the first to get their hands on Valentino's pre-fall collection and will have select items for your browsing pleasure starting from today. Plus, to make the launch extra-special, they also have two exclusive items that feature the Floral Waves pattern from their Fall 2017 show. There's a pair of sequin and silver-studded Fly Crew sneakers sure to be a street-style hit that'll run you $1,195. And if you're really looking to spend (or just touch something incredibly fancy), there's their Demilune bag, which is covered in pailettes and is made for a sparkly Boomerang or two.
Valentino Demilune bag, $4,295 at Bergdorf Goodman, 754 5th Ave; 212-753-7300