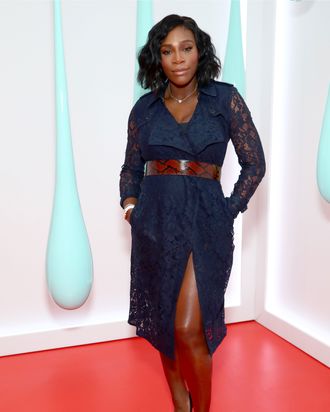 Serena Williams.
Photo: Astrid Stawiarz/Getty Images for Burberry
According to a former employee's lawsuit, Serena Williams was subject to racist treatment by managers at the Italian shoe brand Gianvito Rossi. The New York Post reports that Whitney Wilburn, who worked for the company and who is African-American, has filed a suit claiming that she experienced both racial and age discrimination while working there.

In support of her claims about a discriminatory environment, she said that Williams, a frequent customer, asked for a discount of the kind commonly extended to celebrities and that "Gianvito managers responded with racially disparaging comments about Ms. Williams which made it clear that the company did not want African-American women to wear its shoes." Until an unnamed contact at Vogue put pressure on the managers, they did not offer a discount, and even then Wilburn says it was "a fraction of the discount that white celebrities typically receive."
Update, 5/19/2017: We reached out to a rep for the brand for a comment, and their statement follows below:

Yesterday certain media outlets reported on a complaint filed against Gianvito Rossi by a former employee. Consistent with our age of viral memes and false flags, there was no attempt at corroboration or substantiation of those baseless claims. Merely lifting words from a complaint out of context, without investigation and without even awaiting any reply in a pending proceeding is a mere hit job.
Even worse, the reporting impugned baselessly and carelessly the integrity of our incredible caring and diverse staff. At the appropriate time and in the appropriate context Gianvito Rossi will reply and be vindicated.
Gianvito Rossi further regrets that this former employee chose to conflate her own claims with allegations about our relationship with Ms. Serena Williams who we have the honor of having as our client. Gianvito Rossi has the pleasure of having relationships with international celebrities without any distinction.
Finally, this employee has chosen, as is her right, to pursue legal recourse for perceived issues. Gianvito Rossi will respect that decision and will respond through the legal process.