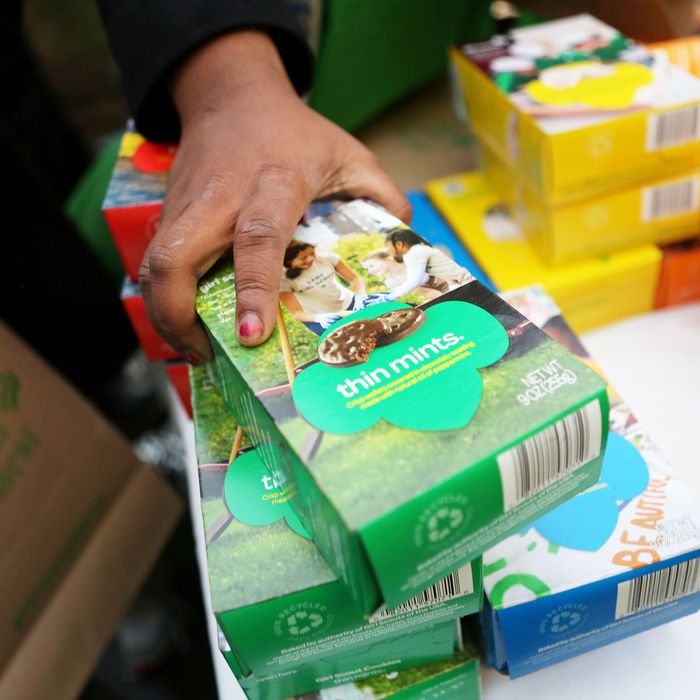 Girl Scout cookies.
Photo: 2013 Getty Images
A Girl Scout troop leader in Kentucky is at large after allegedly stealing $15,000 worth of coveted Girl Scout cookies. Although she remains MIA, 26-year-old Leah Ann Vick was indicted last week on one count of felony theft for her apparent crime, the Lexington Herald Leader reports.
Vick allegedly picked up an order of $15,000 worth of Girl Scout cookies from a distributor on February 1 for the Wilderness Road chapter of the Girl Scouts — an otherwise innocuous task for a woman who leads a troop of the cookies' chief salespeople. However, according to the Herald Leader, she never delivered the cookies to her troop, and then she disappeared.
For those who aren't in the know, Girl Scouts typically order their cookies and only pay for them after actually selling all of the boxes. But because Vick allegedly ran off with the boxes, her troop is now stuck covering the hefty bill for the cookies. Pike Commonwealth's Attorney Rick Bartley told the Herald Leader that no one knows what Vick did with the cookies.
Per the Herald Leader:
"She has never paid for any of them and, anyone who has tried to contact her about them, has not been able to contact her," said Bartley. "The case was a little confusing because she may have picked up cookies for other groups. The ones that she did pick up, at least for her own troop, were never sold by the troop. She picked up the cookies and never took them to them, so we don't know what she did with them."
Vick apparently has several different addresses across Kentucky, so the alleged criminal mastermind remains on the lam, and state troopers don't really know where to look for her next. "It looks like she picked up the cookies and, now, she and the cookies have disappeared," Bartley said.
(h/t Jezebel)