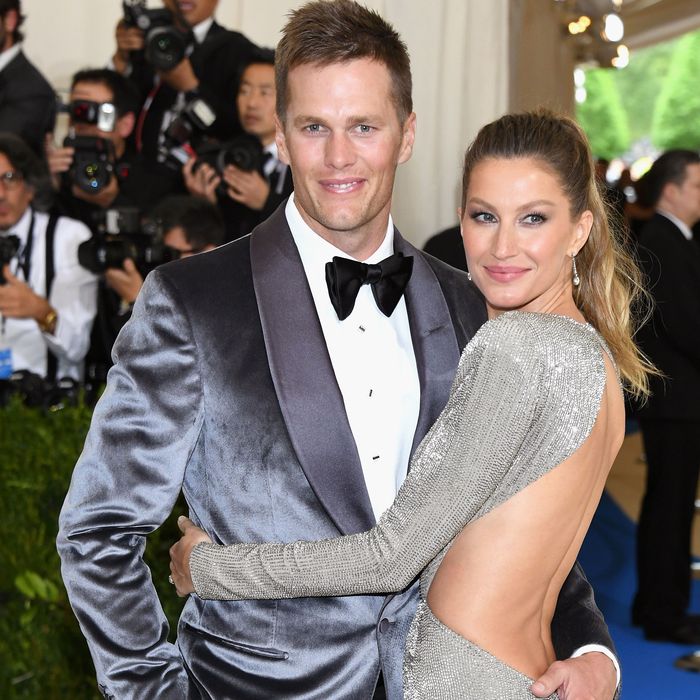 Tom Brady and Gisele Bündchen.
Photo: 2017 Getty Images
It's widely known that football star and man-necklace wearer Tom Brady follows an ultrarestrictive diet that cuts out white sugar, caffeine, fungus, MSG, dairy, nightshade vegetables, olive oil, and more. But now, we finally know why: His wife, supermodel Gisele Bündchen, basically made him.
In a new interview with Charlie Rose on CBS This Morning, Bündchen revealed that she and Brady have been following their strict diet the entire ten years they've been together. "It has come from me," she told Rose.
The supermodel explained that at first, the New England Patriots quarterback wasn't so sure about the diet — "It was a little different for him," she noted — because they were largely eating raw foods at the time. But since then, they've branched out to other "seasonal" and "local" plant-based foods, and now he apparently "loves it."
"He's almost 40, right? … But the thing is, he's been feeling so much better, I have to say, it's amazing," Bündchen said. "He doesn't feel achy. He just feels so much more energy."
If only Bündchen could also convince Brady to finally try a strawberry …