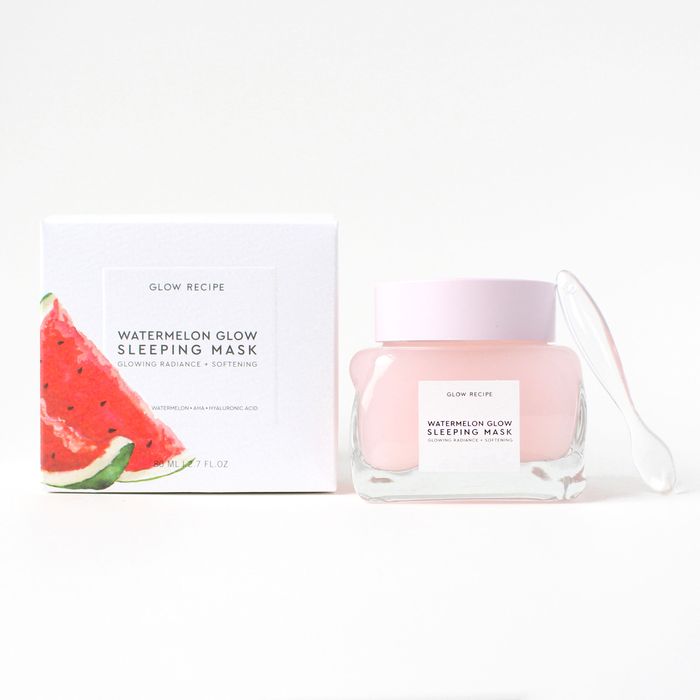 Photo: Courtesy of Glow Recipe
No doubt you've heard: Airplanes are breeding grounds for dry, dull skin. It's bad enough that the unflattering airplane-bathroom lighting seems to magnify my pores by ten, but I can actually feel my skin become uneven, rough, and flaky after a few hours in the air. All that time I've spent lovingly patting on Retin-A and glycolic nightly for years appears for naught the second I hit 35,000 feet. Celebrities generally cope with this problem by flying in private jets, applying sheet masks, and eschewing alcohol. Here's a solution for us plebeians: Korean sleeping masks.
Functioning much like eye masks that go over your eyes and block out light, Korean sleeping masks are gels that block dry air and add moisture back to your skin. I've tried a few over the years on flights and they're now an absolute necessity for me for preventing dry skin. My new favorite comes from Korean natural beauty e-tailer Glow Recipe, which just released the first products from its eponymous new label. Their Watermelon sleeping mask sold out (it's now restocked) and had a 5,000-person waiting list just this week.
Coming in a sleek clear jar, I applied the bouncy, millennial-pink gel liberally all over my face, tried to take a nap during my eight-hour flight to Europe, and, despite a fitful sleep, woke up with skin that felt soft and smooth, and even looked decent in the bad overhead lighting of the customs hall.
Unlike traditional sheet masks, the formula goes on like a moisturizer and won't gunk up your bed linens (or a sad airplane pillow) or hairline. It has an immediate effect that intensifies over time so that your skin continues to feel good and look dewy throughout the day. The secret is a potent mix of amino-acid-rich watermelon extract, hydrating hyaluronic acid, and other alpha hydroxy acids which work together to draw moisture to the skin. For speed, you can even leave the mask on just ten minutes and rinse off. True to Glow Recipe's curation process, the mask is also free of parabens, triclosans, hydroquinone, benzophenones, BPAs, tar, talc, sodium lauryl/ laureth sulfates, aluminum, DEET, formaldehyde, PABA, foluene, camphor, PVC, and phthalates.
I'm home now, but when I need especially good-looking skin or notice my face getting a little flaky from retinol, I keep reaching for that watermelon.