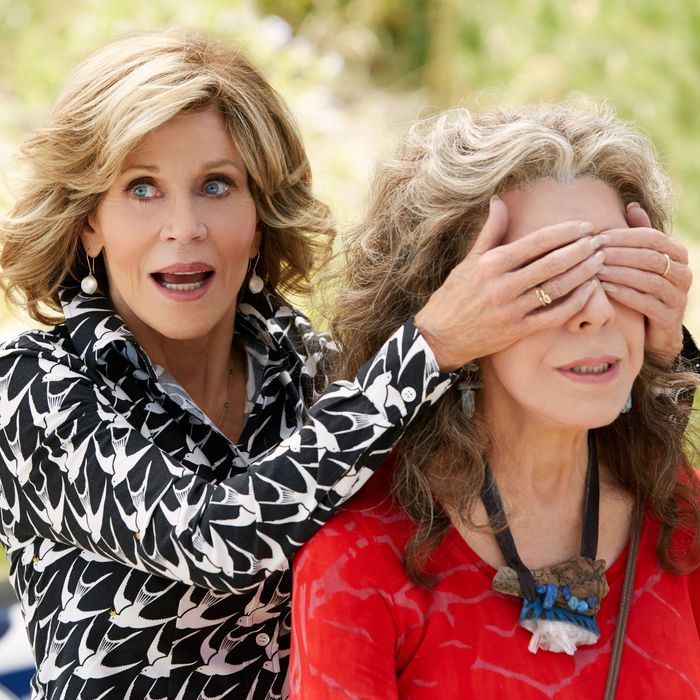 Jane Fonda and Lily Tomlin on Grace and Frankie.
Photo: Tyler Golden/Netflix
Millennials: We're choosing avocado toast over homeownership and diamond stewardship, feel preternaturally attracted to specific chromatic shades, and can't get enough of the fashion on a Netflix show about septuagenarian best friends. Grace and Frankie's Emmy-nominated costume designer Allyson Fanger regularly finds herself astonished at the show's rabid 20- and 30-something fan base. Whether it's Jane Fonda's Nancy Meyers–worthy wardrobe of neutrals or Lily Tomlin's hippie-dippie, New Mexico–artist wares, why are young women so drawn to the costumes on the show?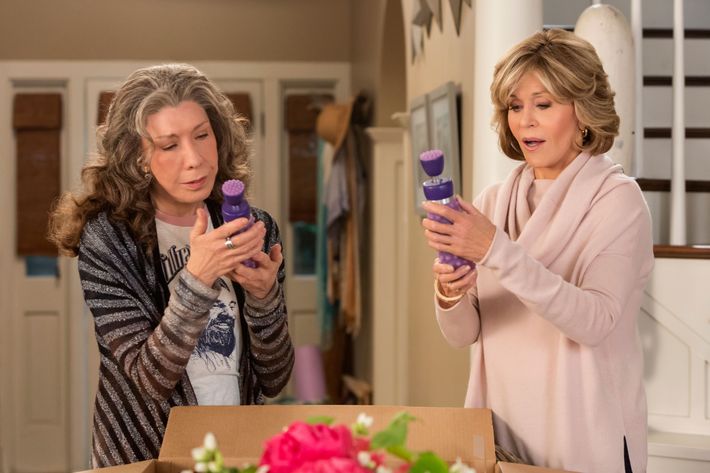 Fanger says the reaction initially came as a surprise to her. She chalks it up to our newfound emphasis on unique personal style. "I feel like it's in the Zeitgeist to look toward older women for style. We went through a whole rote time in fashion, especially in Los Angeles," she says. "When everybody's wearing what everybody else is wearing. I feel like people are fatigued from that. Older style icons have cultivated their own uniqueness and expression and personality and confidence, and younger women look to that — they're taking notes on it." She points to Linda Rodin and Iris Apfel as some of the touchstones of the movement.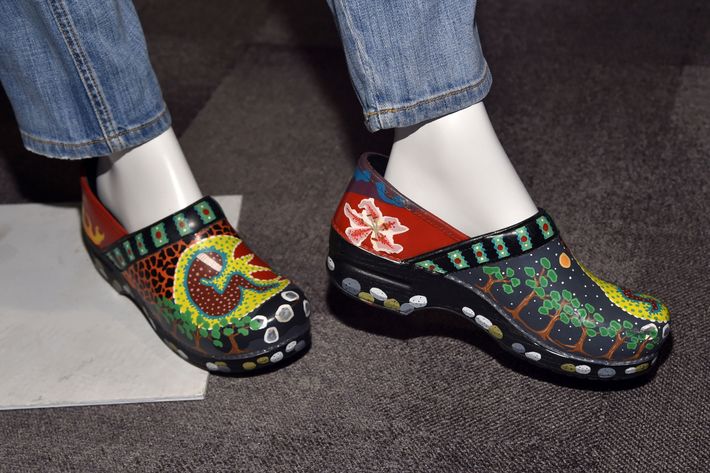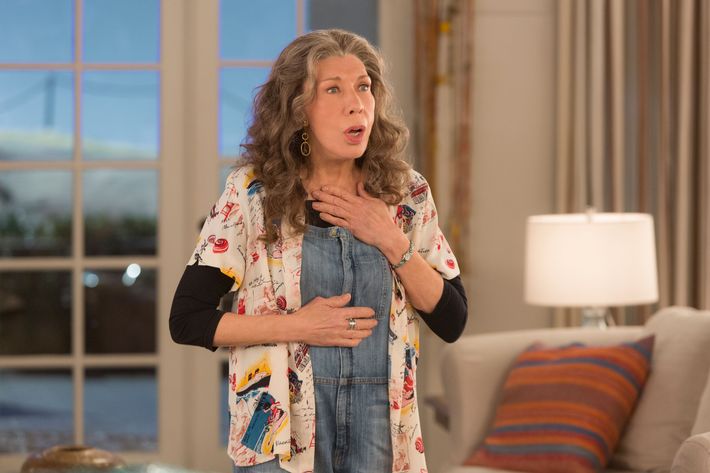 The wardrobe for Tomlin's character, Frankie, was inspired by Fanger's mother-in-law, who collected jewelry from her many travels, as well as by what she calls "European art ladies." With Frankie, "everything she has is either something she found on her travels, or she made unique in some way for herself," like a pair of clogs that Fanger imagines the character painted herself in her art studio. She finds clothes for Frankie everywhere from the Current Affair pop-up in New York to the boutique Nomad in Boston, to "anywhere weird and strange." Tomlin's own style, Fanger says, "is so different from the Frankie aesthetic," and she was initially "nervous and unsure" about the costumes. Three seasons later, "she says to me every day, 'Why don't I dress like this?'"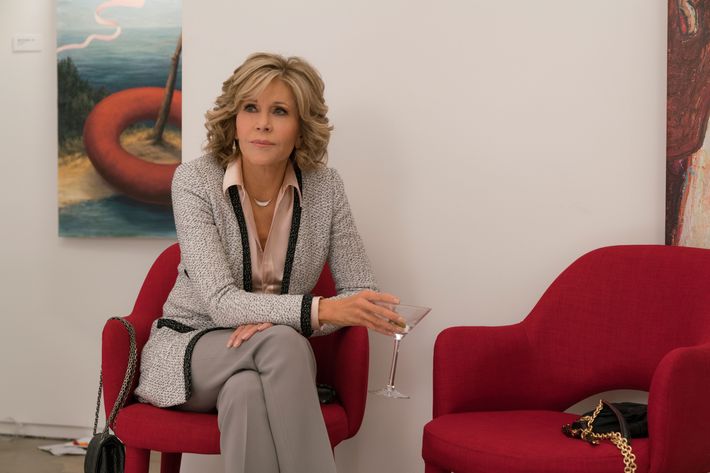 Grace, Fonda's buttoned-up character, wears pieces that are a bit easier to place, like knits from St. John. "[With] Frankie, I never want someone to look at the screen and be like, 'I know where that's from,'" Fanger says. "But with Grace, it's okay because that's who she is — she's predictable; she's safe. She doesn't take a lot of chances." The color palette Fanger conceived for Grace is full of neutrals with names that might dot a catalogue, like "putty." Recently, she has started branching out, in her way, wearing printed shirts that Fanger makes from vintage or archival fabrics. They're meant to show the growing influence Frankie has on her. Grace has particularly been getting into the "put a bird on it" school of prints: "Birds have kind of become a thing for her."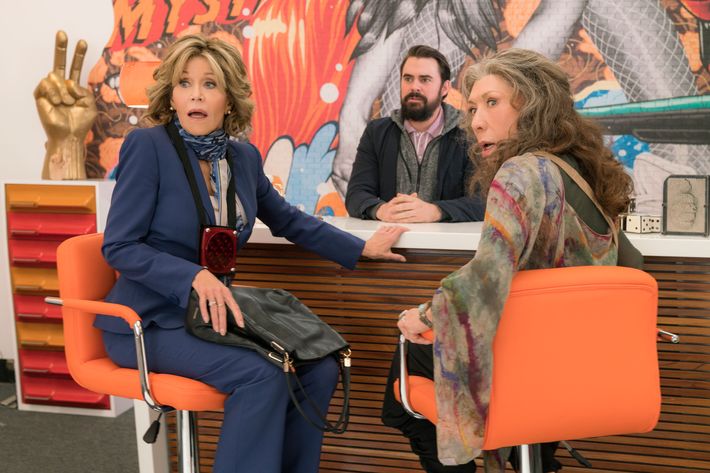 "In real life, they're kind of flip-flopped. Jane's definitely more daring" fashion-wise, says Fanger, "and more bound to do something unpredictable than Lily." (Like wearing a skintight Balmain jumpsuit at the 2015 Grammys, for instance.) And she insists that the two actresses don't demand much input in their characters' onscreen fashion. "They're very old-school. They leave the professionals to do the job that they're there to do." Perhaps more challenging was her assignment for the premiere episode of season four, which opens on a Santa Fe marketplace.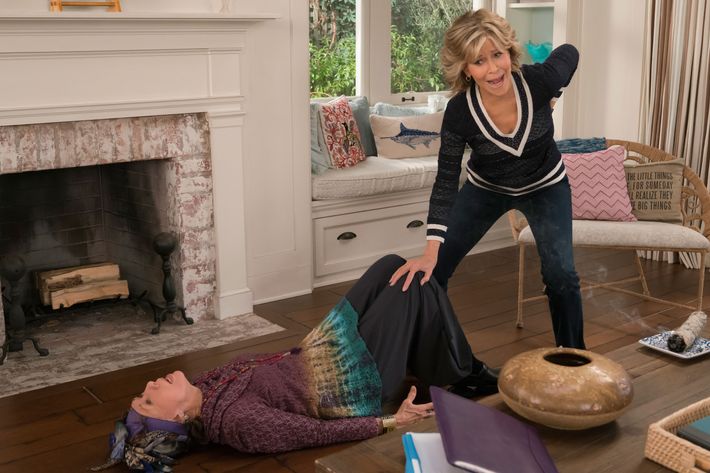 "Which is full of Frankies," she laughs. "I'm like, 'Oh my god! Fifty Frankies. Most fun ever.'"