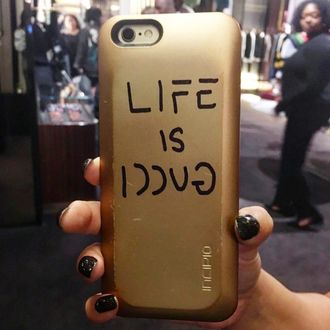 Diana Tsui confronted the GucciGhost to tag her phone.
Photo: Courtesy of Instagram/chupsterette
The Cut's editors cover Fashion Week in real time across multiple channels — not just this website, but on Instagram and Snapchat, too. Follow our accounts to get the inside view on everything that's going on, and check this daily compendium for highlights. Editorial director Stella Bugbee, style director Rebecca Ramsey, senior market editor Diana Tsui, senior beauty editor Kathleen Hou, senior fashion news editor Véronique Hyland, and more of the Cut's team will be contributing to coverage.
DAY SEVEN
Fashion Week is finally starting to wind down here in New York. Yesterday, Bella took a fall at Michael Kors, proving she actually is a human being. Gigi's makeup at Anna Sui resulted in all of us researching pink eye shadow to buy. And at Delpozo, the finale featured neon earrings that look like chandeliers.
Snapchat Recap:
From a wet hot American summer pool party to a different kind of Americana at Ralph Lauren, our Snapchat correspondent Shiona Turini continues having the busiest schedule on the second-to-last day of Fashion Week.