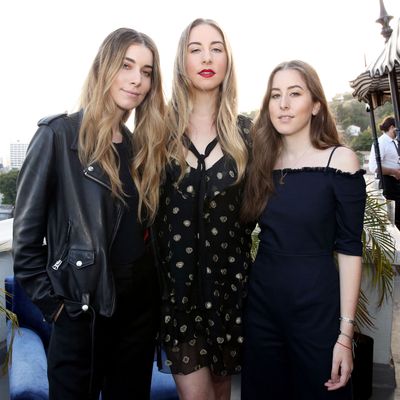 Haim.
Photo: Rachel Murray/Getty Images for Girls Rock Camp
Any woman who has lived through middle school will recognize the sinking feeling that comes when a woman with nicer hair and cooler clothes tells you — often with rolling eyes — that the thing you like is corny. This happened to me recently, when a woman with nicer hair and wearing cooler clothes informed me that liking the band Haim is not cool. "Haim?!" she exclaimed, rudely. "I don't get it." My heart sank.
Is it corny to like Haim, the soft-rock band of three sisters with sleek long hair from Los Angeles? According to at least seven people I know, no. ("We can all agree that Haim is not, like, cutting-edge cool," one friend said, "but they're good.") According to many others, yes. ("This makes me think of you differently," another friend said, looking at me sideways.) With the impending release of Haim's hotly anticipated (by some) second album this summer, a verdict on Haim's place along the corniness spectrum is long overdue.
Right out the gate, the first thing that seems to grate Haim haters is both the pronunciation and the styling of Haim's band name. Is it "hey-m," "hi-em," or just "hime"? Is it Haim or HAIM? As Haim's publicist told Slate for some reason in 2013, it is pronounced "Haim" — like time. But in a video published two months later, the band claimed it's pronounced "hahy-uhm." I'm annoyed even Googling these things, so it's a wash.
In 2015, Haim supported Taylor Swift on her 1989 tour, which rightfully put a bad taste in people's mouths. This counts as several strikes against Haim. They are also, according to Taylor Swift, friends with Taylor Swift. But who can really say what "being friends with Taylor Swift" actually means, so one point goes back to Haim. Is it corny to go on tour with Taylor Swift? Or is it perhaps … a shrewd business decision?
Then, of course, is their music. ("Boring, sorry," a friend said.) Please don't tell anyone this, but I know two professional music critics who say — au contraire — Haim is a great band. Their debut record, Days Are Gone, was given an 8.3 "Best New Music" rating by Pitchfork ('memba that), and while that means very little, there is at least public record that someone thinks they're good. Several people I asked said, "Haim is fine," sometimes with such an emphasis on the word "fine" that it sounded like maybe they wanted to say more, but didn't want to hurt my feelings. Sometimes I don't want to think when I listen to music. When I listen to Haim, my brain empties out and the casual, low-key Los Angeles aesthetic rushes in. Palm trees. Roller rink. Traffic. Colonics.
But what about Haim's new song? Is it good? Yes. Could they have waited until it was officially mixed and mastered to release a music video? Probably. Is the song corny? No. Was it directed by Paul Thomas Anderson? I bet you think I'm going to say no, but yes. Did they throw a premiere party for the song at Canter's Deli in L.A.? Yes. Did SNL cast member Kyle Mooney and Oscar-winning actress Brie Larson show up? Yes, they did.
I'm not sure what any of that means except that Haim is friends with Kyle Mooney. 10+ points. A$AP Ferg appeared on a remix of Haim's best song, "My Song 5." 20+ points. Stevie Nicks once gave each sister a gold-moon pendant hanging from a gold chain, saying "You're our sisters of the moon." Haim is also both loved and reviled for their style (I would describe it as "a convertible driving to Indio with a pitstop at Urban Outfitters"). But aren't leather jackets and jean shorts eternal, easy staples? What's so wrong with white blouses and red lipstick?
But just because Haim has a circle of famous friends, and some but not all people agree that their music is a-little-bit-better-than-fine, and they have a new song that is good-but-should-have-waited-for-an-official-release, and their hair is nice, is it cool for an adult to like them? Do I look like a dork when I'm bopping my head to a breezy Haim track, dreaming of wearing grommeted bell-bottoms while skateboarding through Silver Lake high as hell on moon dust? Should Haim be a secret, not public shame? Should their several thousand teenage and nine-ish adult fans pretend that they like something more "legit"? More "serious"?
Nah, do what you want.