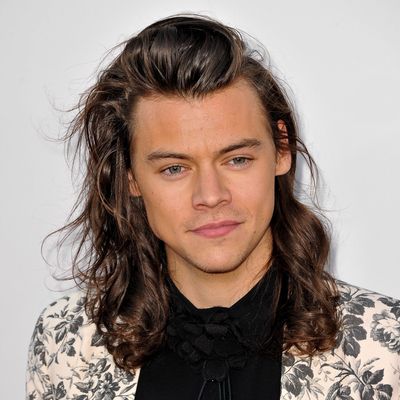 Photo: Allen Berezovsky/Getty Images
We've already implored all of you to start taking Harry Styles seriously, but if you were still a bit skeptical — One Direction isn't for everyone, we get that — look no further than his latest collaboration. During his solo show at the Troubadour in Los Angeles last night, none other than the beautiful songstress Stevie Nicks emerged to duet with Styles on the Fleetwood Mac classic "Landslide," as well as Styles's new single "Two Ghosts." Being in the presence of such a legend, Styles even jumped off the stage and into the crowd for a few moments to watch Nicks perform on her own.
Look at that captivated young man!
For all of you cynics out there thinking, Hey, this collab just doesn't make sense to me, Styles and Nicks have actually forged quite a genuine relationship in recent months. Styles told Rolling Stone that he presented Nicks with a personalized carrot cake at a Fleetwood Mac concert, and they've kept in touch ever since. ("Piped her name onto it. She loved it. Glad she liked carrot cake.") Who knows, maybe he should swing by Classic East.