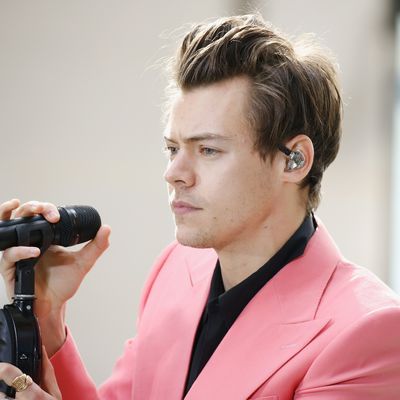 Harry Styles has mastered the art of dodging questions following the release of his self-titled solo album. During an interview with BBC Radio 1 Friday morning, Styles squirmed when asked whether "Two Ghosts" was about Taylor Swift. Styles replied, "I mean, I think it's pretty, like, self explanatory."
Swift, who has a talent for making former friends and lovers word-vomit, and Styles dated in 2012. When pressed on whether she inspired the song, Styles made this face and yelled, "Help me, Jeffrey" (probably Jeffrey Azoff, Styles' manager) off-screen.
He later clarified with, "I think it's about, you know, sometimes things change. And you can be, you know, doing all the same things. And sometimes, it's just different, you know? 2017, Philosopher, London, end quote." We'll just have to speculate over who inspired the lyrics, "Same lips red, same eyes blue."
Glad that's cleared up.