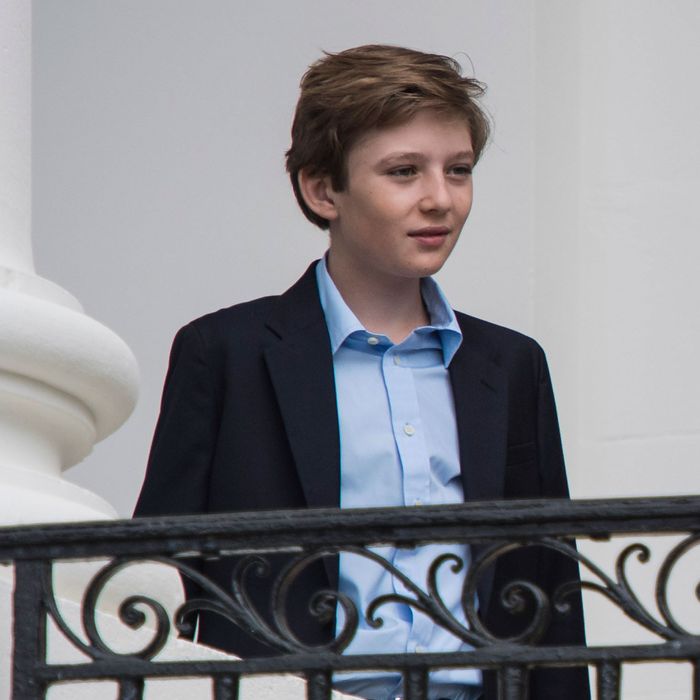 The Trumps finally chose a school for their son to attend in the fall.
Photo: The Washington Post/Getty Images
For a while after Donald Trump was elected president, it was unclear whether his wife and son would join him in Washington. But in mid-March, a spokesperson for the First Lady confirmed that she and Barron would "absolutely" move come June, and now there's concrete proof. According to the Washington Post, the White House announced Monday that Barron Trump will attend the private St. Andrew's Episcopal School in Potomac, Maryland, in the fall.
According to the Post, the White House wasn't planning to make the announcement until the fall, in part for fear of protests at the school. But parents of St. Andrews students, where the tuition is roughly $40,000 a year (about what the Trumps were paying for Barron's school in New York), began to "express security concerns," so the school decided to issue an official letter on Monday.
Melania Trump released a statement in conjunction with the letter saying the Trumps are "very excited" for Barron to attend the school, which is "known for its diverse community and commitment to academic excellence." She added that the school's mission statement, "to know and inspire each child in an inclusive community dedicated to exceptional teaching, learning, and service," "appealed" to her and Donald — or, at least to her.