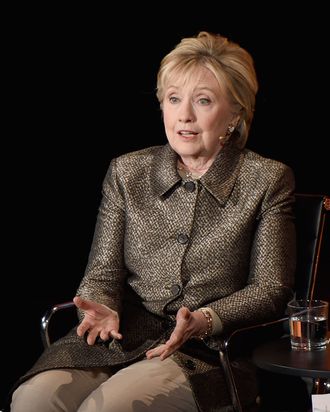 Hillary Clinton was interviewed by Christiane Amanpour on Tuesday.
Photo: Michael Loccisano/Getty Images
Hillary Clinton is through with long walks in the woods — on Tuesday, she told Christiane Amanpour at a Women for Women International event in New York that she's back to being an "activist citizen" and "part of the resistance." For Clinton, that entails speaking out about the role misogyny played in the election — something she's mentioned before.
"It's really troubling to me," she said. "Whatever your political party, whatever your ideological bent, you have a stake, as a woman and a man, in ensuring that the promise of equality that we hold out and the efforts that so many women and men have made over the decades to secure it don't go backwards."
Clinton added that she'll also continue to call out the president in a public forum. "I am going to publicly request that this administration not end our efforts making women's rights and opportunities central to American foreign policy and national security," she said to applause.
Will the Trump administration listen? Who knows! But it can't hurt to ask.