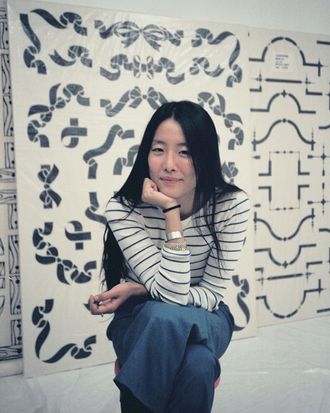 Maia Ruth Lee.
Photo: Eva Michon
Raised in Nepal by Korean missionary parents, artist Maia Ruth Lee's upbringing was in many ways the opposite of her current life in Chinatown, New York City. "There was a lot of mountain time," Lee remembers of her childhood, which involved months-long treks to Sherpa villages; her parents, Bible translators, had been tasked with creating a Sherpa alphabet and so spent extensive time among the Everest-dwelling tribe. Lee went on to attend art school in Korea before returning home to Nepal, where a twist of fate — and technology — brought her into contact with her now-husband, photographer Peter Sutherland (more on that later), a fortuitous meeting that precipitated her move to New York six years ago.
Once Stateside, Lee quickly landed a job as a creative producer for Vice, an exciting albeit time-consuming proposition that kept her away from art for her first years here. "Art was kind of out of the question for a while because Vice was such a full-on job. Eventually I just realized: actually, I'm an artist … I need to stop doing this," Lee says. So almost three years ago, she took a studio in Gowanus and began creating again. In the short time since, she's already shown her diverse body of work — Lee considers herself a multidisciplinary artist and works across painting, sculpture, jewelry design, and more — at CANADA gallery, Salon 94 Gallery, and a solo show at Eli Ping Frances Perkins Gallery in New York, among many others. She's now also the Director of Wide Rainbow, a nonprofit after-school arts program which introduces local middle- and high-school girls to visual arts through workshops with female artists and gallery and museum visits. Lee herself is about to become a mother — her first child is due in October, and will be well-poised for an arts-rich life.
Below, Lee spoke to the Cut about her multicultural upbringing, coming to America, art, and her feminist take on motherhood.
What do you remember most about growing up in Nepal?
I feel like when I was living there, it was the most normal thing. But then when I left, I was like 'Holy shit, this experience was crazy.' Nepal is a really beautiful country. Now it's a lot more polluted; it's more known for tourism, but in the '80s when we went there, it was really rural. There were a lot of paddy fields, and not much construction, everyone rode around on their bikes. Kathmandu, where my brother and I grew up, was very quiet and peaceful, and I went to an international school from kindergarten through high school. My school friends were from all over the world and spoke at least two or three languages; after school I hung out with Nepali kids. It was a really peaceful childhood — we didn't have a TV. Education didn't really feel like education because a lot of it was outdoors.
What were some of your outdoor lessons?
Instead of school trips we'd go on school treks. On top of that, because my parents were researching and assessing the Sherpa language, which didn't have an alphabet at the time, for the first decade they had to figure out the alphabet before translating the Bible into Sherpa. The Sherpa people are very famous for mountaineering, trekking the Himalayas, so there was a lot of mountain time — we'd go trekking in the Everest region for months.
How did your upbringing affect your spirituality?
I'm not a religious person, but I think I'm very spiritual. My parents are extremely Christian, and I grew up with those beliefs but I think as soon as I sort of came to my own realizations, I peeled off. Nepal is such a Buddhist and Hindu-rich culture and it's so beautiful. I would say that affected me more [than Christianity].
Did you do a lot of art as a kid?
I was always interested in art — Nepal is such an arts-and-crafts-rich culture. I was always drawn to colors, mainly. When I was 11 my father asked me to pick out the colors of the curtains for the house, and I did and he was very surprised at how well they matched the room. And he was like, 'I think you're really good at color, I think you might be a great artist.' And that was the first time I thought, "Oh, you can be a career artist?' I started concentrating more on art at school. I knew I had to go back to Korea for university. That was something almost mandatory in our family, to reacquaint ourselves with our roots. Korea's art education is very strange because the way they see art is the opposite of the way I'd grown up knowing it. The entrance exam, for example, is rendering a Greek bust in pencil on paper. You had to be very technically good; they don't look at portfolios.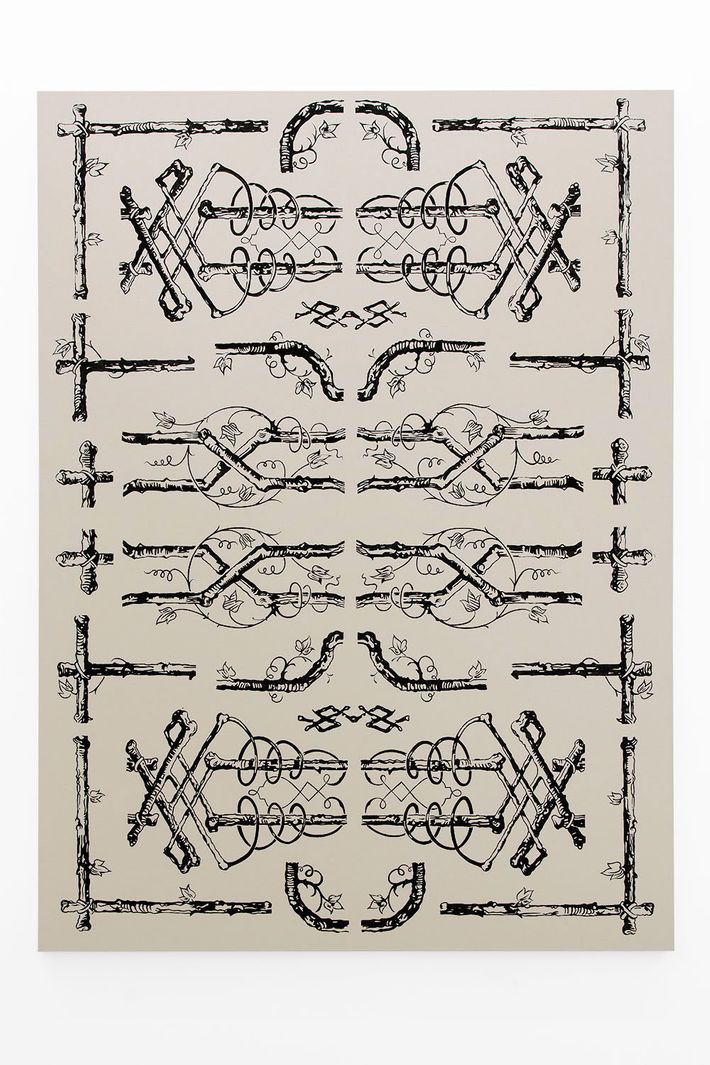 What did you do after school?
I ended up staying another three years in Seoul and started a collective with two of my girlfriends. We published an art magazine and did design projects together. We had this one big studio full of artists and we just had a really free, fun time that was saying 'fuck you' to the rest of the hardwired, hard-structured art community in Korea. Then I went to Italy for a year for a residency at Fabrica. It's part of the Benetton Foundation, then back to Nepal where I started teaching art in my old high school and did a solo show in Kathmandu. And that's where I met Peter [Sutherland].
He was based in New York, so how did you end up meeting?
It was very serendipitous. I was on Facebook and I saw his name pop up on my friend's page. I recognized his name so I Googled him, then realized he was a photographer and recognized one of his photographs … it had been published as the cover of a Korean photography magazine. The image really resonated with me, so I sent him a message. 'Hey, I really like your work. If you ever come to Nepal, give me a shout.' And he wrote back pretty much immediately, and said, 'I've always wanted to go to Nepal. How can we make it happen?'
There's this documentary that I really love called Born Into Brothels, about the kids raised in brothels in Calcutta learning how to take photographs. I had seen that and I said, 'I've always wanted to do this workshop, teaching kids photography. Would you be into it?' He was like, 'I love that idea.' So I put it together. We gathered a group of kids — half of them were from the deaf school and half of them were from a home for runaways. And so we paired the kids together, got the cameras, got the film … And the workshop was a huge success.
[Peter and I] first met at the Kathmandu airport about five weeks after I reached out to him. We were immediately drawn to each other. We have very similar traits — he's very laid-back, I'm very laid-back — and when you're in the presence of kids, you can't really have your guard up. It was a very good way of getting to know each other because immediately we had to be very much ourselves. And then he was like, 'Do you want to come to New York?'
What did you think about the New York idea?
New York, or America as a whole, was not even in my paradigm at the time. It was a little bit of a curveball. I was like, 'I don't know how to start from scratch.' But we ended up publishing a book of photographs that the kids had taken and he was like, 'Why don't you bring the books over to New York, we'll do a book launch, and we'll raise money for the project.' And so I did. Jade [Lai] had just opened Creatures of Comfort and we did the book launch there in 2010. After that, there was a lot of back and forth, but by then I knew that I wanted to be with Peter and I wanted to try this out.
When did you make the move permanently?
[In] 2011. But making art didn't start for a while because I needed to figure out how to stay here. I had a job for, like, two and a half years in the very beginning and it was very intense. I just needed really to figure out what it meant to be an artist in New York. So a lot of it was just observing and trial and error and stuff. About two years ago is when I got a studio and felt comfortable making work again.
And what was your first job in New York?
When I lived in Seoul, Vice had come to do an event for their Creators Project series and I was hired as a local producer. I didn't know that my boss at the time played soccer with Peter here in New York … so there were a lot of these invisible links. When I eventually came to New York to spend Christmas with Peter, we went on a long road trip and my boss saw pictures Peter had posted on Tumblr and called Peter and asked, 'Hey, are you with Maia? Can I talk to her?' He basically said, 'Do you have a job? Do you want to start next week? Can you be the creative producer for Creators Project from Vice headquarters?' Everything landed on my lap as soon as I got to America and I was like 'Okay, holy shit, it's all starting.'
How would you describe your art?
It's pretty multidisciplinary, I would say. I wouldn't call myself just one thing, like a painter or a sculptor. I try to experiment in several different arenas. I do a project designing jewelry with my friend for her jewelry company, Tuza. I even consider that art. I still design stuff. I illustrate. Even doing Wide Rainbow—I think it really taps into my creativity too.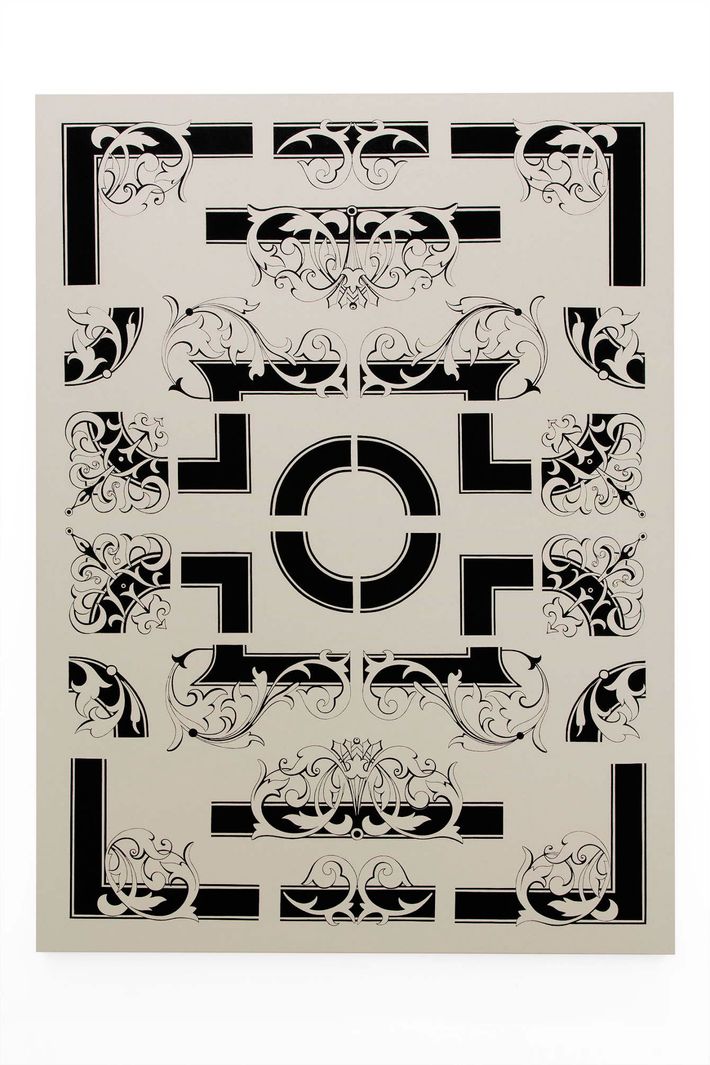 Tell us about Wide Rainbow.
Wide Rainbow was founded by Ashley Gail Harris almost two years ago. She lives in the Lower East Side, and would walk by a lot of the community centers and girls' clubs and wanted to help bring the contemporary art aspect and integrate it into their after-school programming. I was invited to teach a workshop last year, and we understood each other very well and she was looking for a director. So she offered me the job. Right now we've partnered with four or five schools, centers, and organizations, and we bring the artists there to teach workshops and meet with the students on a weekly basis.
How does it work?
The artists that we invite are all female artists and it's a safe space for middle- and high-school girls to come and explore. We want the artists to be like mentors. They're artists that have made a name for themselves who really show that you can make a sustainable career out of their art. I think for a lot of these kids, that's shocking. The artists come in and do a slideshow presentation, then we all participate in a workshop that demonstrates some of their work they do in their studio. We keep the format very simple. For example, an artist can be like 'I'm a sculptor that uses mainly marble but in this workshop we're going to use papier-mâché.' It's really fun for everyone involved.
Who are some of the artists you've worked with for this?
Elizabeth Jaeger, Violet Dennison, Aidan Koch, Sarah Braman, Adrianne Rubenstein. We also do museum and gallery walk-throughs, showing the girls that they have access to these places. I think art in general can be very uninviting as an environment — it can be scary if you don't know it. So I think for us to be like 'This gallery is in your neighborhood, you can go in, it's totally fine,' is a nice connection to make.
Where in the city do you live?
Chinatown. Sometimes I love it and sometimes I don't. Maybe because I'm pregnant I need more nature right now … I guess that's what my body is telling me.
And what's your studio like?
It's in Gowanus, so I just take the F four stops. I've had it for almost three years and everything I've made, I've made it there. It has no windows, surprisingly. So when I'm there I feel like I don't know what time of the day it is, which actually helps, because I get easily distracted. I have this electrical typewriter and I love using it. I've been writing a lot more, just documenting what my ideas are; more journalistic entries; concepts. And I always have music playing.
What are you listening to on repeat?
Right now I'm pretty obsessed with Alice Coltrane.
What other career do you think you would have in an alternate life?
I would have loved to be a writer.
What's your spirit animal?
I think someone assigned me stingray and I don't know if I'm a stingray. I think I would be some type of bird — I don't know what type though.
What inspires you?
People inspire me a lot. I'm a social person, but I'm social in an intimate way. I don't like being in large groups — it really drains me. I love being in one-on-one or two, maximum three, situations. Friends recharge me when I feel off.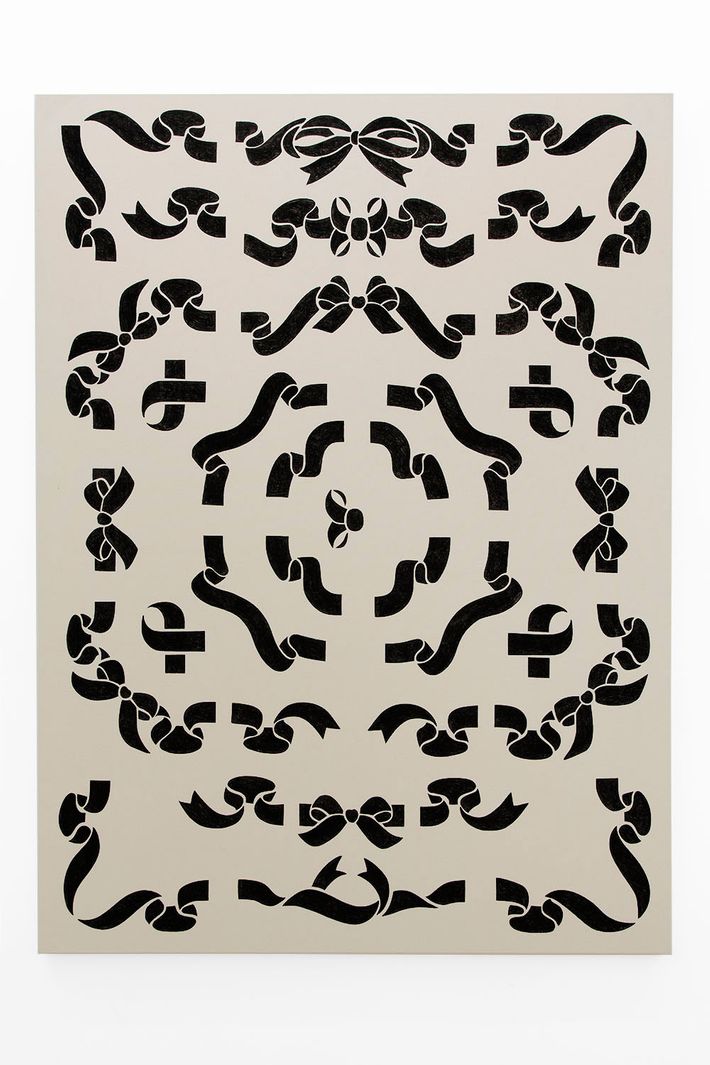 How do you stay organized?
My Moleskine organizer. I started using it this year because it got really hectic with so many different dates and workshops and stuff. And it works. I don't know how I did it before.
What's on your reading list?
I'm reading a bunch of books written by feminists and poets on motherhood, like Of Woman Born by Adrienne Rich. There's a lot of this what to expect and what to do as a mother-type self-help literature and of course I'm very curious, but I know I'll figure that stuff out as I go. Right now I'm more interested in the ideas and concepts — what motherhood has meant for different types of women over time; written by artists, poets, and by people who have such strong ties to their own identity, but are taken over by this new identity. I think this is a huge dilemma for a lot of female artists. That was my one fear — I thought that I had to choose one. But it's important to be conscious of that and then see how to balance the two and to find harmony between those two identities — it's not going to be easy, but I don't want it to be one or the other.
What do you never leave home without?
Literally just phone, keys, and wallet. I can survive the whole day without anything else. I have this weird silver-snakeskin wallet. It's got a coin pouch attached to it. I got it at a thrift store and it works great. It has a lot of pockets for all my different weird cards.
What's next?
The very next thing, I made a new collection with Tuza launching late summer, fall time. Tuza is a jewelry line from Mexico City so I went there last year to design this collection. The pieces are quite elegant and they sort of resemble my artwork — they're pieces. I have a group show that just opened in Berlin. And Wide Rainbow … it keeps growing!