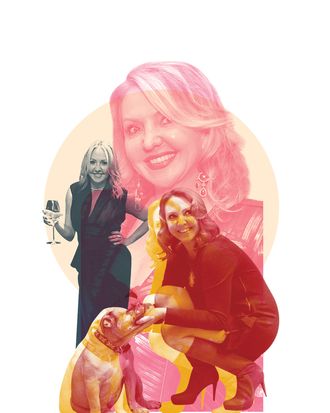 Melanie Brandman, founder and CEO of Brandman Agency.
Photo: Getty Images; Melanie Brandman/Illustration by Stevie Remsberg
As the founder and CEO of the eponymous public-relations firm the Brandman Agency, Melanie Brandman oversees 65 accounts in 70 countries, travels 14 days a month, and receives some 300 emails a day. Here's how she gets it all done.
On wakeup time:
Last Wednesday, for example, was a busy day and probably pretty normal actually for me. I wake up most mornings at 6:30. I've got a really fat English bulldog, Adelaide, that's on my bed — she's being spoiled because she's been sick. I give her a big cuddle and lots of belly rubs. She's so needy.
I love my mornings. I wish I woke up earlier so I could putter around longer. I try to multitask while I'm lying in bed. I pet the dog while looking at my emails to see if anything has come up in the night — we have offices in London and also Sydney and Los Angeles. I scan all the international papers and read the Astrology Zone app for the day because Susan Miller is a good friend and I love hearing what she has to say. Then I turn on the TV. I'm sort of that person in bed with ten things going on at once.
Once I do get up I like to lie on my foam roller for three to five minutes. The I do a few sun salutations and walk to the kitchen, put the dog food out, and make myself a glass of warm water with freshly squeezed lemon juice, a tablespoon of apple-cider vinegar, and turmeric drops.
On her coffee habit:
While the dog eats breakfast I make myself an espresso, which I like to drink in my Tiffany blue Fortnum & Mason china coffee mugs because (a) I like the color and (b) I like thin china. These cups sort of perk me up in the morning. I then walk to the bathroom, put my SPF 50 on, change into my workout gear and then I come back to the kitchen and I make a coffee to go and then take Addie for a walk in the park. So I take a shot of coffee while I'm first getting ready and then I do another coffee. I'm trying to get off coffee! But at least I've switched to coconut milk instead of half-and-half.
On getting out of the house:
We then leave the house with my coffee in hand and my iPhone and head to Bryant Park. I live on Park and 39th so it's a quick walk. Addie loves the park! She drags me there on the leash as fast as bulldogs can go. Everybody wants to stop me to pat her and take a photo and it's like, "Oh my god, this is never going to end." But of course I never like to disappoint! I tend to stop and do ten minutes of breathing exercises and closed-eye meditation. Addie just sort of sits there in the sun; she never wants to leave.
On morning fitness:
We get home, and around 7:45 I jump in an Uber and I go down to my exercise class, AKT in Motion with Anna Kaiser. As much as I would like to walk the ten blocks, the timing just doesn't work. I'm currently doing an eight-week transformation program, and I tend to work out five to six times a week. I also work with her nutritionist, and also a number of private trainers like David Kirsch, who works with Jennifer Lopez and Heidi Klum.
If I'm in a hurry I tend to shower and change there, as it's only a block from the office, but for the most part, I like to go home — again, by Uber — by nine for a quick breakfast and change and pat the dog. The doorman walks her during the day, which is a godsend.
On her breakfast of champions:
I tend to do the same thing every morning. I love to cook, but I always make Ezekiel toast with Vegemite smeared on it, then I put crushed avocado and then I do a scrambled egg on top and some harissa … and then another coffee. I know, it's too much coffee, but I'm working on it. Then I go out onto my terrace if it's sunny and I eat and, again, look at the international papers online. Then I take my vitamins. I'm addicted to the LivOn Labs. It's lypo-spheric technology which I find is just really beneficial. So I take their vitamin C; it's like a jelly sort of paste, and complex B and L-carnitine which is the brain-function one; and then also magnesium, zinc, and a woman's vitamin called Ritual. Then I turn on my Sonos, and usually pick a morning vibe that I have playing in all the rooms, and then I just shower and change.
On getting ready to go:
I'm really quick at getting ready — probably like 15 or 20 minutes and I'm done. Washed hair, blow-dried, into the outfit. I tend to wear a uniform of Joseph, Balenciaga, and Céline, with Theory thrown in and the odd piece of Zara now and again. I always love a killer pair of shoes; a former intern of ours, this Italian chap, is now a shoe designer in Milan and makes unbelievable shoes. The brand is Manfredi Manara, and he's given me a few pairs — I guess I must have been a good boss. If I'm walking into the office, I tend to just put on flats and bring heels in for meetings.
My beauty regime is pretty basic. I tend to go between products, I'm not 100 percent loyal. I'm using Eve Lom at the moment, I love their cleanser, and always SPF! Top to toe, every day. Being an Australian, it's been ingrained. Shiseido does SPF that I like; or Avène. If I'm at the beach, there's one called Invisible Zinc that I get from Australia, which is incredible. After I've let that sink in, there's always an eye cream, a toner, a serum, and a cream. I've always loved serums, and at night I use a lot of heavy creams on my body, which could be face creams even. I love Sisley. And all my makeup is By Terry. I love their rose lip balm.
I go to the office by Uber. I always joke that my office has to be close enough that I can walk, but far enough that it's not embarrassing to get a taxi. Uber keeps me on schedule a little bit more.
On solo breakfasts:
I love breakfast; it's my favorite meal of the day and I try to spend one morning a week having breakfast by myself in a hotel restaurant. I often go to the Ace, to the Breslin; I go to the NoMad because it's near the office; the Four Seasons; the Park Hyatt. I'm obsessed with hotels. It's what I do. But I like to see what they're doing servicewise and get a gauge for who's in the lobby, what sort of people are in town right now, what's the energy in the city? That really inspires me for dealing with all of our hotel clients.
On office life:
fI usually get to the office around ten, unless I have a morning meeting or a breakfast meeting. We're on the 22nd floor on Fifth Avenue and 29th Street; we've been here seven years. I have five windows and a totally unobstructed view of the Empire State Building … I can almost touch it from here. The office is about 5,000 square feet; I designed it, so it's a lot of white, very simple. My office itself is white and gray. I have a beautiful mid-century-modern glass dining-room table which is my desk, and a big Slim Aarons on the wall. I love Slim Aarons. I'm very inspired by that period, particularly in hospitality. I have a white cowhide rug, a glass coffee table, lots of magazines and books, and always flowers on my desk. One whole wall of my office is glass so I have massive printouts for all the new web design we're doing for my other brand, Travel Curator. My desk is pretty tidy. I tend to an active pile, a reading pile, and a projects pile. Everybody knows I've never met an Excel spreadsheet that I didn't love. I tend to have everything done by lists. I'm like "Let's have a Matrix! Let's have a list!"
When I get in, I'll sit with my assistant and go through the day. She prints my schedule for the day and the week. That particular day was quite a long meeting because I was flying to Antigua the next day for a press trip. We were going to a client's hotel in Antigua called Blue Waters Resort and Spa, which was amazing. I hadn't been so I was really excited; it was also a wellness program by a U.K. company called Living Retreats. It was transformational.
Next we tend to jump straight into meetings. We created an internal dashboard for each client I can look at at a glance. It's a one-pager that shows what our goals are for the client, for the quarter and the year, where we are in achieving it, and I go through all of those and see where I need to step in. I then also like to check in with the U.K. office in the morning; I tend to check in with L.A. and Sydney later in the day. We're also in discussions with two other firms in some other parts of the world about joining the Brandman network, so I've been busy in the last week or two drilling down with that. I attended a big, in-person meeting for one of our clients that's going to be launching soon.
On her power lunch:
Then it's lunchtime. In the Uber, coming back from the meeting, I ordered my Sweetgreen salad. I preorder my Starbucks too, all the time. I just love anything that saves time. I love technology, so I'm a huge early-adopter to anything. I try and not order the same thing all the time, but my salads always just end up being green and white. I like everything to be color-coordinated. I sound so controlling, but I just tend to like those sorts of foods. Now I'm adding in salmon and color, and the rest of the time is just tofu and cheese or egg. I eat at my desk — I know that I shouldn't because my nutritionist keeps telling me to be more mindful of what I'm eating and drinking — but I love to spend a half an hour on the internet just looking at everything on the Coveteur, Net-a-Porter, Guest of a Guest, the Cut. Then I look at the Daily Mail online. I will admit that I look at it. I go through stages when I can't read it because I just find it too depressing, but then I go through stages when I read it all the time. I scroll through a lot of travel sites, but mainly I use that time to look at magazines online.
On the après-lunch agenda:
Then we had some internal meetings actually for our brand-new website which will be launching soon, and I spent probably about 15 or 20 minutes on email. I try and do my email three times a day and that's it. I get about 300 a day, give or take, so anything I'm cc'd on goes in a separate folder, which my assistant looks at and she'll pull anything that's urgent. But generally if I'm cc'd, it's being handled by someone else and I'll look at it at the end of the day.
Then there was a weekly call with a client for about 30 minutes. After that, I walked around the office and chatted with staff to see what's up, what are they working on? I sat with the creative team who are working on some presentations and looked through the decks and added a few things … We then had a new business pitch. I love pitching, that's one of my favorite parts of the business. I love finding new business, meeting new people …After that, we had a meeting about Travel Curator, which is the other content company that I have … it basically started as a travel blog and it's turned into a very large luxury-travel site. We have about 200,000 subscribers now. My background, before I got into the hotel business 30 years ago, was working at Vogue in Australia, which sort of created my aesthetic, and my love for editorial, publishing, and design. So, we created Travel Curator to be a vehicle for me to put up all my travel intelligence and then it just got bigger and bigger and now we're doing hotel reviews and features and travel guides. I love anything creative.
Around 5:30, I would have checked my email one more time and then left the office at 6. I had to tidy things, so I caught a cab home, walked the dog, fed the dog, and changed for a cocktail party in Soho for Sophia Tezel's new denim line. Then I had a business dinner with someone who is also a friend, at Chinese Tuxedo. It's relatively new, it's owned by an Aussie, on Doyers Street. It's located in the first Chinese opera house in New York, which then became a mah-jongg gambling den. So we had dinner there — it was delicious, by the way. It looks like how Indochine would have looked back in the day.
On her evening routine:
I got home around ten, walked the dog for about 20 or 30 minutes while listening to S-Town. Then I did the normal stuff — took off my makeup, then got into bed and watched TV. I always like to watch TV before I go to bed. I watched the first episode of the new season of Veep. I probably turned lights out by about 11:30 and I tend to have one of my meditation apps on my headphones when I'm going to bed. Inscape is great; Mindfulness; and there's a British one I really like …
On how she stays balanced:
I don't rush into work in the morning. I think it's so important for me to spend time exercising and regrouping, and ten is a perfectly good time in New York to get to work when you've already been going for about four hours, and then I'm out most nights during the week, but I don't go out on weekends much.
On her travel schedule:
I've traveled all my life. I always say it's part of an Aussie's DNA. Travel and my life are one and the same. I really don't separate my business life from my personal life. I travel around ten days a month, maybe two weeks. Last month was Florence, Miami, and Antigua; this month is Jamaica, Toronto and L.A. Next month is London, Costa Rica, and the Hamptons. I have a house in the Hamptons so I try to go out there as much as I can in the summer.
On her travel strategy:
I'm traveling I have a set beauty kit for when I travel. My regime is different because I bring all my sample packages from everyone from Sisley to RéVive to By Terry. I have my Tumi roll-on and a bigger Tumi; I Iove Tumi and Rimowa. I have all my Muji containers, I'm obsessed. I love their tiny suitcase organizers. My smaller bag is always pre-packed with flip-flops, sunscreen, a bathing suit, eye mask, earplugs, extra reading glasses, and an extra pair of sunglasses. I can get packed in ten minutes if I have to. I have everything sorted. I love a label maker. Another small Muji is pre-packed with an international hair straightener that can also be a hair curler, or cosmetics, toothbrush, toothpaste, and two resistance bands I use when I'm on the road. In my other bag, I always throw a couple of velvet clothes hangers on the top so I have extra hangers.
To wear, I just layer cotton and cashmere depending on how cold the flight is going to be. I always take aspirin when I travel, it's good for the blood when you travel a lot. I tend to pack one color, usually with some accent and the same jewelry goes with me. It's the shoes that take up all the room, so I put a pair of high ones in my handbag. When I get off the plane, I can whack on the high heels, because whereas most people go up to the hotel room and change, when I get to hotels, I'm greeted by hotel executives, and I have to pull it together. The second I get to a hotel, it's work.
On the hardest thing about her job:
I don't really think my job is hard. But I do get a little bit stressed when there's a crisis … and it's not that I can't manage it, but I really feel for my clients when they're going through something that's out of their control, like if there's an earthquake, or there's a fire or a hurricane, it's horrible. We have clients in 70 countries, so we have to be aware of what's going on around the world and what impacts them. It keeps you connected globally.
On how she handles stress:
I would say to anyone, if you could spend three minutes a day meditating, you will change your life. I try to do ten minutes every morning. It sets your intention for the day. I have a little sign on my computer that says, "Breathe," and three or four times during the day, I close my eyes for 30 seconds and just breathe. I think it's so beneficial. And I have a guy come to my house every other week and give me a massage. I love reflexology too, before I get on or off a plane.
On communication:
I love texting. I have a very weird phobia about voice messages. I won't listen to them. I have a message on my phone saying, "Do not leave me a voice message, I won't listen to it — text me." We don't allow any voice messaging in the office if we can help it. I like everyone who rings the office to speak to a person. No direct inbound numbers generally is a rule.
A time-management person came in for a seminar with the staff and they told us "Shut down your email because if they keep popping up, you keep getting distracted." We have trained ourselves that we need to respond immediately to texts and emails, but actually, we sort of don't.
On her hobbies:
I love to cook — I find it therapeutic. My obsession is Tasty videos from BuzzFeed. I could spend hours watching those and trying new recipes. And now that I'm done renovating my apartment I do a lot of entertaining. When I'm out East I do paddleboarding. I go out with friends, we'll go to galleries … I tend to chill out a lot. I'm very busy during the week so weekends are downtime for me. I love to go to movies by myself. The last one that I saw in the cinema and not on a plane was Lion.
On her reading list
I'm reading Grit by Angela Duckworth. One of these days I'm going to put pen to paper and do something about working and PR and having a happy, balanced life. Again, another project! People always say, "Melanie loves a project!" And that I do.