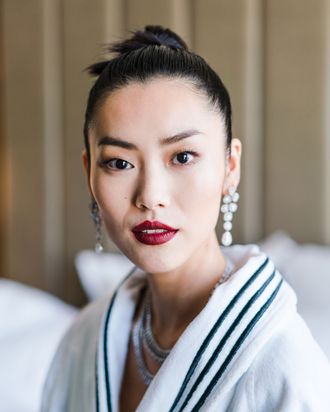 Liu Wen at the 2017 Met Gala.
Photo: Jane Kim
If you're Liu Wen, you pack the Japanese Kit Kats and leave the lipstick. "Too much candy!" the Estée Lauder spokesmodel says jokingly, when she tries to fit the lipstick into her clutch, which already contains both a matcha and sakura Kit Kat (options). Getting ready for the Met Gala at the Surrey Hotel, Liu is relaxed, smiley, and energetic (she's the "nicest person in history," says makeup artist Victor Henao) as she bemoans that her iPhone is also too large to fit into her clutch and asks our opinion on which pair of sparkly Chanel Fine Jewelry earrings she should wear tonight.
"I think this one, it's more simple," she says, deciding on a pair of camellia diamond earrings.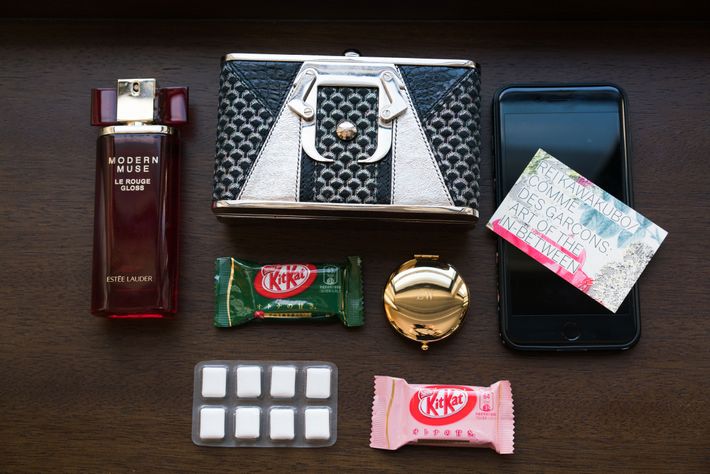 A few hours before, Liu, Henao, and her hairstylist Junya Nakashima worked together to create the beauty look. "Liu gets really excited about these events where she can express herself and really have a say in her look. She came knowing exactly what she wanted," Henao said of the beautiful garnet-red lip (Estée Lauder Pure Color Envy Sculpting Lipstick in Red Ego and Thrilling) Liu ended up wearing. Liu's skin had a dewy finish, thanks to Estée Lauder's Double Wear Nude Cushion Stick Radiant Makeup in 1W2 Sand and a fine touch of Bronze Goddess Illuminating Powder Gelee, a baked highlighter that Henao swept over her cheekbones. Nakashima created a slicked-back high chignon at Liu's request, sweeping the hair back to better show off the Off-White sheer and appliqued top she was wearing.
In the last few moments before going out, Henao asks, "Are you sure you don't want to take the lipstick with you?"
"No, I wore it for an event last week and it lasted all night!" says Liu.
Before she headed out for the night, the Cut caught up with Liu to learn more about her "not that much" skin-care routine, how dimples run in her family, and her favorite Chinese phrase.
You've worn Comme des Garçons a few times. How do you feel when you wear her designs?
Rei is a very creative and talented woman. Every time she designs the clothes, it's like, "Oh my god, this is amazing." I sometimes feel more like an actress wearing the clothes, having a movie moment. You also feel a lot of freedom. You can do a lot of what you want to do. It can be a challenge, but when you wear her designs, you have to find a good way to represent yourself, how you look and how do you feel.
Tonight, I chose an Off-White evening gown that's denim. I've never worn denim before going to the Met. The past few times, I've gone, it's been a pretty evening gown that's glamorous and still a little bit my style. But I remembered a long time [ago], CDG did a collection that was denim. I have a see-through black top with sequined birds which is very sexy but the denim makes it cool. So this pays homage to the theme.
How did you decide on the beauty look?
The look is very unique so I wanted my hair to be very clear. The makeup, I love Estée Lauder lipstick, it's my favorite product to use. I chose natural makeup — not natural natural, but not too dramatic! My hair is pulled back so my face is very strong. So it's just eyeliner, mascara, and a beautiful dark-red lipstick.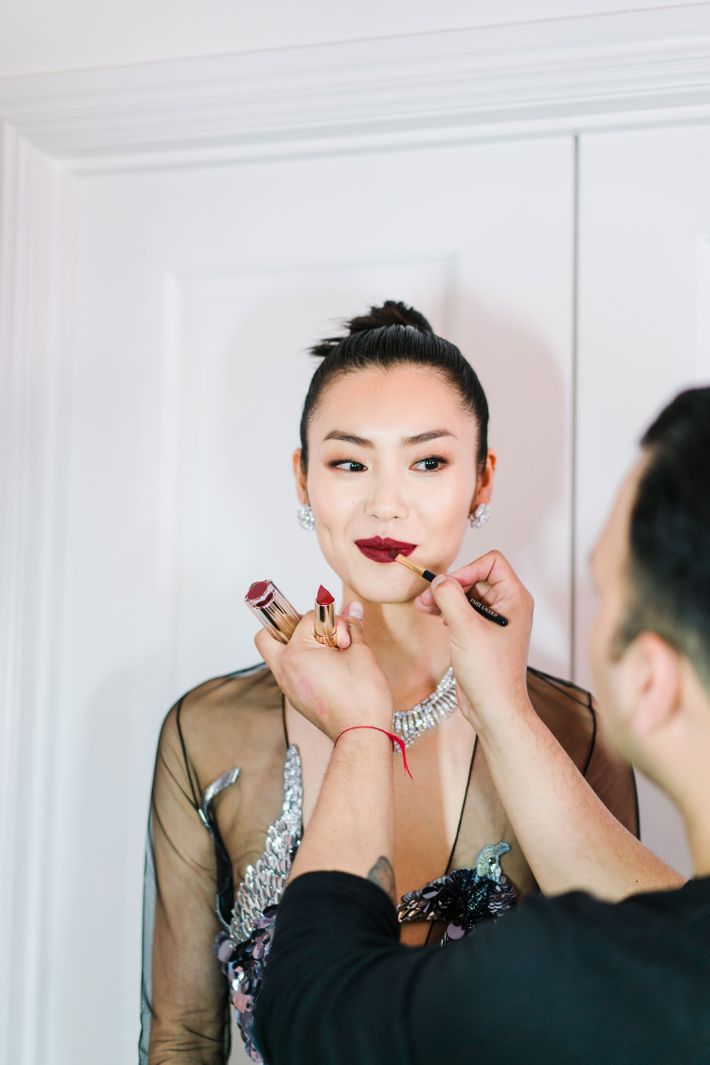 How long does it take you to do your nighttime beauty routine?
My beauty routine is not really that much. First, you have to clean your skin before going to bed. I use a face cleanser and then use a lot of toner and moisturizer. Sometimes, I use the Advanced Night Repair serum, and a little bit of massage. Sometimes, your face has a lot of fluid, sometimes I do it very hard and hurt myself. It's easy when somebody else does it for you! But it's harder when you doing it yourself and you have to go up and down and really massage hard!
Sometimes, I use an Advanced Night Repair Power Foil mask up to three times a week. But if I'm very busy traveling, I use more.
I like how you said your beauty routine was "not that much" but …
I know, I know! [Laughs.] But I'm used to doing it now so it's simple.
You have such a good energy, you're always happy and smiling. How do you always stay so energetic?
I have dimples, I think that's why people think that. That's why I laugh so much. Sometimes, I think I should smile less so I get fewer smile lines but … oh well. But I just love the people around me. They're happy and I genuinely love my work so much. Everyone is nice, so why would I be sad? And New York is beautiful.
Do dimples run in your family?
My father's sister — my aunt has it. My mom and my dad don't have it. But this one [points to right dimple] is more deep than this one.
You're one of the most followed Chinese celebrities on Instagram. How do you approach Instagram day-to-day?
I feel like it's my diary. Everyday you post to remember what you did and share it with the people. In the beginning I was a little afraid, I thought social media was too powerful.
But it's been very interesting to share with people about my work, my travel, and personal life. And I have a hashtag #WenInFlight that shares my view when I'm in flight and traveling. You can connect with people all over the world, it makes it feel small. Fans approach and give you comments, it's so sweet.
What do you like to eat when you're in China?
Always Chinese food, I like spicy food. I grew up in Southwest China, where that's a specialty and we eat more rice than noodles. I like qing jiao chao rou si — green chili peppers with pork. That's my hometown food. And also, xuan dou jiang chao rou — it's like soy beans cut up in soy sauce and cooked. It doesn't exist in New York. And I love xiao long bao or soup dumplings.
Here in New York, I have so many food restaurant apps on my phone. I use Yelp and Seamless to deliver. In New York, it's easy to get everything. This morning we had brunch and I had banana pancakes from a random restaurant.
What's your favorite phrase in Chinese?
I have two: One means if you have the right preparation for everything, you will succeed. The other is, don't rush, at the end of the day will end up going smoothly.
What's on your iPhone lock screen?
It's a picture I took in Flatiron. I like something to match my phone. Right now, it's a black-and-white photo of the Flatiron Building because it matches my case. For my other phone, my iPhone for China (I don't like to switch cards all the time), I have a white background.
What's the longest you've ever spent in hair and makeup?
Sometimes, the time passes so quickly because we [are] always chatting, or I'm listening to music and reading a book. Sometimes I feel like it's too short and I didn't even finish my book and my makeup is done!
What's the most exciting thing you've ever done?
Skydiving a [long] time ago. Moving forward, I don't know. For my job, I'm so happy that I shot the Vogue March 2017 cover, that was my dream. Maybe in the future, some sporty stuff. I look like a sporty girl, but I am so, so bad. Seriously. No really, I am so bad. I wish I could dance and challenge myself with that.
Right now, I'm living my dream to travel, challenge myself, and have fun. I want to stay in this business but maybe challenge myself as an actress. So maybe acting!
Liu Wen wore Red Ego and Thrilling.
Liu Wen does this foil sheet mask up to three times a week.