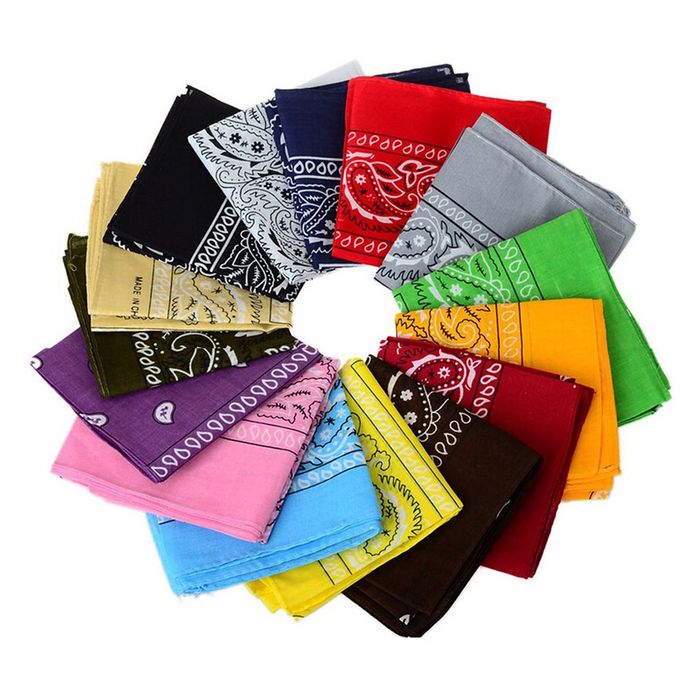 As far as things to buy, a multipack of colored bandannas seems, at face value, completely absurd. Do it anyway. Regardless of whether you think you'd have uses for them. Because when you own a multipack of colored bandannas, I promise you, you'll find uses.
Somehow, I ended up with a multipack after placing an order for work on my way to Norway last summer. I brought them in my luggage with me, and by the time I got home from that trip, I realized I didn't have any unused ones left. A yellow bandanna got tied around my suitcase (a tactic my stepmom used to employ as a makeshift tag to separate our family's luggage from everyone else's on the baggage claim). A few more of them (orange, purple, red, and blue) ended up around the foreheads, wrists, and (for those of a particular stripe of outdoor chic) necks of everyone in our party. One of them got used to clean up the inevitable drink spill, and it's probably still up at that Nordic mountain cabin. One of them, which I used to wipe off a profound amount of sweat on a hike, is no doubt decomposing somewhere in the mountains, too (sorry, Norway). One of them's definitely in the kitchen, used as a potholder. One became a pocket square for a nice dinner out. They became calling cards — our own intra-group ID tags, loaded with sentiment and meaning; a few of them even stuck around in my everyday life — one's become an all-purpose dust cloth at my desk, another's become an ad hoc coaster for a coffee table.
And if you can't find use for a multipack of them, give some away. They make the smartest little stocking stuffers.
Buy It: $12 at Amazon
The Strategist is a series of smart, obsessive shopping guides from the New York Magazine section of the same name. We've scoured the web to bring you the best of the best. Some of our latest conquests include rolling luggage, water bottles, umbrellas, Korean beauty products, white T-shirts, and a nail clipper. If you buy something through our links, we may earn an affiliate commission. Please note that all prices are subject to change.