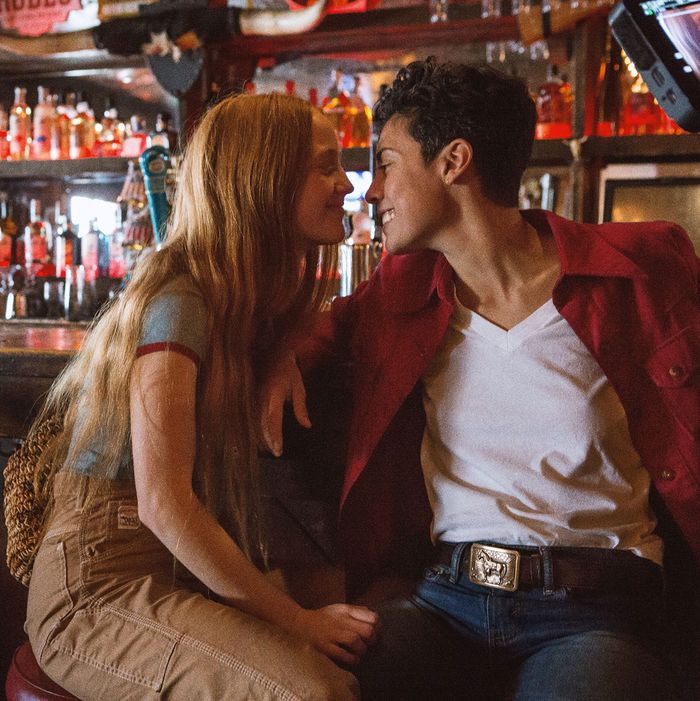 Toby and Devon on I Love Dick.
Photo: Courtesy of Amazon
In the fifth episode of I Love Dick, Jill Soloway's new Amazon series based on Chris Kraus's cult feminist novel, Chris (Kathryn Hahn) tells us a very specific version of her life story. "Dear Dick," she begins, gazing directly into the camera. "I've been horny since I was 6."
Chris goes on to describe her sexual evolution — masturbating with her stuffed rhino as a child; nursing an elementary-school crush on Jesus (who looked to her like a "hot 1970s yogi"); her now-passionless marriage to her older professor husband, Sylvère (Griffin Dunne), and her burgeoning obsession with Dick (Kevin Bacon), a famous artist based out of their new home in Marfa, Texas — before she stares straight into the camera and delivers a sort of manifesto. "I don't care if you want me. It's better that you don't. It's enough that I want you." The camera pans over the faces of other women in the town, their inner lives unknowable to us. "Sometimes, when I walk down the street, I look into the faces of every woman I pass and I wonder what she sees, I wonder about the history of her desire. Dear Dick; what if we all started writing you letters?"
What if, indeed?

I Love Dick is based on Chris Kraus's semi-autobiographical novel about "Chris," a filmmaker and artist who becomes obsessed with a renowned cultural theorist (here an artist) named Dick. She begins writing him love letters, which become, over the course of the book, a way for her to take ownership over her desire and discover her voice as an artist and storyteller. Yet while much has been written about Soloway's attempt to depict Chris's "female gaze," to my mind, the most interesting experiment in female-POV storytelling takes place in episode five (titled "A Short History of Weird Girls"), when Soloway shift the lens from Chris onto three other female supporting characters: Devon, Paula, and Toby. Through a mix of flashback and direct address to the camera, these women take turns sharing their own sexual histories in the form of letters to Dick, a figure who comes to symbolize something different for each of them.
We hear first from Devon (Roberta Colindrez), a genderqueer, Hispanic Marfa local whose family worked on Dick's land, and who, as a young child, used his swaggering ultramacho persona as a template for her own exploration of masculinity. "Dear Dick, I first saw you when I was 5 years old. The way you moved captivated me," she narrates. As a kid, we learn that she used to pretend to be Dick while practicing kissing with her female cousins; watching Dick "play cowboy with all [his] women," she wanted to grow up to be just like him.

In each monologue, these women use sex as an entry point into their psyches, charting the topography of their own desire in unique ways. Yet while Devon's story revolves mostly around her gender identity and her first love, not all the stories have such familiar through-lines. Next up is Paula (Lily Mojekwu), a curator who works alongside Dick, and who is trying constantly and fruitlessly to "find something [he'll] say yes to." Paula's story focuses on her mother, a black feminist activist, whom she worshiped as a child. "I loved every part of her," Paula reflects; and yet one day, she notices her mother's tampon string hanging from beneath her nightshirt, and something in her irreparably shifts. Paula begins locking herself away, turning her closet into a reading nook, where she learns how to touch herself, a ritual that becomes inextricable from the act of reading itself. The day she eventually learns what masturbation is, she no longer wants to do it. "Naming it was literally the least sexy thing [she] could imagine," she explains. That, she explains, is why she loves Dick's work so much: "Because [he] refuse[s] to give anything a name," and because it invokes in her a wondrous and terrifying feeling of "boundlessness," a feeling she's still trying to chase.

Women have talked about their sex lives on TV before, but rarely in a way that treats sexuality as such an integrated part of their whole identity, rather than something cordoned off into some separate sphere. In Devon and Paula's stories, we see how each woman's psychology, identity, and creative sensibility are woven into her understanding of her sexual self. Paula could have told us about losing her virginity or all the dudes she's slept with, but that's not what was salient for her; the story she told was simultaneously more elliptical and more personal, an intimate autobiography of self-pleasure and mother-daughter love and the inexplicably jarring sight of a tampon string. Everyone has a moment in their childhoods like Paula and the tampon string, something that shaped our psychologies and changed the way we think about our bodies and our most intimate relationships — yet when do we ever get to see it depicted onscreen? What this episode seems to fundamentally understand is that a sexual identity is more than a list of firsts or a who's who of partners; it's a psychological web inextricable from the rest of life.
In the 2009 New York Times feature "What Do Women Want?" (which would later be turned into a book, subtitled Adventures in the Science of Female Desire), journalist Daniel Bergner wondered whether women's desire was so circumscribed by the patriarchy that we'd never be able to truly understand it. As he writes, any study of female sexuality is also a study of "societal efforts to regulate female eros, of cultural constraints that have left women's lust dampened, distorted, inaccessible to understanding." Any attempt to reckon with women's desire — either scientifically or artistically — involves reckoning with how it has been shaped by living in a male-dominated world. How does a woman develop a sexual self in a world that has always treated female desire as something to fear and repress? This is the problem the "Dear Dick" letters attempt to address. For each of these women, Dick represents something different: he's a role model, a rival, a sex object, a patriarch, a landlord, a genius, a boss, a critic, a home-wrecker, The Man. By telling their stories directly to him, by acknowledging and reclaiming the imprint he has made upon them, these women confront the male world that has inextricably shaped them — as sexual beings, as women, as storytellers, as artists.
The final woman to speak is Toby (India Menuez), an academic who has come to Marfa to study. The first time we see her is during a party in the pilot episode, when she catches Sylvère's eye from across the garden. We see her first through his eyes: Toby is young, beautiful, the kind of woman who men want to possess; later, we see Sylvère make advances on her, before dismissing her field of scholarship — a formalist study of hard-core pornography — as beneath contempt. Yet in this episode, Soloway takes us inside Toby's mind. We learn about how her father molested her when she was young, and how she developed a childhood obsession with pornography after being introduced to it by her older cousin. We learn how, studying art history, she realized that there are 500 times as many female nudes in art-history textbooks as there are female artists, and how that led to a career studying porn from a completely apolitical perspective. We learn how professors encourage her to abandon art history for gender studies, but she rebuffs them, because women "should be able to study beauty too." And we learn how she sees herself as a rival to Dick — the idealized "20th-century alpha male," constantly reminding the world about his "massive steel-and-concrete cock" — and views it as her personal mission to surpass him. Toby has spent her life spent being underestimated and objectified, an experience that's now inextricable from the intellectual path she's taken: It's part of what makes her such a formidable force to be reckoned with.
Hearing these women talk, I felt for the first time like I was really grasping the (sometimes oblique) connection that Soloway wants to make between sexual desire and creative self-expression. Just as women's sexuality is formed by growing up in a world run by men, so too are their voices. By casting all these women as sexual-history storytellers, the episode finds a way to turn that dynamic inside out — it both acknowledges the reality and makes something new of it. While I Love Dick is ultimately a work of solipsism, this episode is generous and expansive, taking Chris Kraus's feminist vision — the discovery of the female voice — and using it as a template for a broad new mode of female authorship. Or as Toby puts it, in a mantra that could well be a mission statement for Jill Soloway's feminist production company, Topple: "You've got 30 years on me Dick, but you haven't made a piece in nearly a decade. Your time is running out. Dear Dick, we are not far from your doorstep."