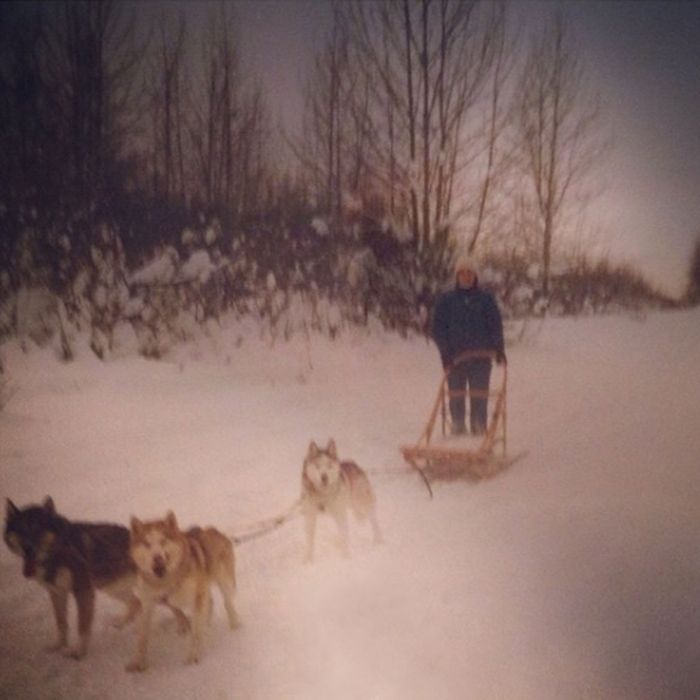 My mom the year before I was born.
Photo: Doug Gann
When I was about to become a mother, I called my mom to vent: I was getting ready to take parental leave and coming up against a problem that made me want to bash my head against a wall. My mom was quiet for a minute, which made me feel guilty immediately — I had things so much better than she must have. What right did I have to complain? "The same thing happened to me," she said finally, her tone even. "How sad it's still the same 30 years later."
Reading pieces about motherhood posted near Mother's Day, I remembered this conversation, for reasons I couldn't identify at first. Three pieces in particular — one about motherhood and mortality, another about pay for working mothers, and one about photographs of mothers — seemed to relate to its themes, about how motherhood was for our mothers and how it is now.
The first, published Friday by ProPublica and NPR, details what caused the childbirth death of a woman from New Jersey. The accompanying statistics — maternal deaths rose in the U.S. from 2000 to 2014 — are a horrifying reflection of, as the article puts it, "a profound disparity: The health care system focuses on babies but often ignores their mothers." The next day, the New York Times published "The Gender Pay Gap Is Largely Because of Motherhood," a fact that might make you want to bash your head against a wall.
Both articles depict motherhood as a source of pain and injustice, a condition either worsening or not getting better at the rate girl power raised us to believe it would. But many of us don't seem to see our mothers that way: On Sunday, most people I know posted pictures of their mothers, usually from before they became parents or during the early years. The photos depict beautiful, charming-seeming women, in alluring vintage fashions and the kind of faded colors our children will know mostly from digital filters.
Earlier last week, novelist Edan Lepucki wrote about images like these, describing the book-promoting project — an Instagram account called Mothers Before — she created to collect them. "The old photos of her," she writes of her own mother, "are even more compelling than the stories because they're a historical record, carrying the weight of fact, even if the truth there is slippery: the trick of an image, and so much left outside the frame." Lepucki's piece, like the photos posted in honor of Mother's Day, is not devoid of death or tragedy — the women in some of the photographs are dead. But they're not statistics or extreme tragedies. They're someone's mother, subject to all the conditions of motherhood when they became one.
My mom became a mother in Anchorage, Alaska, not long after she moved there to be with my father, her new husband. She was a computer programmer who'd studied geography in college; she thought she'd enjoy Alaska's wild outdoors more than she did. To have me, her job granted her six weeks* of leave, unpaid. My favorite photo of her falls into the kind Lepucki wrote about; in it, she's standing on the back of a sled, three huskies panting in the snow in front of her, a wan winter sun setting behind. The photo is too blurry to see the expression on her face, but her stance — in a blue puffy coat, thick jeans, a white hat — is tall and confident, self-assured seeming.
Beyond the passage of time, what's the difference between the counted-up mothers who suffer because a baby's health is prioritized over hers, who make less money than male peers with children, and these beautiful women in faded photographs? The sled-dog photograph of my mom was taken in 1984, a year before I was born. I'm not sure whether she was pregnant, or had any idea that she'd be pregnant three times in the next four years. Looking at her back then, I'm in awe, grateful — and overwhelmingly sad.
More than anything, I wish the sentiments we express for the women in treasured photographs were better reflected in statistics and policies. What if our public feelings and longings for the women our mothers once were could manifest to improve the actual facts of motherhood? New mothers, women who aren't mothers yet but might be someday soon: You're in the photograph now. By the time your kids look back, I hope we have more to celebrate.

*This post originally misstated the length of leave; it was six weeks, not eight.