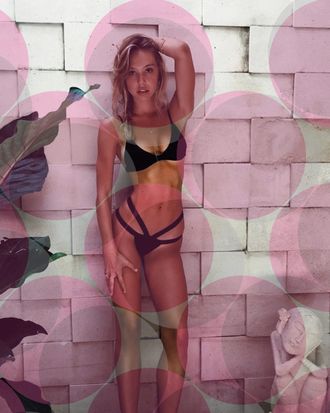 Alexis Ren.
Photo: Courtesy of Instagram/alexisren
Perfection is a moving target. This week, the Cut explores the allure of trying to achieve the impossible.
"I hate when people say I Photoshop myself," the 19-year-old Instagram bikini model tells me over lunch. Her name is Alexis Ren, and she is confidently explaining how she looks the same on Instagram as she does in person. With long blonde hair, suntanned skin, and a waist so small in circumference it appears to defy the laws of physics, she is a flawlessly filtered bikini body come to life. And she knows it. "Like, ha!" she exclaims, describing the feeling when haters finally see her in real life or on Snapchat. "I do work this hard, and I have this body."
This body helped Alexis become a social-media phenomenon long before she could vote or even drive. She got scouted in a Los Angeles mall at 13, modeled in Japan at 14, and found fame on the internet at 15, when photos of her posing by the pool in a black string bikini went viral on Tumblr. "I think I've lived more in five years than a person has in their entire life," she says matter-of-factly. "Because of how much I've gone through, I want to say I'm more wise than my age."
Now Alexis has nearly 7 million followers on Instagram and a roster of modeling clients including Calvin Klein, L'Oréal, and Express. She travels all over the world — Bali, Ibiza, Burning Man — and documents her teen-dream swimsuit-wearing lifestyle on social media. She was represented until recently by the boutique women's agency Nous Models*; she also has a publicist and a management team. One of the team's assistants, Eve, joins us for lunch. ("I always like to have someone with me," Alexis explains.)
Nous Models lists Alexis's proportions as 34-22-34, which sounds like an impossibility until you see her in person. When we meet a little after noon, she is wearing low-slung jeans and a black T-shirt that has been cropped and tied to display both her midriff and a fair amount of her black, lacy bra, which is maybe a little bit too small. She hugs me — she's a hugger — and I hear in my head the echoes of awestruck Instagram tweens christening her as "goals."
"Why can't I be so fire?"
"Like it's unfair that someone can have a stomach like that."
"This girl is perfection!!"
"WTH U BEING THAT SKINNY HOW."
This abject devotion doesn't faze Alexis. "I just honestly accepted it as part of the job, and I learned how to enjoy it," she tells me. Even when people approach her on the street, she's not bothered.
"I will never get tired of it, because I've already accepted that's part of my job, and it would be rude of me to be like, 'But I don't like that,'" she explains. "If I can make a girl's day by hugging her, hell yeah, I'll hug the crap out of her. I will kiss her on the cheek. I will love her. I will take as many photos as she wants. That's how I'll always be. I don't see how that could ever … obviously, I can see how when you get bigger it can get stressful, but at the same time you still have to think, That's crazy that this many people look up to me. Oh my God. And I only want to give back … I can't believe I've affected this many people. I've reached out, and people know me. People know me in Spain. People know me in London. People know me in the States."
And people know a lot about her. Until recently, Alexis was dating another Instagram-famous model, Jay Alvarrez. He's two years older, with spongy, bleach-blond curls and the swagger of a 21-year-old dude who spends his days surfing, skydiving, and jumping off mansion roofs into ice-blue infinity pools. Last year, after he posted a video of his exploits featuring a barely clothed Alexis, noted authority BroBible declared he'd achieved "bro nirvana."
Together, Jay and Alexis exemplified a particular demographic's (white, young, sporty) relationship goals, and as such, the duo became highly marketable. They did commercials as a couple for Snapchat, Express, and the all-new Hyundai Tucson. They posted short films depicting their romantic vacations on YouTube. They made public displays of affection on Instagram almost daily. (Jay captioned one half-naked shot of the two of them, "Kiss you where the sun didn't get to [tongue emoji].")
Sometime this past summer, Jay and Alexis unfollowed each other on Instagram, triggering a tidal wave of cry-face emoji from devastated fans. Alexis deleted most of her photos of Jay (except the paid ads), and tweeted, "I am too full of life to be half loved." Neither party has officially confirmed the breakup, however, and Alexis doesn't want to talk about it with me now.
"It is what it is," she says. "Like, [my] personal life is pretty out there, but I'm okay, everything is good … I mean, it's interesting … everyone has their own opinion about it. But, you know, it is what it is, and we're both happy, and that's what matters."
So you're not together?
Alexis arranges her long, toned arms into an exaggerated shrug.
Later, Alexis goes to the bathroom, and Eve, who is mostly quiet throughout the interview, offers this: "She is in a very transitional phase. You know, it's obvious … She's been working so hard."
Alexis tells me she was financially independent by the time she was 14. After working for a few months in Tokyo, she says, "I did the full rounds in L.A. I worked at all of the very commercial, beachy-vibes brands," like Brandy Melville and PacSun. At 15, she moved out of her parents' house and into an apartment with her older sister. Now she has her own place in L.A., and she makes money from social media and traditional modeling. "I turn down more than I take on, because I always want to be organic," she says. "I'm so stubborn, and I say no to so many things, until I'm just like, 'I'd wear this anyway,' or, 'I would do this anyway' … My biggest thing is that I never want to sell out. Or be a sellout."
With her following, Alexis could rake in untold sums hawking teatoxes or waist trainers on Instagram, but so far she's avoided the #ad trap. This has made her uniquely successful on the app and a model for aspiring social-media stars — last year, Mashable called Alexis a "patron saint" of "the sun and surf-filled social media world." Because of Instagram, she is Nous Models' most recognizable name, and she uses that cachet to book bigger and bigger modeling jobs.
"I started posting on my social media super-young," Alexis recalls. "I didn't really understand what it was. When I was about 15, I started posting behind the scenes of shoots, little things of me holding up the color corrector, cute things, me in a bikini. It was just all innocent and fun, and I saw people really starting to respond to it."
Then she posed in that infamous black bikini for photographer Lucas Passmore. He posted the shots on Tumblr, and things spiraled from there. "When people found out who I was, everyone just started following, following, following," Alexis explains, her brown eyes widening. "I was like, 'This is something.'"
Alexis doesn't seem to mind that people were so eager to share photos of her in a bikini when she was 15 years old. Throughout our conversation, she emphasizes that she grew up quickly, she's independent, and, well, "sex sells." When she talks about her fans, she mostly identifies them as young girls.
She reaches just about everyone on the planet, however, through various forms of social media. "I have Snapchat, Twitter, Facebook, and Instagram," she tells me, ticking them off on her fingers. "Snapchat is just me, reality, whatever I'm doing in that moment. I love Snapchat, because you can't edit anything." Twitter, meanwhile, is her "boundary pusher."
"I just like to say whatever I feel in the moment, and I like to see people's reactions," Alexis says. She has recently started posting her own aphorisms to great applause (RTs).
"If anyone can have it I don't want it."
"Touch me with your soul."
"I'd rather make an impact on your heart than your eyes."
Facebook is a "fan page." "I think it's for, honestly, not … older, but the other generation that is not so into Instagram and Twitter," Alexis posits diplomatically. "My family has Facebook, you know what I mean? My aunt has a Facebook."
In order to keep all of her content "spicy and fun," Alexis travels constantly. Sometimes brands pay for the trips, and sometimes Alexis pays for the trips. Sometimes commenters claim that sugar daddies pay for the trips, and Alexis calls them out.
"I want to show that I make my own money, and I pay for my own things, and that's how I've always been since I was 15," she says. "It just makes me laugh. I laugh. I find it so amusing that people actually think that." But she doesn't judge other girls for going on free vacations with wealthy older men. "It's not a good or bad thing," she insists. "I think, You do you … If that's how you're going to get on a yacht, you go, girl. That's amazing."
Alexis's main job, she says, is staying 34-22-34. She works out every single day, she doesn't drink, and she really eats all those açai bowls she posts on Instagram. At our lunch, she orders a kale-and-quinoa salad with seared tuna and an almond-milk latte. "I would say I'm more Paleo than anything, but I wouldn't even constrict myself to that," she offers. "It's really just about the cleanest form of food." To hear her tell it, it all sounds easy. Part of the job is keeping an even tan.
"I have to get at least 20 minutes of sun every day," she says. "An hour is the best because it's good for you. You need it. I need it to have that little spark … I think of the sun as my battery, my charger. So if I don't get sun for a long time, I feel very honestly drained. So I have to have sun. That's why I travel so much … My life goal right now is to have in my wardrobe a bikini and a fur coat and nothing in between."
I ask her if she wears sunscreen, and she says yes.
In almost every photo on her Instagram, Alexis is wearing not a lot, and she's practical about why. "I mean, this is how I've always put it," she says. "I don't work this hard on my body, I don't put in the effort food-wise and workout-wise to be like, 'No, no, don't look at it.' It just doesn't make sense to me. I love to show off my body, and I feel like I earned it, because I work out every day. I'm really healthy, and that's one of the things I pride myself on."
In the future, Alexis hopes to transition her bikini success into more high-fashion jobs. "I look up to Gigi Hadid," she says. "I love where she's taken herself, I love what brands she's working on. I respect her because I understand … I mean, girls like her open the doors for girls like me. So all I can do is thank her." Gigi's entrée into the fashion world was also nontraditional; she started racking up Instagram followers after appearing with her mother on Real Housewives of Beverly Hills. Now she and fellow reality star Kendall Jenner are two of the top models in the world. Alexis could be one TV appearance away from mainstream success.
After lunch, Alexis heads to her hotel to get ready for three different parties — it's Fashion Week in New York. She's not walking in any shows, but she's here to network and, of course, Instagram. After New York, it's Paris, to film a video for L'Oréal, and Ibiza, to model for another swimsuit line.
"I'm, like, testing my boundaries with social media right now, which has been fun," she declares before she leaves. "I have a very puppy girl image, so it's been fun to kind of be like, Hey, guess who's turning into a woman."
*While Alexis was still under contract with Nous at the time of the interview, she has since left; we've updated the text accordingly.