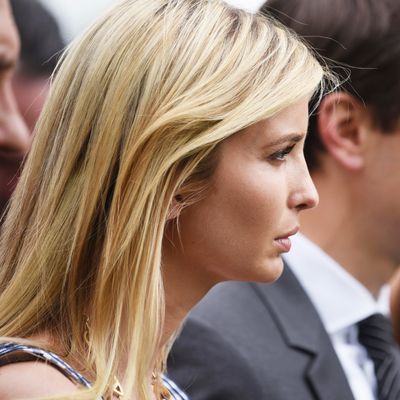 Ivanka Trump's influence might be waning.
Photo: Getty Images
During President Trump's campaign, Ivanka was seen as a dad-whisperer — someone who could "soften" her father's image, and even — to some happily deluded constituents — serve as a "secret liberal" in his camp. Once her father took office, that narrative was perpetuated through a combination of convenient leaks and interviews with the First Daughter herself. In February, for example, she and her husband, Jared Kushner, were rumored to have discouraged language critical of the Paris climate agreement in an executive order, and a more recent report suggested that Ivanka took an immediate interest in preserving the ultimate boogeyman: Planned Parenthood. (Her reported suggestion, that Planned Parenthood spin off its abortion services into a separate entity, was roundly rejected by pro-choice advocates.)
Indeed, even before her dad took office, Ivanka teed up climate change as one of her "signature issues," and she's always claimed to be a champion for women, encouraging a paid-leave provision in her dad's budget and setting up a global fund to promote women's entrepreneurship.
This week, however, news broke that the president is considering two actions that seem to specifically counter Ivanka's professed agenda: first, that he's poised to pull out of the Paris climate agreement (although officials were careful to note that he hasn't made a final decision yet), and second, that his administration plans to roll back Obamacare's birth-control mandate, giving any employer the ability to opt out of offering health-care plans that cover birth control on religious grounds. (We don't know whether Ivanka specifically took a stand on the birth-control mandate, but it does fall under the umbrella of issues she supposedly cares about.)
Ivanka has said that her father "always listens" to her opinions, even when they differ from his own — "I express myself with total candor," she said. "Where I disagree with my father, he knows it." And time after time, whether he was launching an attack on Syria or preserving Obama-era LGBTQ protections or including paid leave in his budget, the president's actions suggested his daughter had his ear when it came to policy.
This week, not so much. And although some critics are suggesting Ivanka dropped the ball, it's also possible that her father is more wary of relying on her and Kushner, his so-called "moderating influences," in the wake of two damning stories about Kushner: one suggesting he proposed establishing a back-channel line of communication with the Russians, and another reporting that his sister used his in with the president to woo Chinese investors. Weirdly, Trump was more pissed about the latter, which he saw as "profiteering" off his presidency — a cardinal sin. Following both rounds of bad press, the New York Times reported that the president's relationship to Kushner is showing "unmistakable signs of strain," and a source told CNN that the president is "emotionally withdrawing … He doesn't have anybody whom he trusts."
In response, Ivanka and Jared are reportedly keeping their heads down — they're both "focused on their work," according to an administration official, and Ivanka in particular is "moving full steam ahead in her West Wing role." The only question is whether her dad is still moving with her.