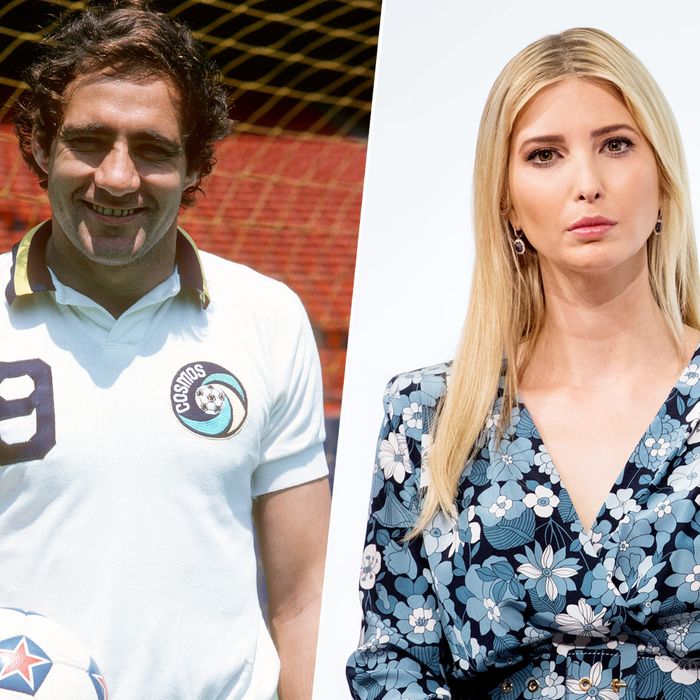 Giorgio Chinaglia and Ivanka Trump.
Photo: Getty Images
First Daughter and sentient shift dress Ivanka Trump has been accompanying her father on his lengthy overseas trip, where she's so far talked the Saudis into forking over $100 million to help "empower" women and witnessed the Pope body-shame her dad. The eve before the big Vatican visit, she and husband Jared Kushner ate an intimate dinner at Roman restaurant Le Cave di Sant'Ignazio, where they reportedly enjoyed a little bruschette and cacio e pepe — while I enjoyed this story about Ivanka confusing a soccer player for a saint.
Per the Guardian, she saw a photograph of the late Lazio star Giorgio Chinaglia standing on a soccer field and asked "which saint is that?" One of the owners, Luigina Pantalone, said "we explained to her that it was not a saint but a great Lazio player."
In all fairness to Ivanka, "the photo was nestled between a crucifix and a picture of Padre Pio, a saint who is revered in Rome," so I understand the confusion. But I can still offer up a hearty [chef's kiss] to the news.