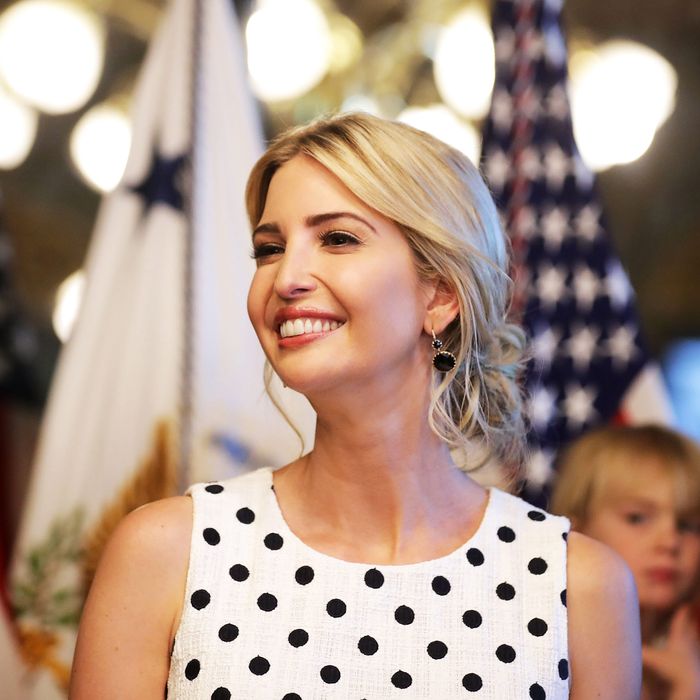 Ivanka Trump.
Photo: Chip Somodevilla/Getty Images
Ivanka Trump is accompanying her father, President Donald Trump, on his first trip overseas since taking office, during which he will give a speech on Islam and host an all-male Toby Keith concert in Saudi Arabia, in addition to stopping by Israel, the Vatican, Belgium, and Sicily. Ivanka's presence on the trip is unsurprising, as the Washington Post reports many foreign countries view her as a "goodwill ambassador" that can help them build a relationship with her father's administration.
According to the Post, foreign nations are "courting" the First Daughter, since she and her husband, Jared Kushner — or Kush — are not only top White House advisers but also have "an all-important familial connection that gives them rare influence." In return, Ivanka has apparently been helping advance those countries' interests with her father.
Per the Post:
"She's being seen as a goodwill ambassador slash adviser, slash soft-power effort for an administration that has had a lot of challenges in those areas," said a senior diplomat for a Latin American country, who requested anonymity to speak candidly about the embassies' outreach to Trump. "By all accounts, she seems to be everything that her father is not: likable, soft-spoken, and she's not impulsive, she seems to be thinking through everything that she does."
To illustrate Ivanka's influence on her father's foreign affairs, the report highlights the president's struggle to establish a relationship with China. He hadn't yet spoken with his Chinese counterpart more than two weeks after his inauguration, but then Ivanka and her children stopped by the Chinese embassy, and only days later, Trump and the Chinese president were finally on the phone. According to the Post, more countries are taking notice of Ivanka's role in current U.S. diplomacy, and embassies are actively inviting her to galas and cultural events to establish relationships.
The Post notes that Ivanka has made appearances at both the Chinese and Japanese embassies, dined with the British ambassador, and visited the French ambassador's residence. German chancellor Angela Merkel also invited Ivanka to attend a women's economic summit in Berlin, and she attended a Broadway show with Canadian prime minister Justin Trudeau.