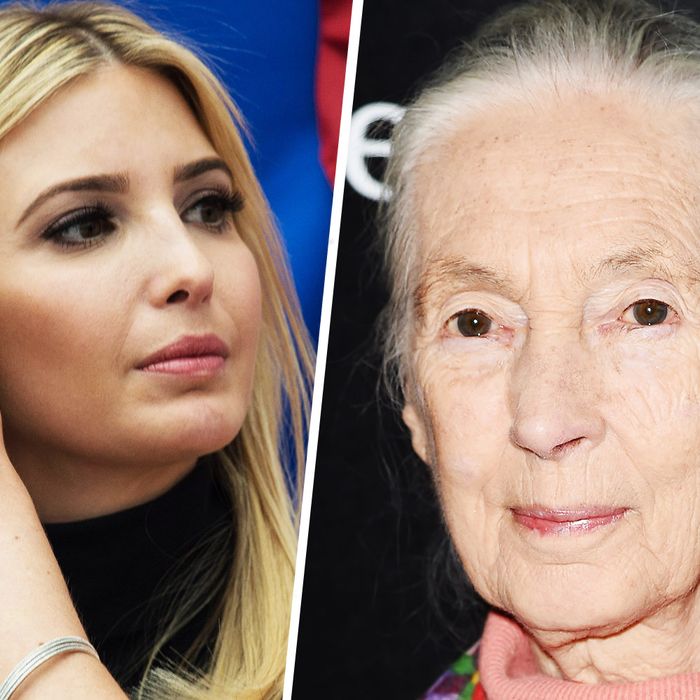 Ivanka Trump (left), Jane Goodall (right).
Ivanka Trump's new book about being a businesslady, Women Who Work, is packed with quotes from inspirational women who oppose her father, President Donald Trump, including one from famed researcher and conservationist Jane Goodall. However, it appears Ivanka used Goodall's quote without giving her a head's up first, and now Goodall is speaking out.
As the Washington Post reports, the quote from Goodall reads, "What you do makes a difference and you have to decide what kind of difference you want to make." Ivanka's book was released on Tuesday, less than a week after protesters marched on Washington, D.C., to call for action on climate change, a cause Goodall vehemently supports. Goodall issued a statement asking Ivanka to heed her words.
Per the Post:
"I understand that Ms. Trump has used one of my quotes in her forthcoming book," Goodall said in a statement provided to The Washington Post. "I was not aware of this, and have not spoken with her, but I sincerely hope she will take the full import of my words to heart."
Goodall added that the Trump administration is putting previously passed legislation to protect wildlife in jeopardy, including the Endangered Species Act, clean air and water legislation, and national monument efforts. "She is in a position to do much good or terrible harm," Goodall told the Post. "I hope that Ms. Trump will stand with us to value and cherish our natural world and protect this planet for future generations."
The conservationist previously spoke out against Trump shortly after the presidential election in a post on her website, entitled "Post Election 2016: What's Next?" Furthermore, after Trump signed an executive order in March that would dismantle U.S. carbon-emission rules, Goodall said she found the order to be "immensely depressing."
Representatives for Ivanka told CNNMoney that Women Who Work is "not a political book," and that Ivanka included "quotes from many different thought leaders who've inspired Ivanka and helped inform her viewpoints over the years."