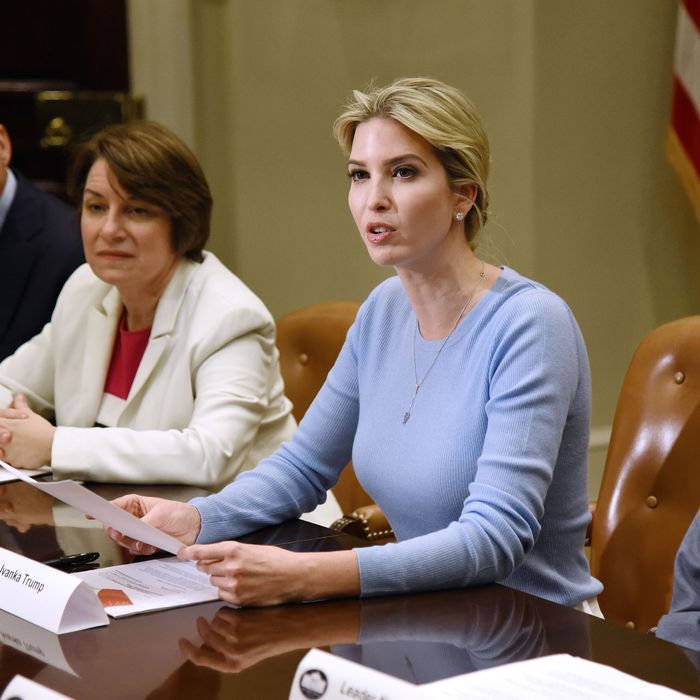 Ivanka Trump led a meeting on human trafficking yesterday.
Photo: OLIVIER DOULIERY/AFP/Getty Images
On Wednesday, while her dad traveled to Connecticut to give a self-pitying speech to new Coast Guard Academy graduates, Ivanka Trump remained at the White House and led a bipartisan meeting on human trafficking. According to Fortune, two Democratic senators — Amy Klobuchar and Heidi Heitkamp — attended the meeting, along with GOP senator Bob Corker, five Republican members of Congress, and ten leaders of organizations that deal with human trafficking.
Unlike other issues she's grappling with, such as promoting women in the workplace and designing a family-leave policy, the First Daughter appeared to have an actionable plan to introduce legislation that will address human trafficking. "We have been conducting interagency meetings to understand the scope of the issue, as well as gathering recommendations from the academic, public and private sector," she said during the approximately three minutes that the press was allowed in the room. "Today, we bring an additional and critical group to the table, legislative leaders, to discuss concrete steps through legislation."
Klobuchar, Corker, and Heitkamp have been working on human trafficking in the Senate for a while, and Heitkamp's office issued a statement saying she has "long been a vocal advocate to combat human trafficking, and today's discussion was about how to accomplish that goal."
Ivanka, meanwhile, is new to the issue; she previously organized a "listening session" on the topic that she and her father attended in February. Along with tax policy, climate change, and refugee policy, it looks like this is another issue the First Daughter is "really, really trying to learn."