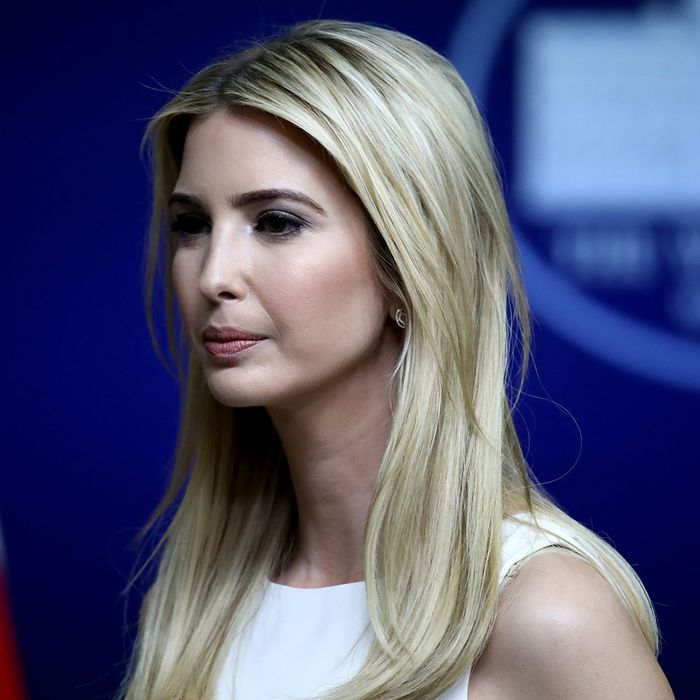 Ivanka Trump.
Photo: Win McNamee/Getty Images
In early April, conveniently timed news leaked that Ivanka Trump met with Planned Parenthood president Cecile Richards to apparently "seek common ground on the contentious issue of abortion." Now, a new (and extremely in-depth) New York Times profile on the First Daughter provides more insight into that conversation — including the fact that Ivanka told Richards the organization should be split in two.
The Times reports that, during the campaign, it was Ivanka who pushed her father, Donald Trump, to "praise" Planned Parenthood during a Republican debate. And later, when congressional GOP members threatened to cut all federal funding to Planned Parenthood, Ivanka approached Richards to "start a broader dialogue." Per the Times:
She also had a proposal: Planned Parenthood should split in two, Ms. Trump suggested, with a smaller arm to provide abortions and a larger one devoted to women's health services.
According to White House officials, Ivanka's proposal was an attempt to "find a common-sense solution" (even though the organization doesn't use federal funds on abortion services). Planned Parenthood officials reportedly found Ivanka's proposal to be "naïve" and a demonstration of how little the First Daughter understands about the group's mission, particularly the importance of reproductive choice in women's health.
Ms. Richards sharply criticized Ms. Trump for not publicly objecting to the Republican health care bill that failed in March, and Ms. Trump felt stung.
Ivanka reportedly complained that advocacy groups were "so wedded to the headline of the issue that sometimes differing perspectives and new information" are viewed as an "inconvenience," according to the Times. Nevertheless, a White House official claims Ivanka reportedly helped preserve and increase funding for women's health in a new government-spending deal reached this weekend. Yet, a new bill to repeal the Affordable Care Act could still include a measure to defund Planned Parenthood.