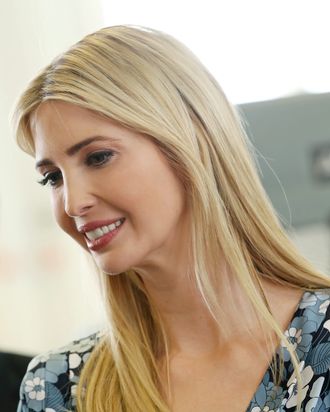 Ivanka Trump: professional listener.
Photo: 2017 Getty Images
As "people who know them both" pointed out to the New York Times last week, Ivanka and her dad are similar in some pretty big ways — both are good salespeople, both sometimes make sweeping generalities, and both use similar superlatives ("tremendous," "unbelievable") to describe things. But unlike her dad, Ivanka has openly said she doesn't know much about how to govern. "I'm still at the early stages of learning how everything works," she told the Times, and according to a tip from Politico, she'll spend this week trying to figure some of it out.
A White House Official told Politico that the First Daughter will be meeting with department heads and cabinet officials on a "listening tour" to "discuss issues like helping working families and supporting women's economic empowerment."
She'll also reportedly meet with EPA administrator Scott Pruitt twice this week "as part of the administration's process to decide whether to abandon the Paris climate treaty," and she'll "sit down … with HHS Secretary Tom Price, VA Secretary David Shulkin, [and] Labor Secretary Alexander Acosta to discuss workforce development and SBA Administrator Linda McMahon to discuss entrepreneurship."
To rehash, Ivanka is discussing policy to promote working families, women's economic empowerment, workforce development, and entrepreneurship, and she's helping her dad to decide whether or not to keep the Paris climate treaty in place (something she planned to "speak out" about). Looks like she has almost as much on her plate as her husband.