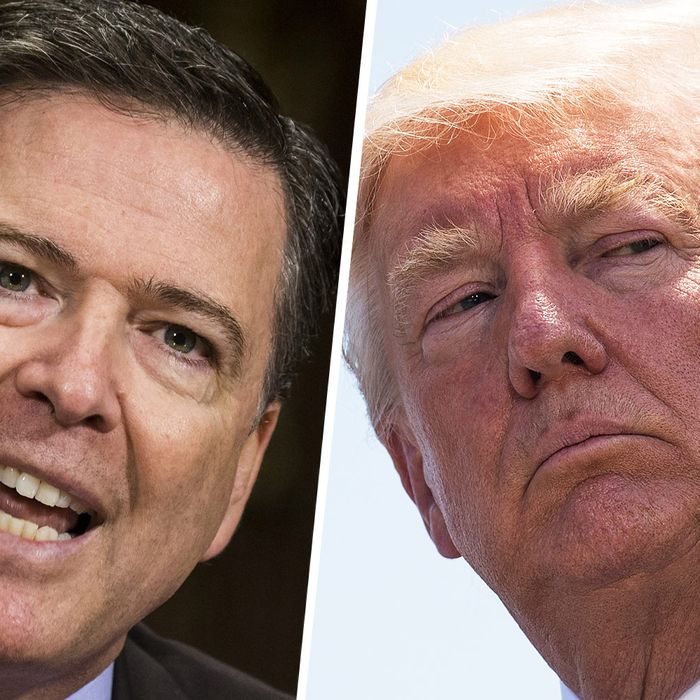 James Comey, Donald Trump.
Photo: Getty
The Trump administration has so far been marked by a series of leaks that expose both the gross incompetence of and infighting within the whole operation. On Thursday, Benjamin Wittes — a senior fellow at the Brookings Institution and a friend of former FBI director James Comey — sent out a couple of purposefully vague tweets implying that he knew more such news was going to drop.
For anyone who has ever watched a Bravo reality show, this is a familiar tactic: a pot-stirrer hints at juicy, potentially catastrophic gossip in order to gain attention and render the information all the more fascinating. And by God, it worked. By that evening, Wittes had finally come out with what he had to say, via an interview in the New York Times and a post on Lawfare blog. Wittes detailed how, prior to Comey's firing, Comey had been adamant about keeping Trump at arm's length — though his efforts didn't exactly work.
In particular, Wittes writes about a time when Comey actually tried to hide in the drapes to avoid interacting with the president.
On January 22, Trump held a meeting with law-enforcement leadership in the White House's Blue Room to "thank them for their role in the inauguration."
Comey, who is six-foot-eight, tried to think quick:
He was wearing a blue blazer and noticed that the drapes were blue. So he stood in the back, right in front of the drapes, hoping Trump wouldn't notice him camouflaged against the wall.

And for a long time, he reported, Trump didn't seem to notice him. The meeting was nearly over, he said, and he really thought he was going to get away without an individual interaction. But when you're six foot, eight inches tall, it's hard to blend in forever, and Trump ultimately singled him out — and did so with the most damning faint praise possible: "Oh, and there's Jim. He's become more famous than me!"
There's also some video evidence of the moment Comey is found out, where his inner monologue is definitely: shitshitshitshitshitshit.
If only he had been near some bushes instead.