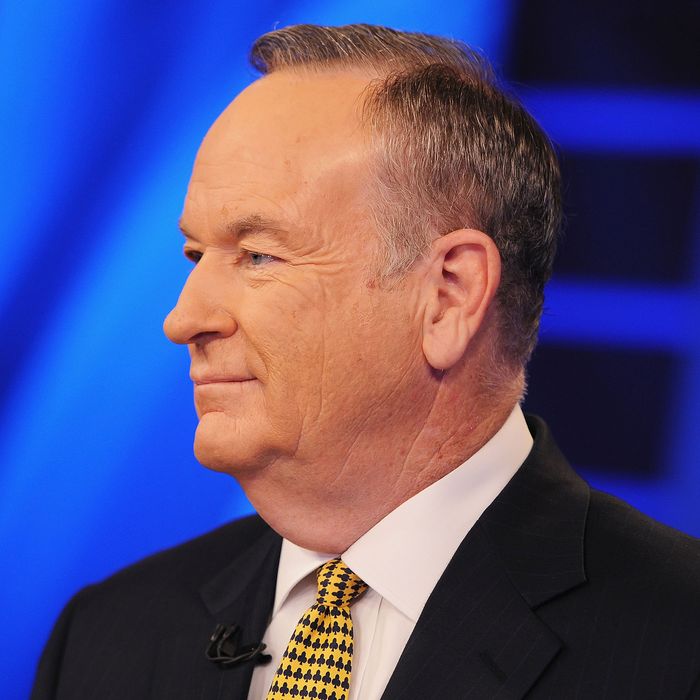 Bill O'Reilly.
Photo: Slaven Vlasic/Getty Images
Weeks after it was revealed that Fox News and Bill O'Reilly doled out around $13 million in settlements to women who accused O'Reilly of sexual harassment or verbal abuse, a new investigation from Jezebel has uncovered new and disturbing information about the media personality. According to the report, O'Reilly's ex-wife swore in an October 2011 affidavit that he violently assaulted her after she "discovered him half-naked" and engaged in phone sex.
As Jezebel reports, the affidavit from O'Reilly's ex-wife, Maureen McPhilmy O'Reilly, details the alleged attack, which purportedly occurred around 10:30 p.m. one evening in December 2009 after McPhilmy caught him engaging in phone sex in their Long Island bedroom. The former Fox News host reportedly slammed McPhilmy into a nearby wall, wrapped his arms around her (to the point that she was immobilized), and violently dragged her around their home. Per Jezebel:
O'Reilly went on, the affidavit claims, to drag McPhilmy by the neck down a flight of stairs and through the kitchen, as McPhilmy screamed that he was hurting her. In the kitchen, the affidavit claims, a security guard assigned to protect O'Reilly and his family saw what was going on, at which point O'Reilly stopped the attack. When the guard asked her if she wanted to report the incident to the police, she declined, McPhilmy added.
While the affidavit doesn't specify who O'Reilly was allegedly engaged in phone sex with, at least two ex–Fox News employees have accused him of calling them while seemingly masturbating, Jezebel notes. The report comes two years after Gawker broke the news that O'Reilly's daughter allegedly claimed during her parents' divorce proceedings that she had witnessed O'Reilly choking her mother at least once.
Jezebel's full report delves even further into the O'Reillys' contentious divorce and custody proceedings, including an allegation that the former Fox News anchor used his connections to get his ex-wife's new husband — a Nassau County Police detective — embroiled in an internal-affairs investigation. An attorney for McPhilmy reportedly declined Jezebel's request for comment, while neither McPhilmy nor O'Reilly or his attorneys responded to Jezebel's requests for comment.
Bill O'Reilly has made some remarkably sexist comments on air.