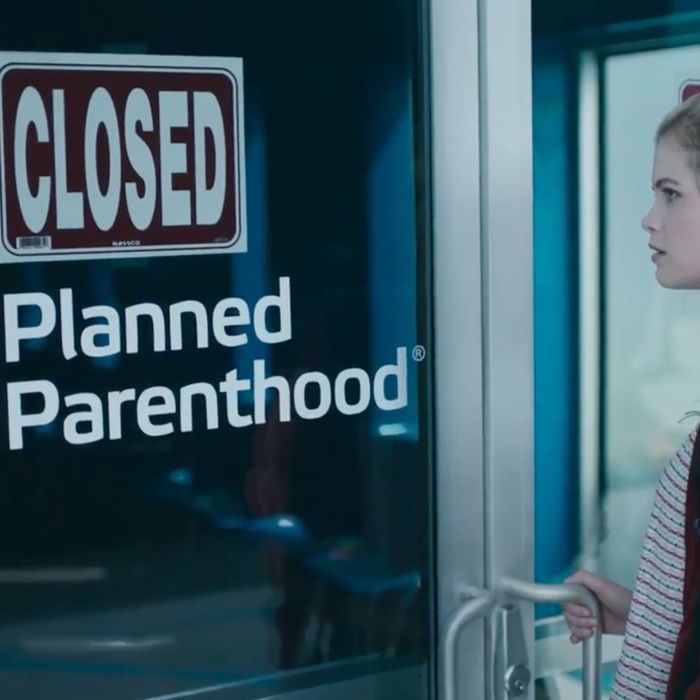 In Joss Whedon's film, a woman tries to open the door to Planned Parenthood but finds a "closed" sign.
Photo: Courtesy of YouTube/Joss Whedon
Planned Parenthood has become more of a hot-button issue than ever under Donald Trump, who as a candidate promised to defund it, despite knowing that it helps "millions and millions" of American women. And although the organization would keep its funding under Congress's new spending bill, the health-care bill just passed in the House of Representatives (and that's currently under Senate review) would strip the organization of a large chunk of its federal funding.
Director Joss Whedon took all this into account when he created "Unlocked," a short film that imagines what the world would look like without Planned Parenthood clinics. It uses the situations of three different women to highlight services the clinics offer, such as STD screenings, birth control, and cancer screenings.
"I've supported Planned Parenthood in the past, but until I worked with them closely on this, I didn't understand how many services they — and for some, they alone — provide," Whedon said in a press release. "For so many, there's an obvious tipping point between hope and despair."
It's a pretty effective piece of advertising. Watch the whole video below: