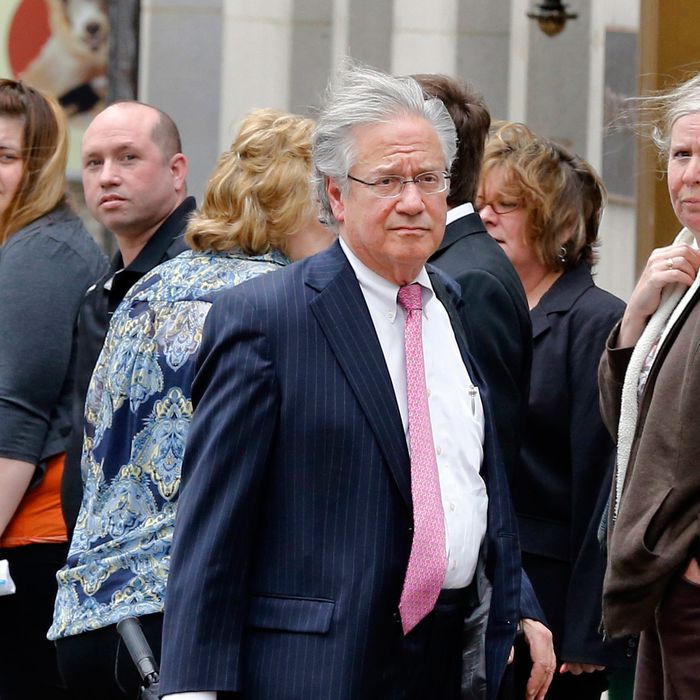 A senior judge in Pennsylvania is under fire for suggesting during a recent hearing that a man convicted of sexual harassment be fined $1 for each time he allegedly groped his victim, the Pittsburgh Post-Gazette reports.
On April 26, Common Pleas Senior Judge Lester G. Nauhaus was presiding over a summary appeal hearing of an 18-year-old (whose name is withheld because he was a juvenile at the time of the alleged conduct) convicted of inappropriately touching the victim throughout middle and high school. The defendant was appealing the $300 fine, and assistant district attorney Jeff Tisak informed Judge Nauhaus that the prosecution was seeking only 90 days probation and a no-contact order.
Per the Post-Gazette:
"Fine," Judge Nauhaus responded. "I'm going to give him a 90-day postponement. He has to do community service. And he has to pay a $3 fine. How many times did he touch?"
The victim then responded that he had groped her "six times, maybe."
"A $6 fine," the judge said.
Tisak interrupted the judge to tell him that it is "just highly inappropriate to tell a young girl that inappropriate touching is worth a dollar a time." The judge then decided to impose a fine of "zero dollars."
The judge later told the Post-Gazette that he wasn't seeking to minimize what happened to the victim, but that the prosecutor had come before him without a suggestion of any monetary fine. "It's frustrating. I didn't mean to mock. I didn't mean to denigrate," Judge Nauhaus told the Post-Gazette. "I just wanted somebody to give me an answer. That's their job."
The Allegheny District Attorney's Office is planning on reporting the conduct, according to the Post-Gazette. "Such conduct has no place in our system and the district attorney will bring it to the attention of the appropriate persons and, if necessary, the Judicial Conduct Board," the district attorney's spokesperson, Mike Manko, told the Post-Gazette.
This isn't the first time the judge has found himself in the midst of controversy over his actions, the Post-Gazette notes. He apparently made a woman convicted in a corruption case pose in handcuffs for a picture, and asked the woman to send the picture with a handwritten apology to every judge in the state.