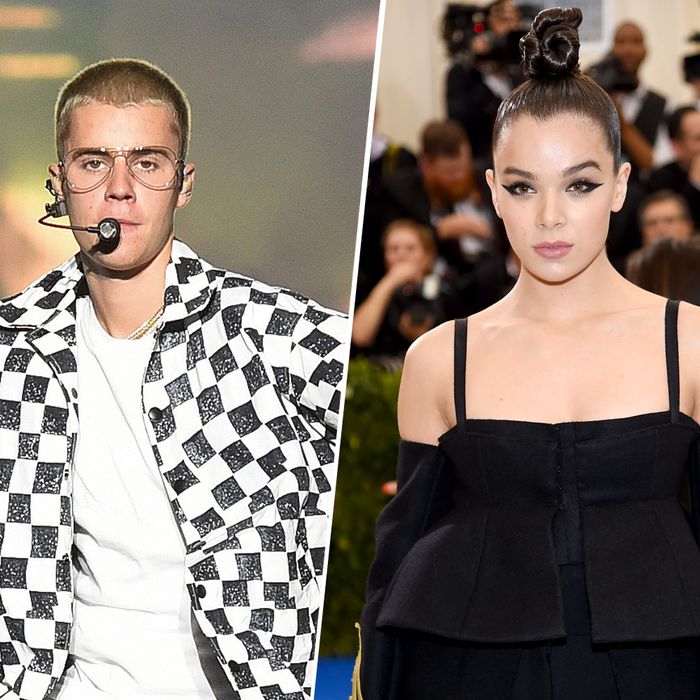 Justin Bieber (left), Hailee Steinfeld (right).
Photo: Getty Images
If you've been worried that Justin Bieber is reeling from the news that Selena Gomez and The Weeknd "like each other's personalities," then you can finally sleep easy, because the male-crop-top aficionado has reportedly moved on with actress Hailee Steinfeld.
Not to be confused with Bieber's ex Hailey Baldwin, Hailee Steinfeld has reportedly been dating the singer for "over a month," according to TMZ. The pair were set up by hip pastor Carl Lentz, as they both attend his church, which has been described as "Arcade Fire — it's epic like that."
Rumors that the Pitch Perfect 2 star and basketball enthusiast were dating began to swirl when Bieber was photographed last month mid-FaceTime with Steinfeld. And most recently, Bieber reportedly "met up" with the actress in New York on Monday night after she attended the Met Gala.
No word yet on whether the coupling has caused any infighting among Taylor Swift's squad, of which both Gomez and Steinfeld are high-profile members. But given that Gomez is currently dating the ex of squad member Bella Hadid, and that another squad member, Gigi Hadid, dated Swift's ex, Joe Jonas, it seems like this incestuous circle of love is just the norm for these friends.
Update 2:05 p.m.: Gossip Cop "exclusively" reports that Bieber and Steinfeld are not dating, despite TMZ's story. A "mutual pal" told Gossip Cop that while Bieber and Steinfeld are friends, there is "zero truth, none whatsoever" to the report that they are dating.