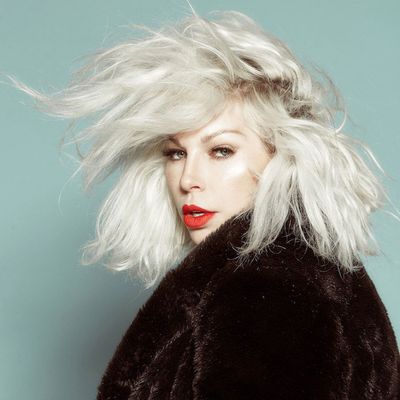 Makeup artist Joyce Bonelli.
Photo: Courtesy of Joyce Bonelli
Makeup artist Joyce Bonelli is even an inspiration to Kim Kardashian. When Kardashian went platinum last year, her longtime makeup artist was the hair-spiration. Bonelli has been the family's makeup artist for decades, so much so that Kim will tell the artist that she misses her "Joyce lashes" when she doesn't get to see her. The Cut talked to Bonelli, who's starting her own makeup line, about how her makeup has fueled plastic-surgery rumors, her favorite products, and why even she is over Instagram makeup, the very same makeup aesthetic that she had some hand in popularizing.
How do you view makeup?
It is absolutely amazing for so many different reasons. I personally don't wear a lot of it, but what I do is transformational makeup. I've given Khloé [Kardashian] the best nose job for eight years with contour. No, she didn't, it's just makeup. It's makeup and it's fun.
Personally, I can't go anywhere without having my lashes and brows done. I come from a really conservative family and for some reason, my aunt would talk down about wearing makeup, and about my job and career. And finally one day I said, "Makeup has got a lot of women literally fucked," and it makes them feel good and have more confidence. Even if you're a businesswoman, the way you do your makeup and wear your hair, really does build confidence in many different ways.
What does it mean, having your lashes done?
I won't leave the house without mascara. Being a mom, I love doing lash extensions. I love lots of mascara. My mascara process is that I get really in there. I'm always like, I'm going to attack your eyeballs now. It looks crazy, it feels crazy. I'll have them close their eye, and gently lift up their lid. And then I apply mascara around my finger. I coat the inside, outside of the lash and in-between. If you're just doing it yourself, the last part is to keep your eye closed a bit and moving the wand back and forth at the lash line, which just lifts them up.
I do love to add a couple individual lashes, but recently I've been on a no-added-lash phase. It depends on the look. On camera if it's a red carpet, I'll add a couple to beef them up a bit. I've been doing Kim [Kardashian] without it a few days.
Many of your clients are in different high-profile photography situations, from paparazzi to HDTV to selfies with fans. How do you differentiate the makeup between the different scenarios?
I like to do more matte for HD. For a red carpet, I like to not have it so matte. It has to be organized. A lot of my clients, their makeup is an all-day thing. So we will start by having it matte, and blot throughout the day instead of adding more powder, which can get cakey.
If they have a red-carpet event later that night, their makeup has set and some of the oil from their skin has even come through, so it looks like perfect skin. I love flawless skin that's not obvious in terms of where the contour and blush are, but blends really well together. Sometimes, a client will be like, "No, I need more contour." And I'll be like, "Are you sure?" And then I see it on TV and I'll want to kill myself. [Laughs.]
I've also found that when there's a nude lip with any bit of coral or pink, those colors get picked up so that it looks like a full-on lip. I like to stay very neutral. I don't even like that much blush. I usually like more bronzer for blush and to keep it more monochromatic.
What do you think of Instagram makeup and beauty on the app?
Instagram is really amazing. I find a lot of amazing artists that I've never heard of before through it. There's this one girl, she has a full-on face-painting situation where she paints a face on the side of her face and somehow you get the illusion of seeing three eyeballs.
Then I'm in all these group chats where we share things, sometimes from Instagram. Kourtney actually sent this one meme or short video of a girl using her boyfriend's ball sac as a Beauty Blender. I was like, What is going on? But that's exactly how I feel about this whole Instagram makeup. [That] video was brilliant, it shows you what BS Instagram makeup is. Kourtney said she would try it. [Laughs.] I use a brush for the whole face as opposed to a sponge everywhere. And with a lighter foundation, a damp sponge. I like the mix of both. Everyone does something different, ball sacks and all.
As far as Instagrammers who just do a full face of makeup, I'm just bored with that. It is not something I'm personally obsessed with. It's always the same thing and it's a shit ton of makeup. I'll see them and be like, What is going on? You need to chisel this makeup off their face. That's just my opinion. I mean, is that really their vibe, every single day?
I don't like an eyebrow that looks like it's drawn on your head. It's an epidemic. I'm all about what you really look like. People are so obsessed with the filters and Photoshop. But I'm doing makeup that's being seen in all different elements. It just doesn't translate.
A lot of people claim that your makeup or the style that you made popular was a version of this Kardashian makeup. Do you think that's accurate?
I don't take offense to it. Every artist evolves, and that's how I used to do makeup. It's a lot. As an artist, you get bored with things. One day, you could be into a major smoky eye and then be like, Let's do bare eyes, a clear gloss, and a pop of color on the lip. I'm always switching it up.
About 13 years ago, I had a director that told me, "Your makeup is too perfect." At the time, I was like, What!? What do you mean? I was confused. But now I realize that everything doesn't need to look so perfect. There needs to be dimension. You can't have it be too precise, or it looks like there's too much going on.
So I love perfect skin, but I like a great eyebrow that is a little messier so it's brushed straight up. That's my opinion. At some point, it's going to change for people too. I do see the Instagrammers who are doing a full face with magenta, turquoise, and fuchsia eye shadow. Who does that? I've never seen anyone anywhere with that on their face. I've never gone to the grocery store and seen those colors on someone else. And these people have huge followings.
Something else I take pride in, I don't just post a million different products, I'm not here to sell bullshit. Anything I'm posting is stuff I actually use and love. You see these people and everyday, they're posting about something different. I want to be authentic. I'm building my own cosmetics line, I want people to take it seriously.
Was there a tipping point for you when you realized, This is too much and I'm not into this anymore?
No, I just change things. I remember doing a brown-chocolate eyeliner on Khloé for the Kim and Kanye week-of-wedding soirees. This is something that was around in the '90s. I was obsessed with it then and had dark matte lips on all the time. People would be like, You look like you have shit on your lips. Now it's become major. So you go through phases. I'm always changing things. When your girlfriends wear something or say a new slang word, they start adopting it too.
I heard you're working on a beauty line. What is it?
The basis is it's about the ritual of beauty for a woman. It's to bring out each person's natural beauty and accentuate that. It's the best of the best. I'm not selling a thousand different things, it's just a few things that I love. I'm excited. It's really perfect.
Before I got pregnant, I was working with another manufacturer and wasn't happy with the outcome. In the last few months, we've been starting over which is exciting. It's frustrating but really coming together with each formula. My new manufacturer is in Milan, and I finally found the right chemist. We are shooting for a September-October release date, before Christmas.
Right now, I'm testing this brow-gel sample from my cosmetic line. I'm into legit gluing them in place. It's clear in color, I'm not trying to add any shimmer or gold. It lasts all day, so that when I touch my face and rub my brow, it's still there. It doesn't look like makeup, but just keeps it where it is supposed to be.
It's my go-to cream. It's really thick, and it's not necessarily good for all skin types. I can't live without it. My skin gets really dry, I use it three times a day.
I love it because there's a little concealer and mirror included. I know it's very pricey but I'm also really fair, and this comes in alabaster shades.
This foundation translates really beautifully on camera, whether you follow up with a sealing powder or not.
I like the wand and the actual formula. It's great if you don't want to use waterproof, and it's more long-lasting than other brands.
I use this one a lot. Everyone has a preference. Sometimes, if someone has long lashes even on the bottom, they look down and it gets into your foundation. But these two are great. I've never had a problem.
If you buy something through our links, New York may earn an affiliate commission.