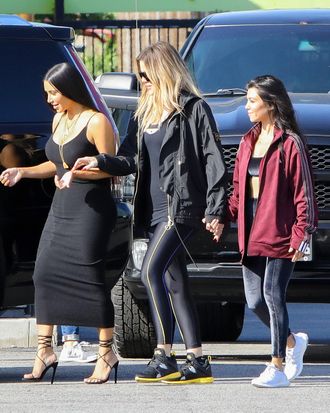 The Kardashians at Planned Parenthood.
Photo: Juliano/X17online.com
Kim, Kourtney, and Khloé Kardashian were spotted holding hands outside of a Planned Parenthood in Los Angeles on Thursday, where they were filming an upcoming episode of Keeping Up With the Kardashians.
The sisters were at the health center to chat with Planned Parenthood leaders about their health-care efforts and the ways the Trump administration has been affecting the organization for an upcoming episode, TMZ reports. Kardashian sources said their main goal for the meeting was to "find out how they can contribute to the group's cause and work more with them in the future."
It's unclear when the episode will air, but looks like Keeping Up With the Kardashians is about to get more political.