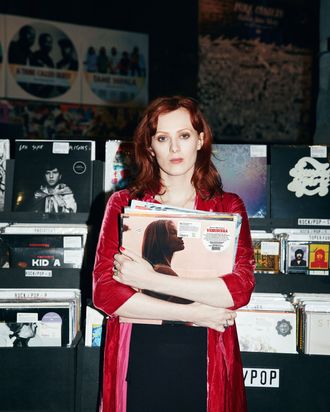 Karen Elson at Rough Trade Records.
Photo: Katie Thompson
When Karen Elson first moved to Nashville, she got a call from a friend in the East Village, where she'd just vacated what she calls a "dodgy one-bedroom" on East 2nd Street: "All your records are out in the street." Elson had mixed up the dates of her move-out — so her landlord summarily dumped her collection of thousands of records out on the sidewalk. A neighbor was able to save 15 LPs, but Elson has spent the time since then trying to rebuild her collection.

On a rainy afternoon at Rough Trade Records in Williamsburg, she's making headway. "This will be a great Sunday-morning record," she says, picking up an Ennio Morricone record with Veruschka gracing the sleeve. She adds it to an ever-growing stack that also includes Nick Cave and Warren Ellis's soundtrack for National Geographic's Mars — Cave and his fashion-designer wife, Susie, have become friends of Elson's — and David Bowie's The Man Who Fell to Earth soundtrack, presumably to continue the outer-space theme. A Galaxie 500 record reminds her of her East Village days: "I had a turntable and a 4-track, and I just listed to Galaxie 500, the Cure, very depressing bands. But that's my thing. I love shoegazer-y music."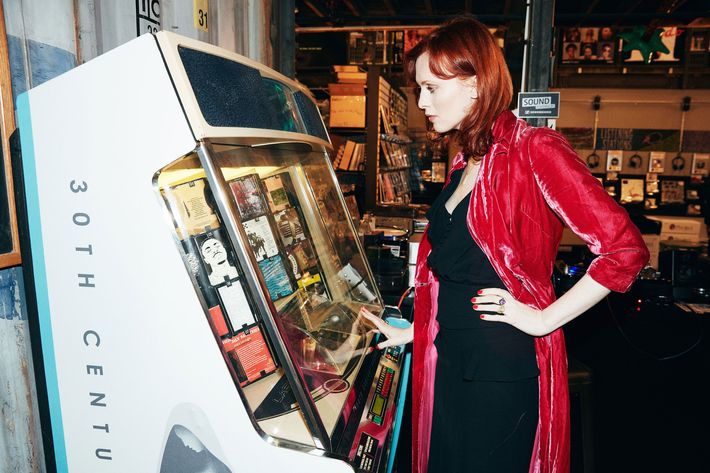 During her first years in Nashville, Elson fell off her vinyl habit. "Obviously, being married to a person who has five record labels [ex-husband Jack White], records permeate everything in your life. I almost forgot about my own collection, in a way. Putting out another record has got me back into the idea of listening to vinyl." Elson's latest album, Double Roses, came out last month. She enlisted producer Jonathan Wilson, known for his work with Father John Misty, and pooled talent like singer Laura Marling and the Black Keys' Patrick Carney, who plays drums on the album's single "Call Your Name." That song's refrain — "I don't call your name anymore / I can't take the weight like I did before / Now you take my heart from out me / You'll be the death of me" — has fueled speculation among some reviewers that the album is a breakup record about White. But Elson says the inspiration for the songs is more universal than that. "It's the lonely nights when you're sort of wondering, 'What the hell am I doing? What am I about? What am I doing with my life? Where am I going?'" she says.

Elson has also been developing a fashion persona for the new album, one that feels different from the country-goth ensembles she wore on tour for her first album, the macabre The Ghost Who Walks. Today, she's wearing a cranberry-colored velvet cape, part of her huge trove of vintage clothes, which tend toward the romantic and dramatic. "Occasionally, dropping my kids off, I'm like, 'All right, tone it down, Karen,'" she admits. "The idea of wearing your ridiculously gorgeous, fragile, 1930s vintage dress when you're dealing with young children? It doesn't become as practical." She's also been, in her capacity as a Jo Malone London Girl, exploring the world of fragrance. For her onstage moments, "I've been getting into their more sensual, seductive fragrances. Velvet Rose & Oud is good, and the Myrrh and Tonka is heavenly. Incense and Cedrat, as well. Very heady, sort of nighttime-rendezvous fragrances."
The Red Roses scent takes her back to her childhood in the north of England and to one of her first memories. "I remember being a very naughty little girl and going into my neighbor's garden and picking their roses," she recalls, "In my head, I thought, 'I know how to make perfume. You crush roses.' So me and my girlfriend, Joanne, we'd pick all the roses and we'd put them in a bucket and we'd smash them to pieces to try and get the fragrance. And then we poured water on them. We thought we were making gorgeous rosewater. Within a day, it would go off and it wouldn't smell like gorgeous rosewater anymore."
As Elson prepares to tour, her modeling career is hardly on the back burner. She's recently appeared in a Miu Miu campaign and on the cover of British Harper's Bazaar, with two foxes the same hue as her red hair as her co-stars. This fall, she modeled in Bottega Veneta's 50th-anniversary show alongside Lauren Hutton and Guinevere van Seenus. But she was also cut from an unnamed New York Fashion Week show because of, as she put it at the time, "body stuff." When I ask her to reflect on it now, as she's sipping tea in the record store's coffee shop, she says matter-of-factly, "Rejection is rejection. The issue I had is that I was put in a really vulnerable position as a woman. Standing around with very [few] clothes on, having your body scrutinized, is something no woman really needs to contend with. So that was purely my only issue with that. That I was made to feel humiliated for the way my body looks versus celebrate it. Because I'd rather be celebrated for how I look than diminished. But I stood up for myself and I let them know that that wasn't okay and moved on," she says. "I can't deny that it stung and it made me feel — I wouldn't say it made me feel insecure. It didn't. Because I'm comfortable in my skin these days. It just made me outraged that I was put into this situation to be made to feel diminished."
It's not the only obstacle she's found navigating the brave new world of modeling today, where new faces are hired because of their follower counts. Elson came of age long before social media, and she's still adjusting to its role in her life. "For me, it's fiction. I'm very aware that it's an idealized version of your life. Sometimes even to the point of obnoxiousness: 'Look at me in all these fabulous places!' You're not taking a picture of yourself crying in your hotel room when you've had a really long day. Like last night, when my bags were lost at JFK, where I'm literally like," she feigns a sob, "'I just wanna go …' but you're not like '#HateMyLife,' '#FeelingUngratefulTonightSorry.' You don't do that. I don't do that, anyway. I don't show my kids' faces on Instagram. I show my cats' faces on Instagram. I want to be a cat stage mother."
When I suggest she involve her felines in the performance, she says, "I want a cardboard cutout of Fergus, Annabelle, Marmalade, and Jam onstage." She waves a hand toward her assistant, a new idea brewing in her head. "We should definitely make merch out of Fergus!"