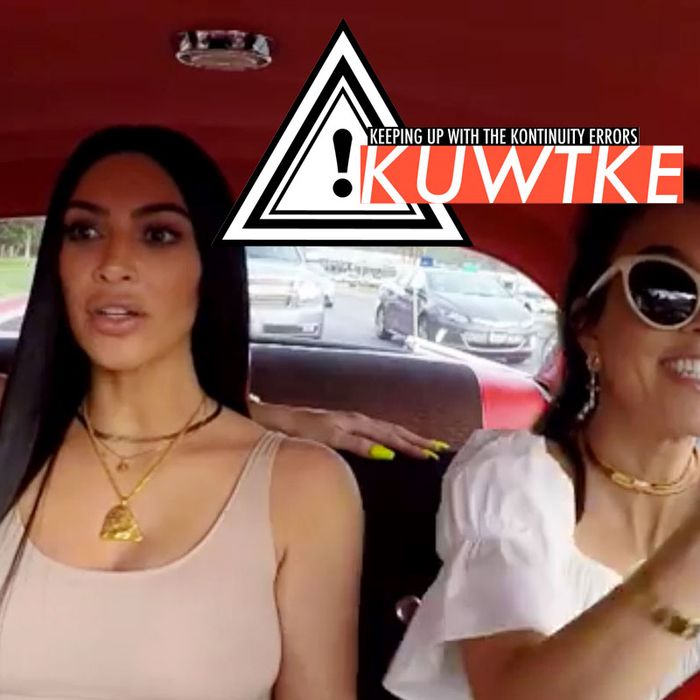 Photo: Courtesy of E! Entertainment
On last night's episode of Keeping Up With the Kardashians our A plot was the Kardashian Sister Trip to Palm Springs; our B plot was Kris Jenner's eggs; and our C plot was Kris Jenner setting up her only son to be scammed. I don't even have to tell ya'll what time it is — #LEGGO!!!
Scene 2:
At a restaurant in the treasured community of Woodland Hills, Kristen Kardashian Jenner joins her eldest children, Kourtney Kardashian and Kimberly Kardashian Humphries West, to talk about how much they miss Khloé Kardashian, who is off enjoying her boyfriend, National Basketball Association player Tristan Thompson, in Cleveland, Ohio. Managing not to drown in their tremendously oversize overcoats, Kim and Kourtney express disappointment in themselves for how they treated Khloé on their Costa Rica vacation. To make it up to her, Kim thinks she and Kourt should whisk Khloé away to Palm Springs for a "Sister Trip." It would be a child-free and one-night-only event where the Royal Empresses of Calabasas could reconnect with one another and see old haunts from when they were kids visiting their grandparents in the far-away town.

Penelope, the one child who seems to always be around, doesn't like the idea of her mom and aunts going away and yells "No!" when Kim suggests her no-kids policy. Unable to stomach being chastised by a child, Kim looks at Penelope in shock, and then calmly tells Penelope she likes a freckle on her face that looks like a beauty mark. Chilling behavior. Kim's vacation planning was filmed on February 22, 2017.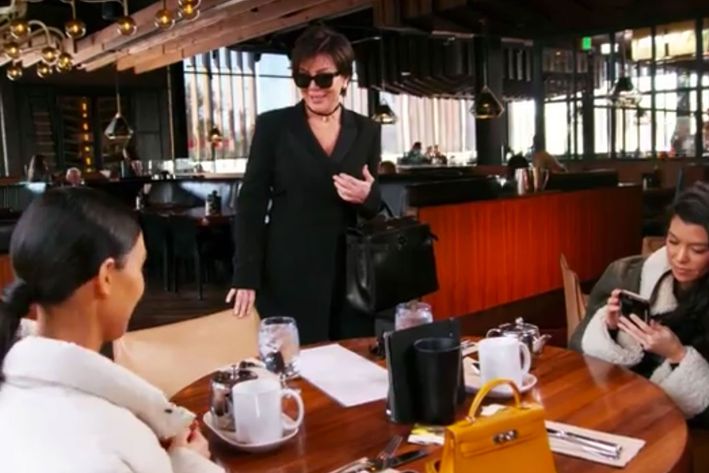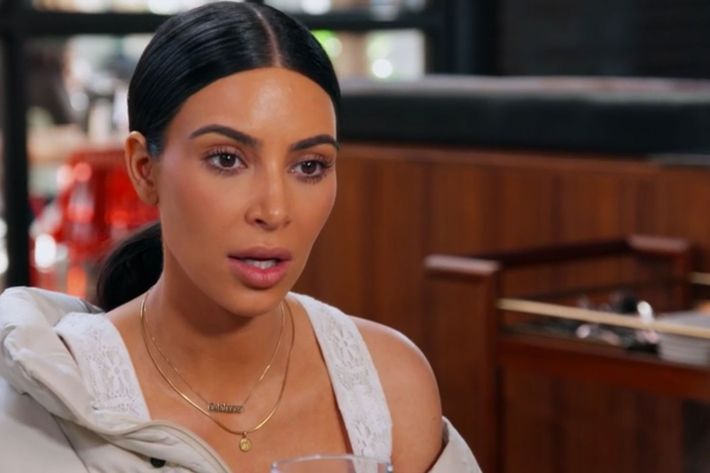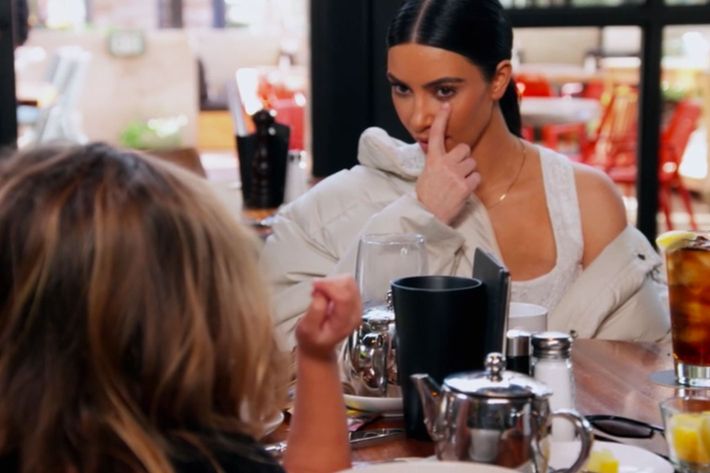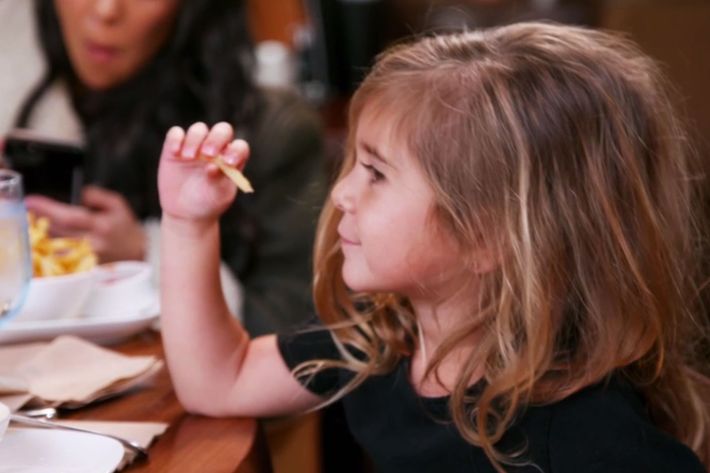 Scene 3:
Kim and Kourtney visit Kris Jenner at her home. While her daughters are present, Kris receives word from a law office that a client claiming to be "royalty" would like to purchase Kris Jenner's eggs in the hopes of creating elite offspring. The clients believe that Kris has superior genetics and therefore desire her genetic makeup for their lineage. Kim and Kourtney, knowing good and well the true nature of this idea, ask Kris if she even has any eggs to give, and tell their mother that this is ridiculous and most likely fake (especially after Kris reads the passage that asks her to get a medical examination to determine whether her eggs are still in fighting shape). An evaluation might not even be necessary, however, since Kris says she has 12 eggs literally chilling in the freezer. This egg conversation was filmed on February 21, 2017.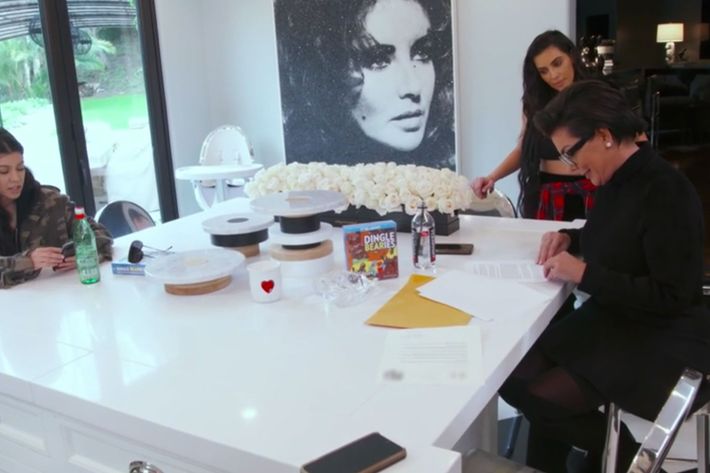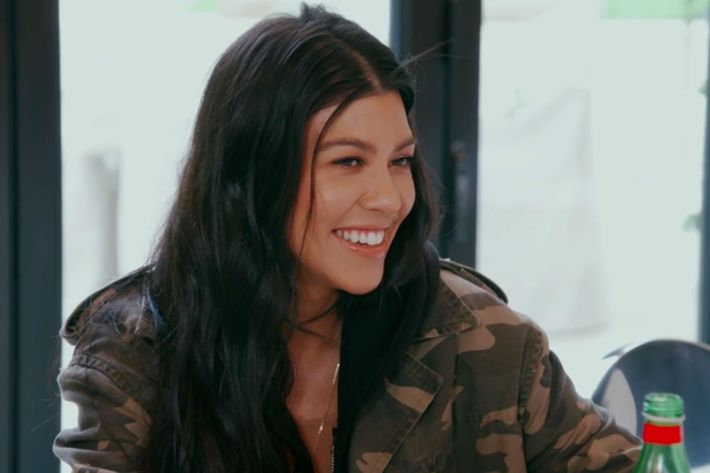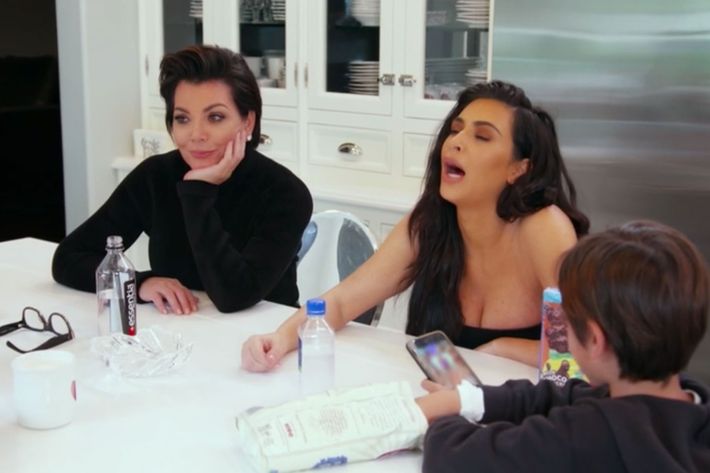 Scene 4:
Kourtney and Kim continue to make their rounds of Calabasas and stop at Khloé's house to invite her to Palm Springs. Khloé is hesitant to agree to a trip with her sisters because she's still agitated over Costa Rica and stressed about her already-limited time in Los Angeles (now that she's on the road a lot with boyfriend Tristan). Kim apologizes again for how they treated her in Costa Rica and promises her sister she won't be ignored, and guarantees that this trip will be a quick and effortless way for the sisters to have some pure fun. Plus, Kim says they can visit outlet malls and their grandparents' old house. Kourtney takes a different tack and says they can "Palm Springs–vibe it out." This is apparently enough convincing: Khloé ultimately agrees, which makes perfect sense — this scene was filmed on March 22, 2017, two and a half weeks after their trip on March 4.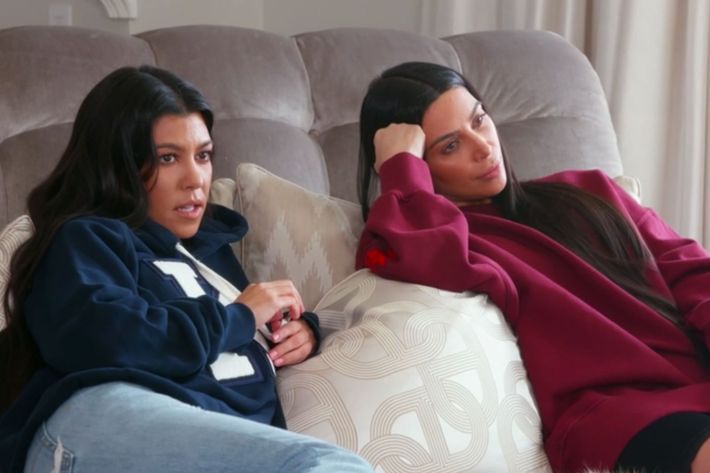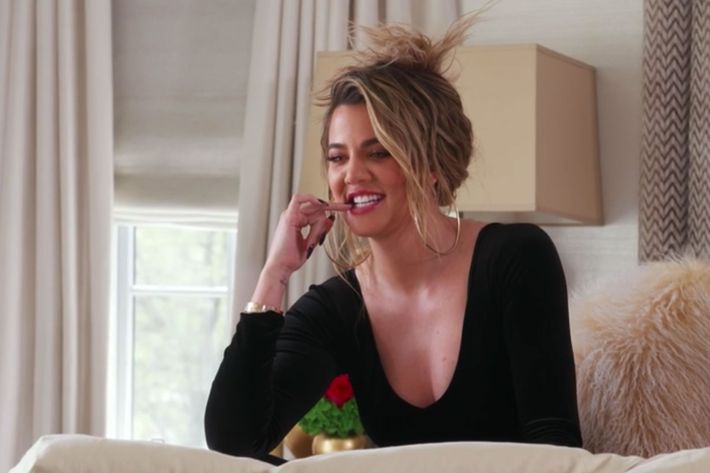 Scene 5:
Unwilling to sacrifice a paycheck by taking any days off, Kim and Kourtney return to Kris Jenner's house. Out of the blue and with no follow-up, Kris tells her girls that she may need a hip replacement, which Kim calls "some old-lady shit." Rob's also looking for a piece of that sweet television coin, and shows up to his mother's house with Dream Renée Kardashian. Never in the history of the series has an entire room lit up as much as it did when Dream is carried through Kris's kitchen doors. Every single person in the room asks to hold her, and she is literally drooled on by her fan-ly members, who, in that moment, couldn't find a chill in the Arctic.

After Kim calms down from Dream's entrance, she tells the family about North falling asleep on top of her the night prior and peeing all over them both. Kim says it was horrible because she had a fresh spray tan, which meant she couldn't wash off the pee without washing off the tan. Thus, she and her child slept covered in urine. Kim then asks Rob how he and Chyna are doing. They're not doing well, but they have been seeing a relationship coach who's trying to help them co-parent and potentially find their way back into a romantic partnership. Kris tells Rob that some people are "capable" and others aren't, but Rob tells Kris that she doesn't know what she's talking about, even though he's basically been saying the same thing about Chyna. Rob just wants to have a functional relationship with Chyna for Dream's sake. He does admit that if Dream weren't in the picture he wouldn't be trying to make things work with her at all. This scene was filmed on January 27, 2017.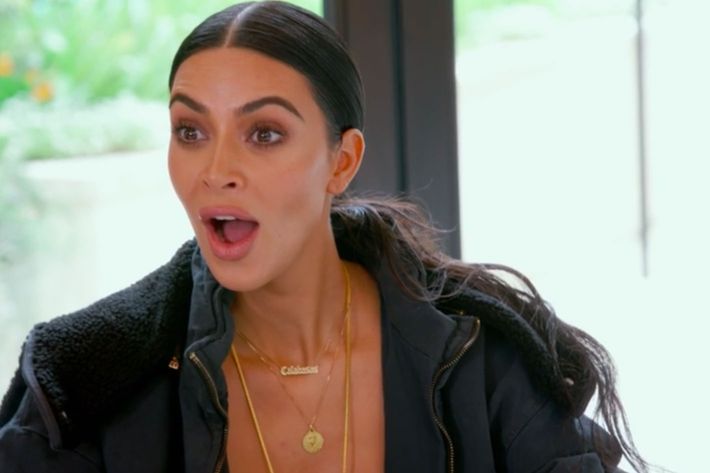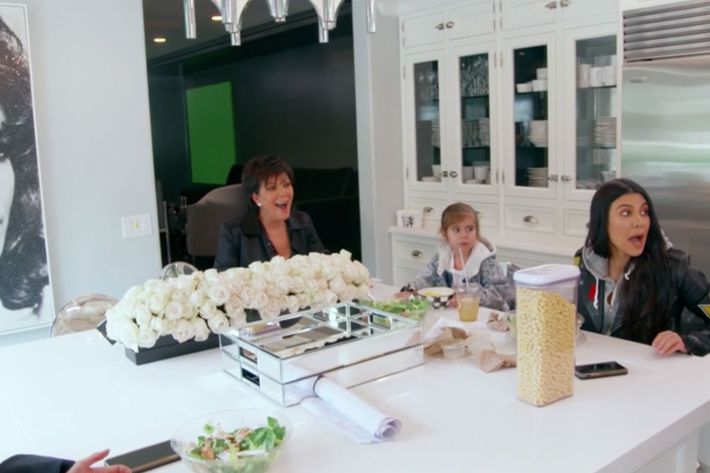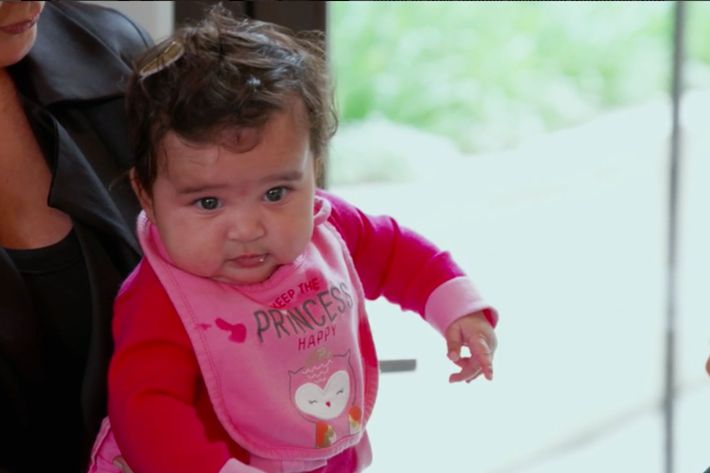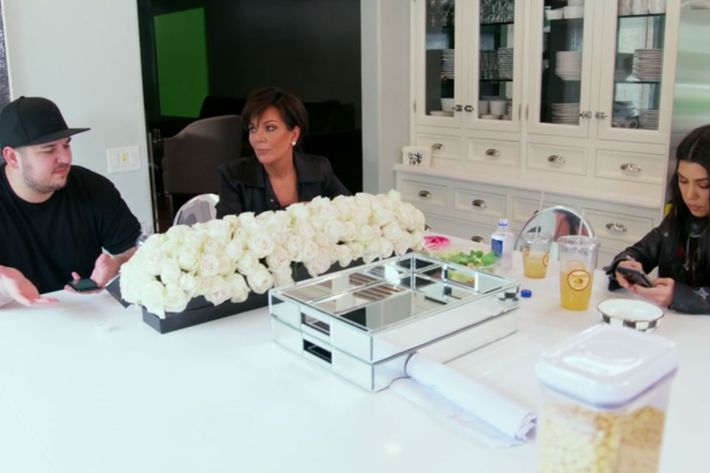 Scene 6:
The Kardashian sisters drive to Palm Springs with Kourtney manning the wheel. They want the trip to be paparazzi free, so they're driving to their destination in an unmarked car and making lots of U-turns. It's unclear why they choose Kourtney for this task, as it's universally known she's the worst driver of the three and Khloé's the best. Despite Kourtney's terrible driving skills, Kim, Khloé, and Kourtney reminisce along the way about pit stops of yore. In old home videos we see the girls as kids driven by their parents, reciting old Large Marge monologues from the Pee-Wee movies and asking — unrequitedly — to stop at the Dinosaurs. I'll go to my grave saying seeing them as kids "acting" is one of the top-ten cutest things I'll see in my lifetime. When the adult sisters seem genuinely so excited about finally stopping at the dinosaur-themed attraction they never got to go to as kids, it's beyond cute. The sisters take pics with the oversize creatures, and Kim tells the group that she'd like one of these dinosaurs in her backyard. This scene was filmed on March 4, 2017.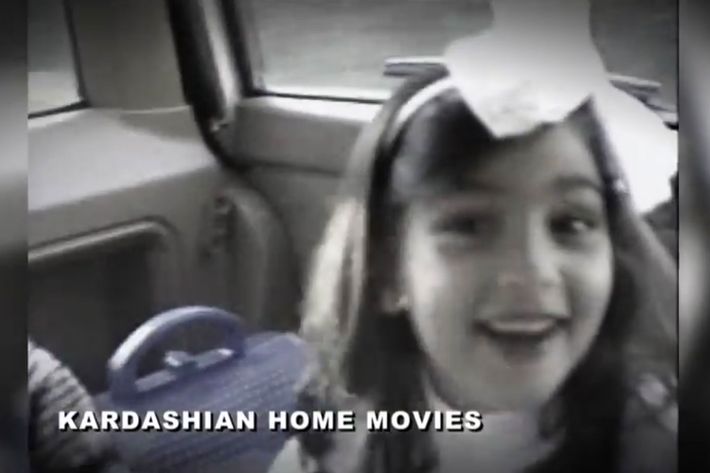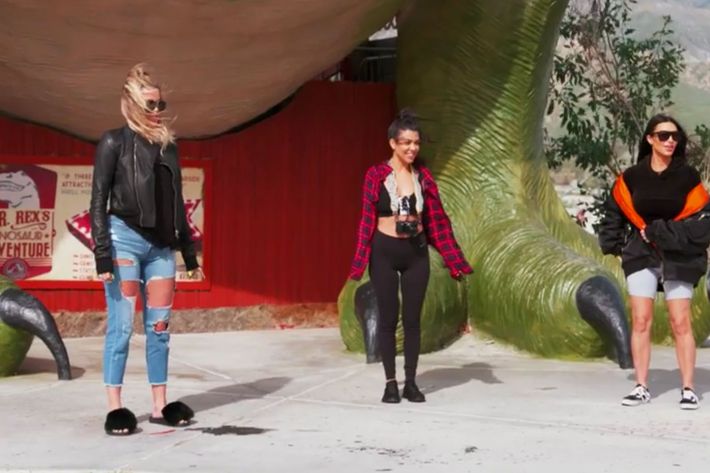 Scene 7:
Still at Kris's, Rob visits with his mother in her office and jokes about re-creating all of his sisters' sexy magazine poses. Since Kris doesn't want to stomach the thought, she redirects the conversation by asking Rob about seeing a life coach she was introduced to through an artist she met in Cannes. The artist was dropping off new art for the family and brought life coach Jamel Davenport with him, and because Kris thinks everything is serendipitous, she figured Jamel was brought into her life for her son's sake. Rob says he's not really into the whole life-coach vibe, but he's open to trying new things. Like Scene 5, this scene was filmed on February 27.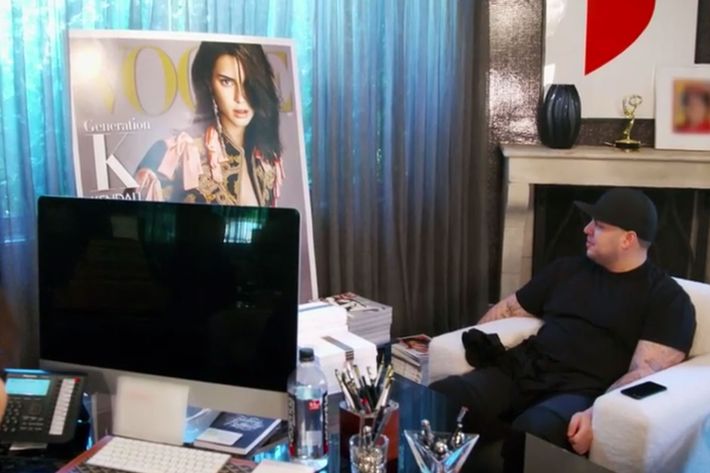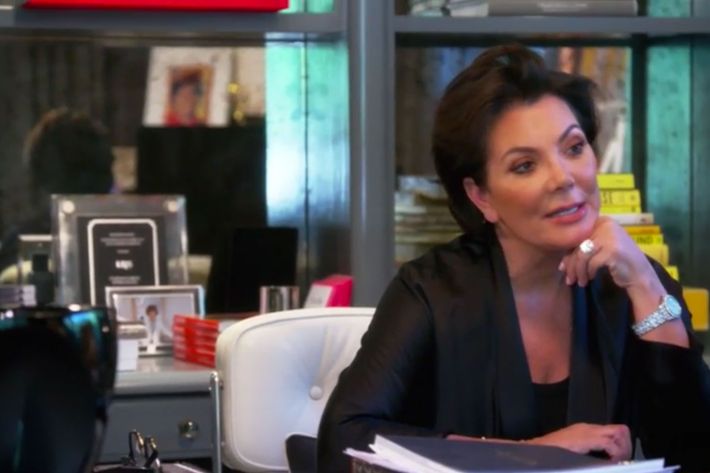 Scene 9:
Kris must have had Jamel stashed in her garage, because just moments after Rob agrees to meet with him, Jamel shows up at Kris Jenner's front door ready to life-coach away. Immediately, Jamel presents as a scam artist (like every other life coach) and is overly familiar with Rob. (Perhaps he got some intel from Blac Chyna, whom he was life-coaching just days before on February 5.) Swindler Jamel has been in the life-coaching business for 20 years and his work model involves just hanging out and giving "functional feedback." This loser and paid friend puts his model in action right away by saying he and Rob can break bread over a game of Madden. Sir Scam A Lot's scene was also filmed on February 27.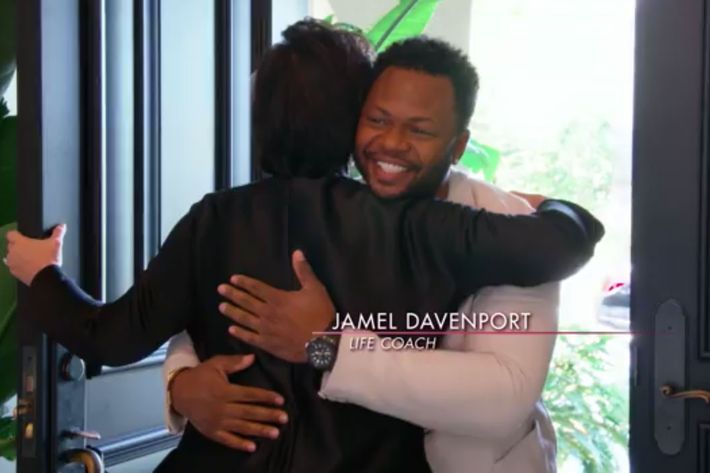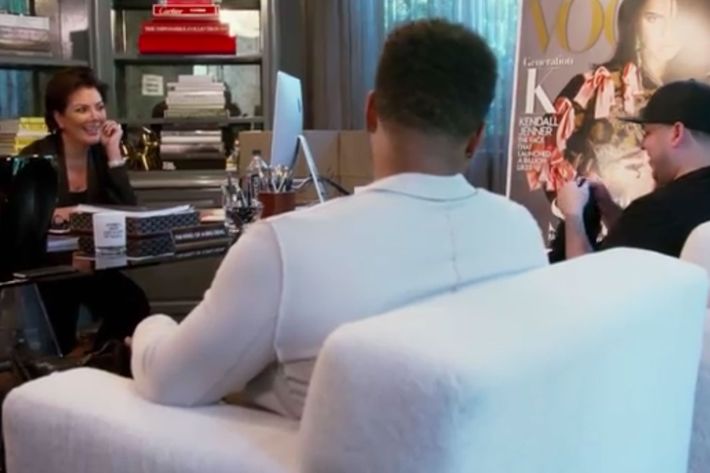 Scene 10:
The Kardashian sisters have finally made it all the way to Palm Springs, where they ditch their unmarked SUV for a classic Cadillac that doesn't work properly. On their way to go furniture shopping, the Cadillac breaks down and starts leaking oil, which forces Kim and Khloé to push the car for a bit while Kourtney eases onto the gas to get the car going again. While pushing, the sisters get honked at; they respond with a symphony of shut up's. After the car's issues are fixed, the sisters resume riding in their death trap. Like Scene 6, this scene was filmed on March 4.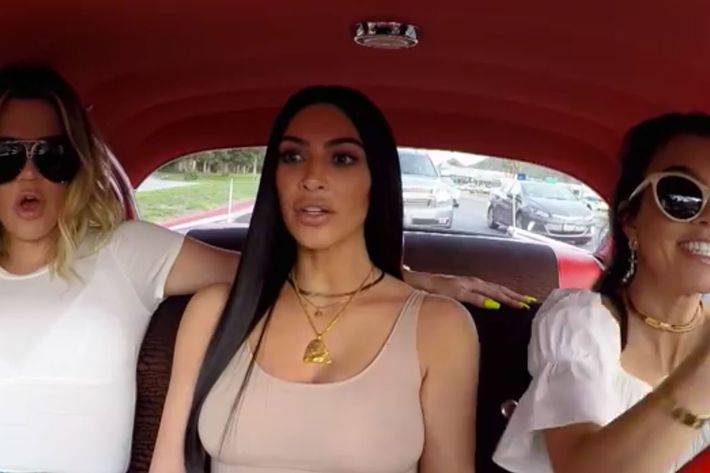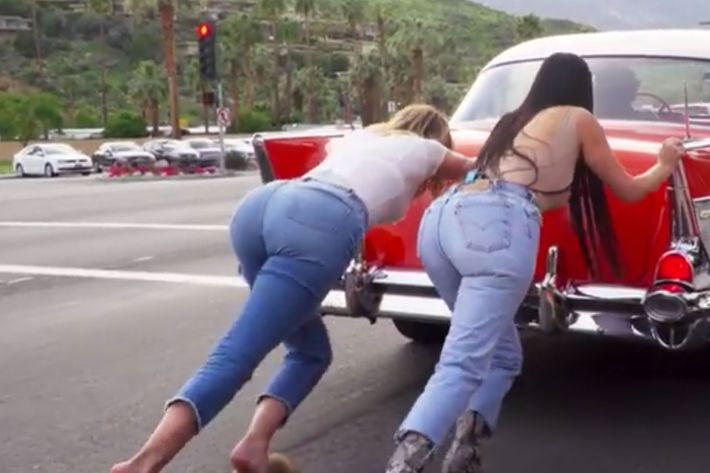 Scene 12:
By the grace of God, the sisters make it to the furniture store. While looking at vintage glasses, Khloé realizes that her sisters have left her all alone to talk to herself. Upset but not surprised, Khloé begins talking to Cornelius, Rob's childhood imaginary friend. And, because this episode is filled with stunts and bits, we're forced to watch "Cornelius" do an interview on-camera with Khloé and interact with Khloé in the furniture store. We're even subjected to Khloé calling Rob to talk about Cornelius. It's sad that a woman in her 30s is being subjected to these shenanigans, but she's the one getting paid the big bucks — who am I to criticize her journey? This scene was also filmed on March 4 and allegedly sent to Emmy voters on March 5.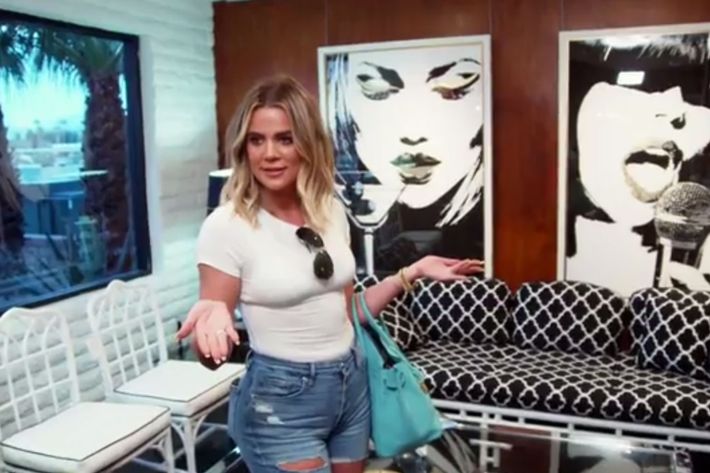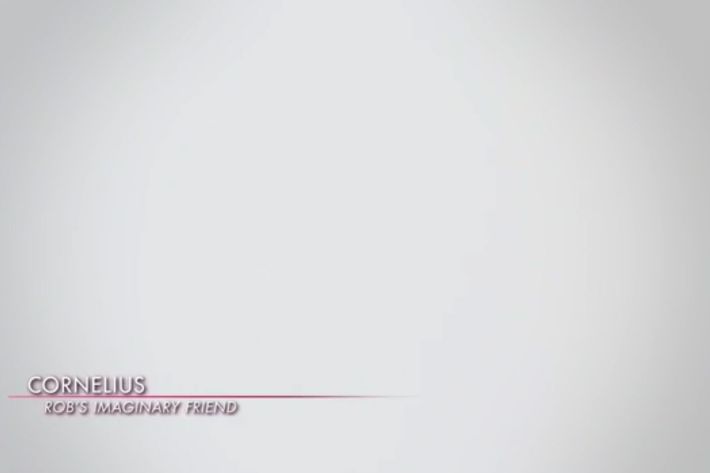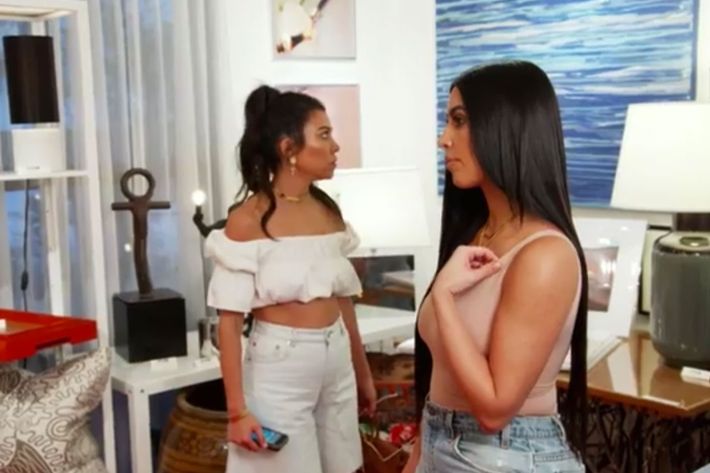 Scene 14:
After shopping, the sisters head to their hotel to drink Champagne, play Heads Up, and film each other doing funny dances on their beds. They're honestly having the time of their little lives, cracking themselves up into a fit of hysterics that's rarely caught on-camera. Khloé even tells the viewing audience that she's lucky to count her sisters as her best friends. Again, this scene was filmed on March 4.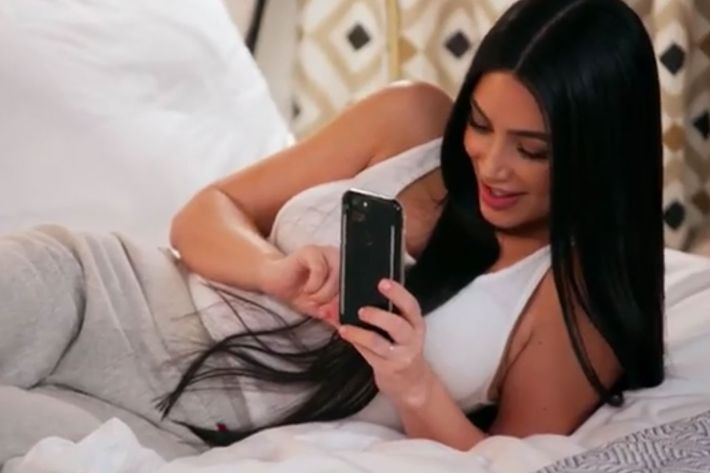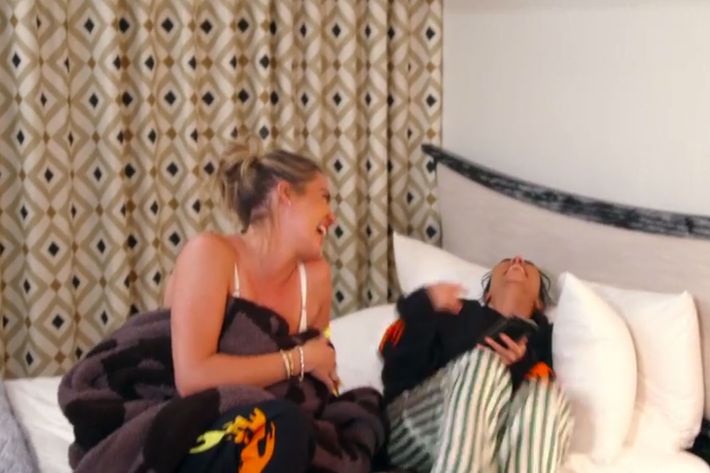 Scene 16:
On their second and final day in Palm Springs, the sisters visit their grandparent's old home. They didn't notify the current tenant before their arrival, but in a shocking twist he's already mic'd up and camera-ready when they greet him at his doorstep. He already knows who the girls are — he's known in the area for buying the Kardashians' old home. The sisters tour the house, bringing up old memories (like noting the room Khloé started her period in) as they walk around; with each memory comes a clip from old Kardashian home videos. This scene was filmed on March 5, 2017.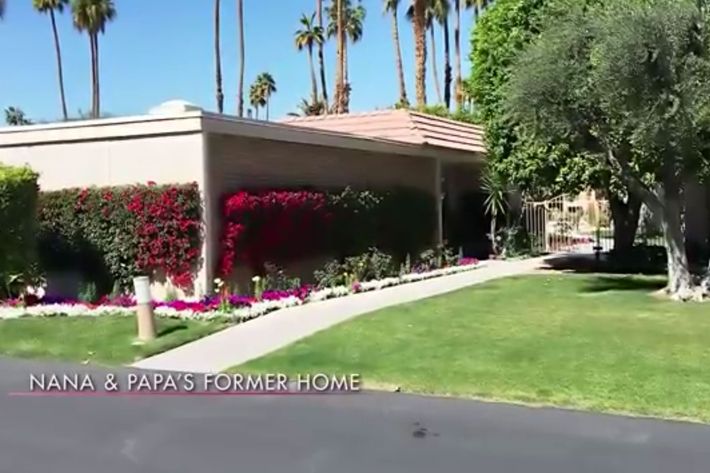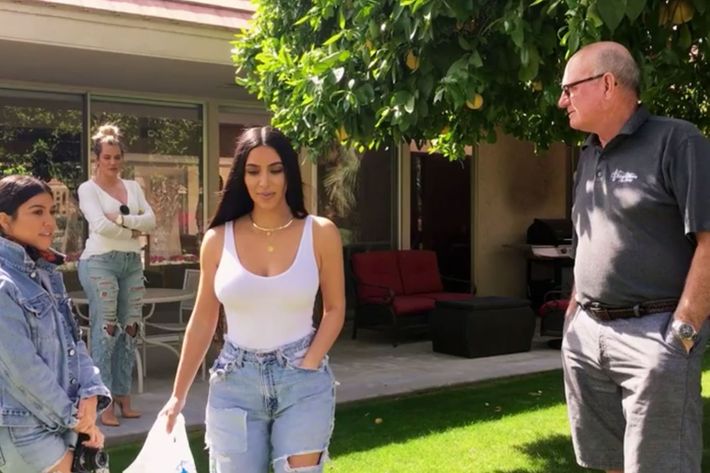 Scene 17:
Once the sisters make it back to Los Angeles, Kim and Kourtney visit with Kris, who's got huge news about her eggs. She went to a consultation with the family's fertility specialist and learned that she does not have any more eggs. However, she could still potentially carry a child if the egg were fertilized outside of her womb and then implanted — which means she could be a surrogate for Kim and Kanye's third child. Kim is shocked, but lets Kris down easy by telling her that Kourtney has first dibs on surrogacy because she's already offered. Kris doesn't seem that upset, since carrying a child could still be supremely dangerous for a woman of 61 who is in need of a hip replacement. This scene was filmed on February 27, just like Scene 5.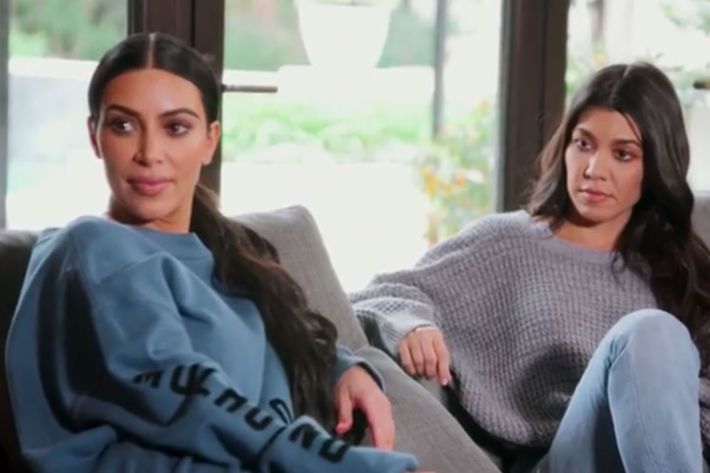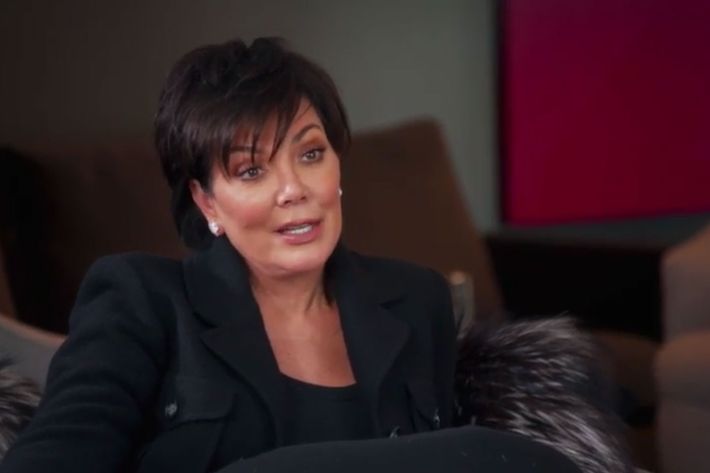 We've reached the end of this week's journey, dolls, but join me next week for another #KUWTKE recap of Keeping Up With Kris Jenner's Eggs. #FIREJAMEL