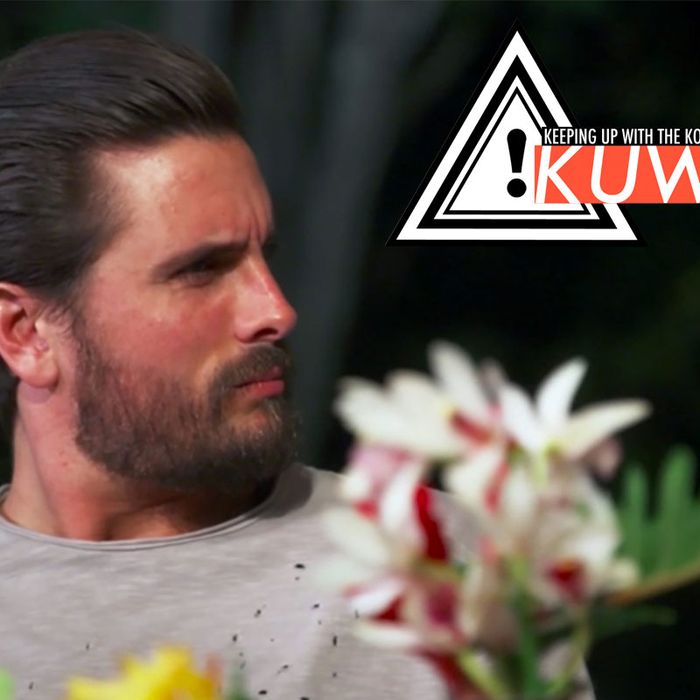 On this week's episode of Keeping Up With the Kardashians, our A plot is the family's Costa Rica trip and our B plot is Scott's shady behavior. I haven't owned a watch in a decade, but I'm positive it's time to get to it — #LEGGO.
Scene 1:
Picking up exactly where we left off last week, Kim Kardashian West stalks around a Dubai hotel, screaming for Scott Disick's "tramp" to follow security and get up out of that hotel. Only after Kim is satisfied with the insults she's hurled this young woman's way, including calling her "ghetto," does she finally address Scott. Standing at the top of a spiral staircase, Kim looks down at him and calmly disinvites him to their desert trip. Scott doesn't really understand why he's being punished for mimicking Kourtney's behavior by hooking up with other people. It's a fair question, and Kim understands the hypocrisy — but she's pissed he tried to get her to sympathize by evoking Kourtney's actions.
Before Scott can explain himself further, Kim leaves with her friends. In the van, Kim calls Kanye, who is half-asleep. She brags to him about how she went off on the chick she found, and even proudly calls herself "ghetto." It's 4 a.m. in Los Angeles, so Kim tells Kanye she'll call him again later. High on a good old-fashioned tell-off, Kim readies herself to call Kourtney but before she can, her friends remind her of the time. Kim then gets distracted by her smelly armpits and has the greatest assistant of all time, Steph Shep, smell them. Steph thinks Kim's underarms smell great.
Finally at the desert, Kim poses with a bird and rides ATVs through sand dunes. Like the final scene in last week's episode, this scene was filmed on January 14, 2017.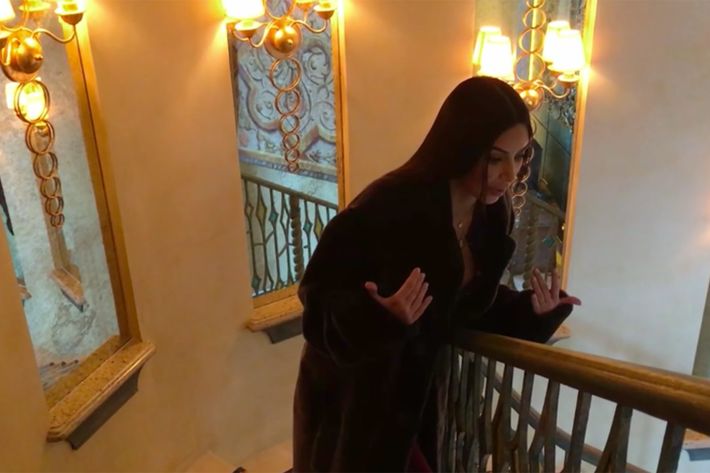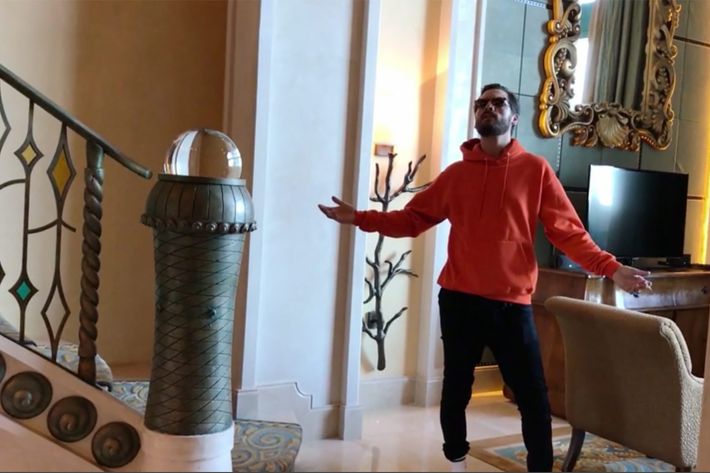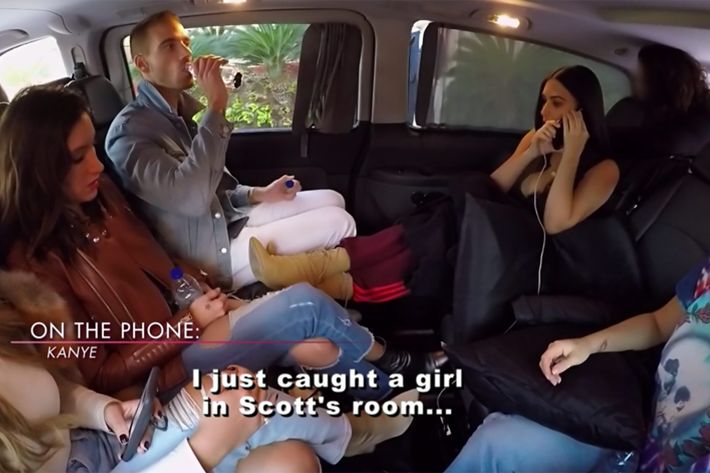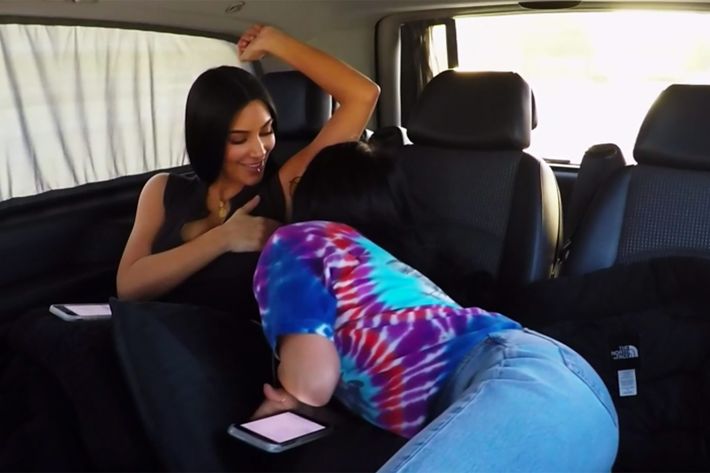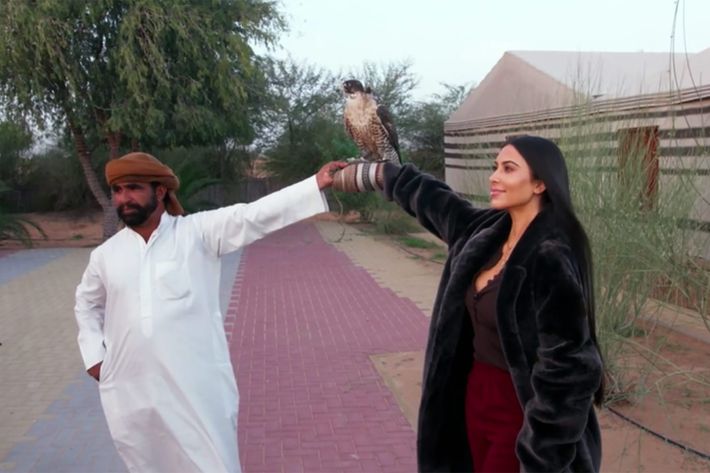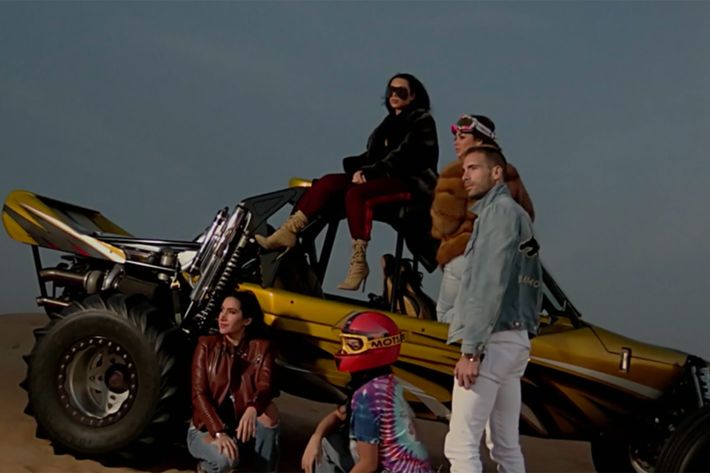 Scene 2:
Back from the desert, Kim is finally able to call Kourtney, who isn't one bit bothered by Scott's behavior. Listening to her sister, Kim rethinks her fit of rage and now feels bad for the woman, who she thinks is probably "traumatized." Kourtney makes Kim feel better by saying she'd have done the same thing if it were Kanye, and admits that she and Scott need to find a better way to separate their lives so nothing like this happens ever again. Like Scene 1, this phone call was filmed on January 14, 2017.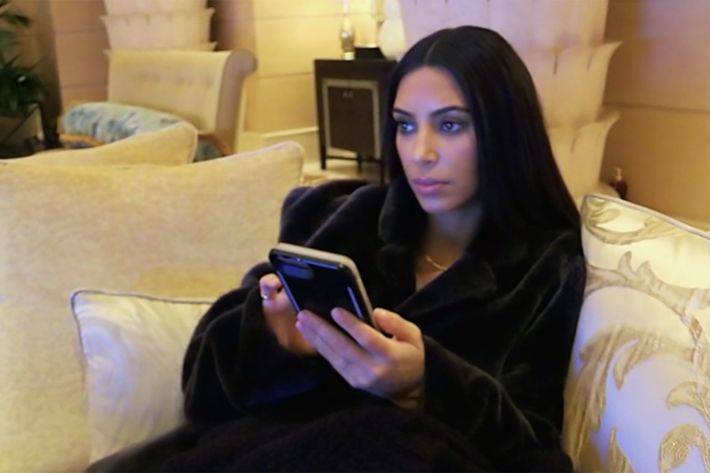 Scene 4:
The following day, an anxious Kim is summoned by Scott. Kim says she hates confrontation and doesn't know what to say to him. Luckily for her, Scott does most of the talking. He's already spoken to Kourtney, and it seems as though their conversation made him finally realize that she has no intentions of getting back together with him anytime soon. Scott admits to not being able to sleep because his love for Kourtney is so strong and stressful; to occupy his time and mind, he says, he has no ideas beyond hooking up with other women or turning to alcohol. He also complains that Kourtney only ever reaches out when she has a problem with him, which doesn't help his stress levels. Kim nods her head along with what Scott is saying, and seems to be satisfied with the almost-apology (but definite excuse) for his behavior. This scene was filmed on January 15, 2017.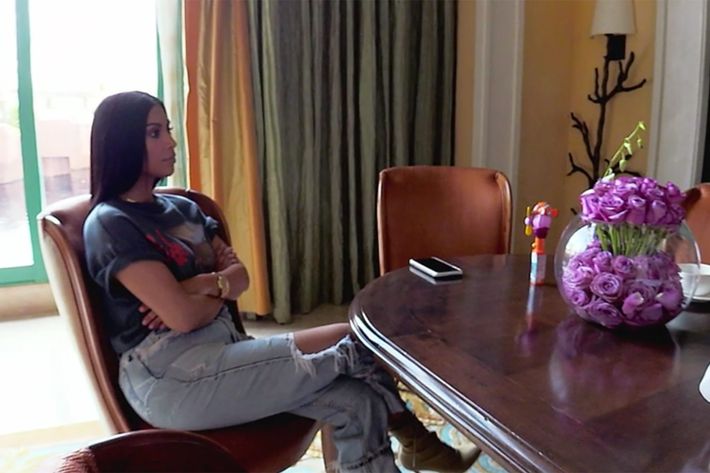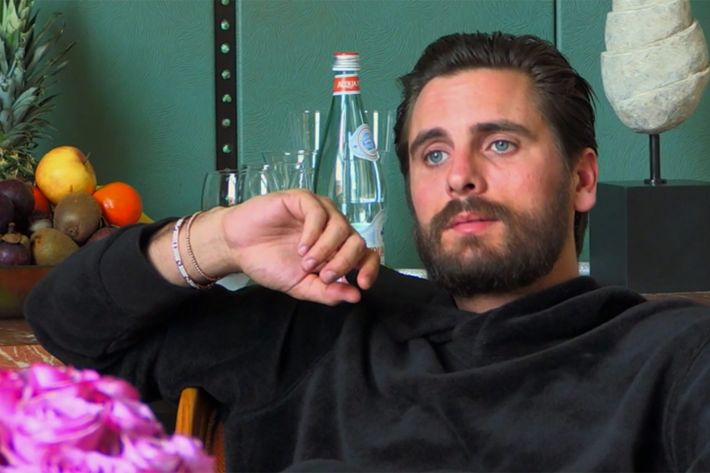 Scene 5:
Back in her hometown of Los Angeles, California, Kim heads to lunch with her husband Kanye West and the Harlot of Hollywood (in Scott's eyes), Kourtney Kardashian. Kanye isn't so much a part of the scene, but more of an audience to the two sisters literally sipping and spilling tea. Before discussing the father of her children, Kourtney teaches Kim and Kanye about matcha. Now addressing the subject of Scott, Kourtney repeats that she doesn't care about his behavior because she thinks it's best when she does her thing, he does his, and they come together for the kids. She thinks it's ideal for a man, and ideal for her kids. Kourtney also tells Kim that Scott won't be drinking anymore now that he's back in L.A., and that the Dubai mishap was a "slip-up."
Bored by all the Scott talk, Kim shows Kourtney a tiny dog she wants to purchase. Kourtney doesn't like the animal, saying that whatever Kim showed her will die soon because it's so small. Kanye, who has been silent, finally chimes in and asks if Pomeranians are called Pomeranians because they can fit in the palm of your hand. Kourtney, who I now realize loves Kanye so much because he makes her feel like a Pulitzer Prize winner, laughs in his face and just says, "No." This scene was filmed on January 18, 2017.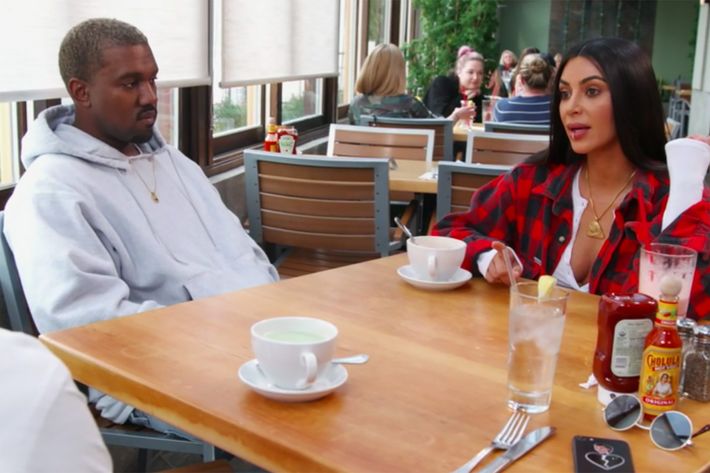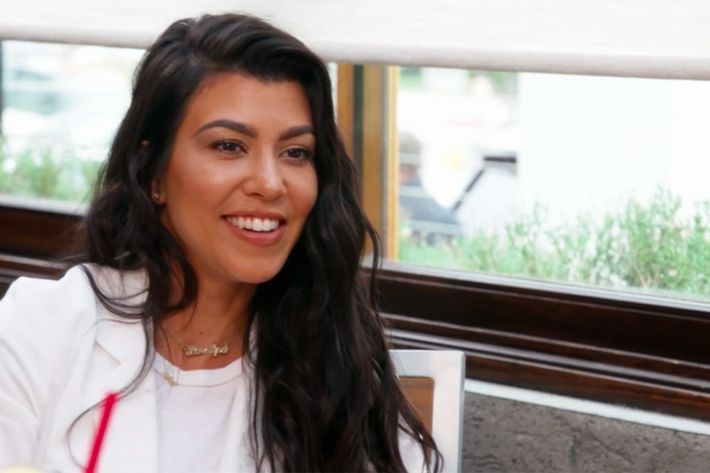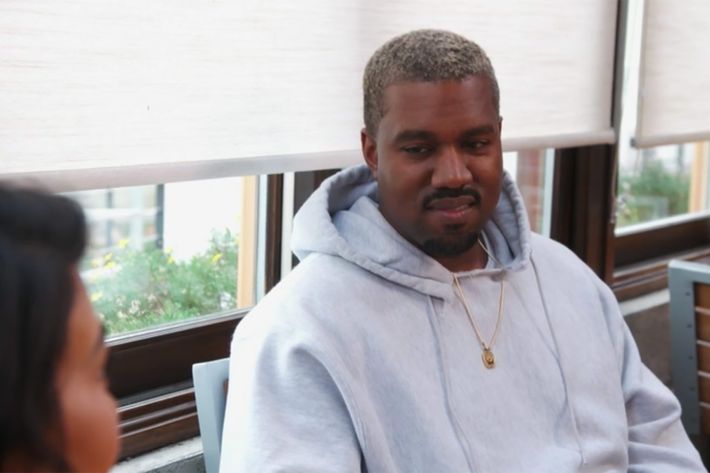 Scene 8:
In two separate private jets, the Kardashian, Jenner, and Disick families, along with their guests, head to Costa Rica for the family's annual vacation. In the first private jet is Kourtney, Scott, and their kids. Scott, fresh off of his Dubai scandal, managed to maintain his invite. Kourtney thought it was the right thing to do since he was invited before Dubai; plus, she thinks it's important for him to spend quality time with his kids. Kourtney says all of this while consistently giving Scott the side-eye when he's anywhere near a child of hers.
While Kourtney keeps a watchful eye on the father of her children, we get a glimpse inside the other private jet. This jet carries Kris Jenner, head of security Corey Gamble, Kim Kardashian West, North West, Saint West, Khloé Kardashian, Kylie Jenner, Tyga, and his son with Blac Chyna, King. Kim tells Kylie and Tyga that Kanye is having major FOMO and that he almost decided to come. Kris, on the other hand, is wishing she weren't on the trip. She's still emotional over Caitlyn Jenner's book and is "not okay." This scene, sponsored by JetLux, was filmed on January 26, 2017.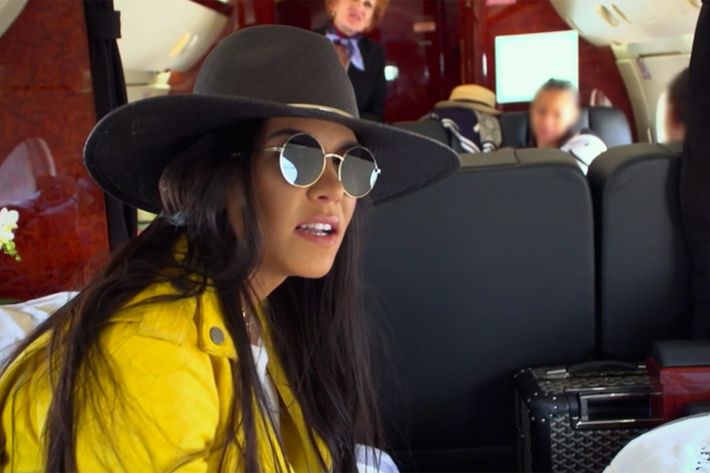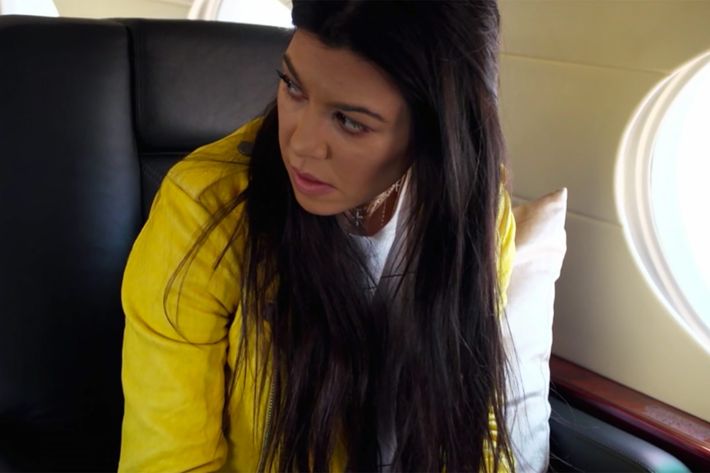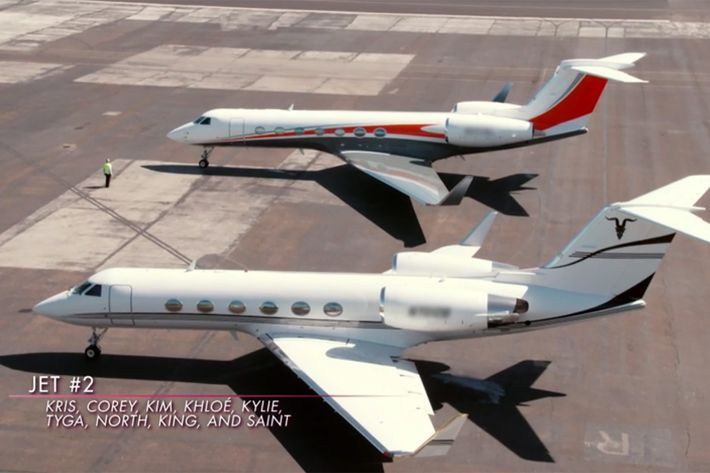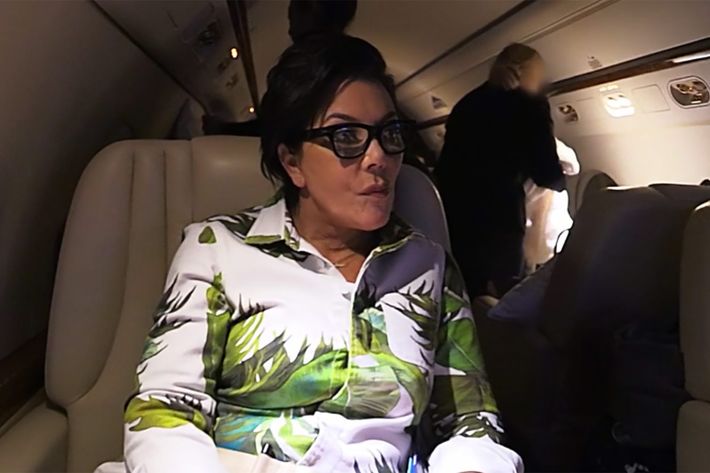 Scene 10:
The family lands in Costa Rica, and heads to the massive villa that Khloé booked for all of them. She's planned the entire vacation and just wants the family to be super close the entire time. As a surprise, she arranged for fireworks to greet the family upon arrival. The kids are absolutely enamored, while Kylie and Tyga appear to be just waiting for the right time to shake the rest of the fam and bone. Khloé's also arranged a dinner, which only Kris, Corey, Scott, and Kourtney attend. Scott doesn't stay long because he's staying in a hotel down the street from the villa, which he explains by saying he can't handle staying under the same roof as the love of his life when he can't sleep with her.
During dinner, Kris tells Khloé that she wants to do absolutely nothing on the trip, which annoys Khloé, who arranged for everyone to do everything together because the point of vacation is to be actively doing something all of the time. Kris doesn't care, and says that vacations mean something different when you're 61. Khloé then gets a phone call from Kylie, who's just taken over Khloé's room for herself and Tyga because the space is more romantic. Khloé calls them "assholes" but allows the switch to happen. Like Scene 8, this scene was filmed on January 26, 2017.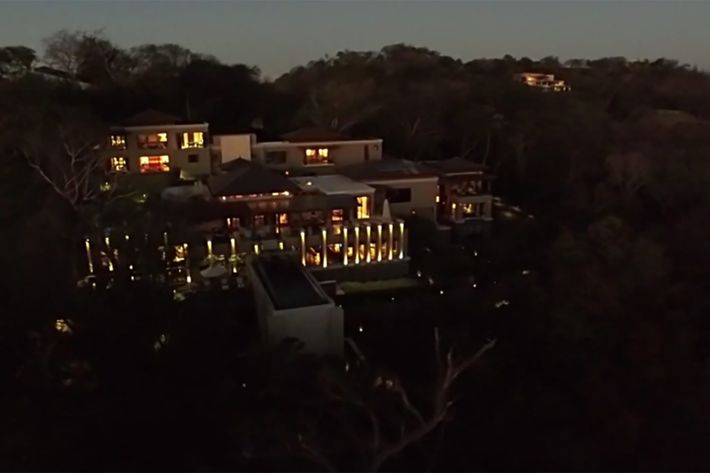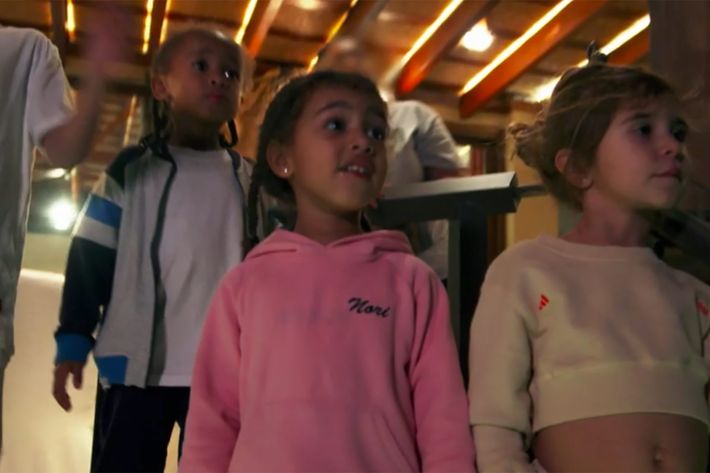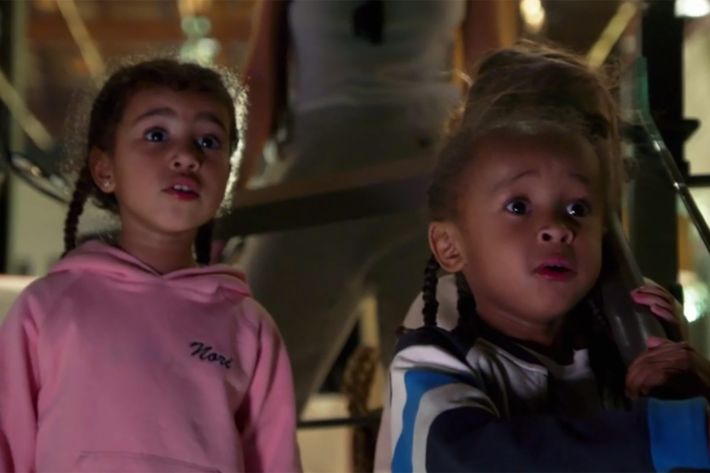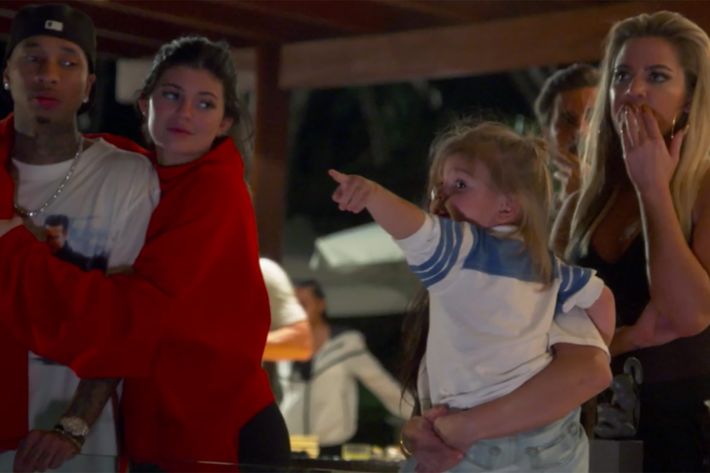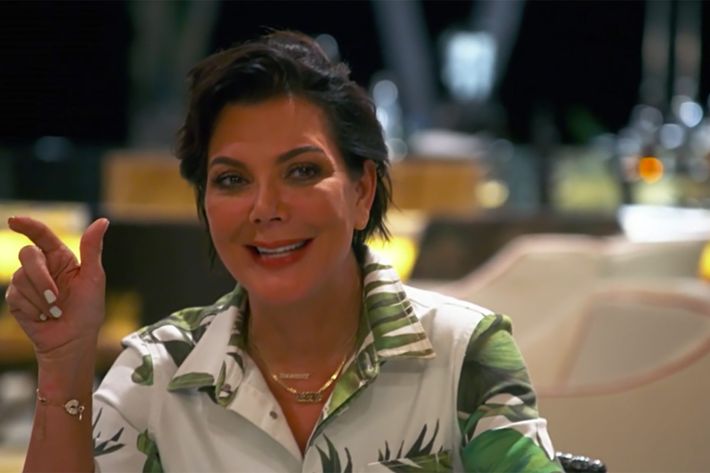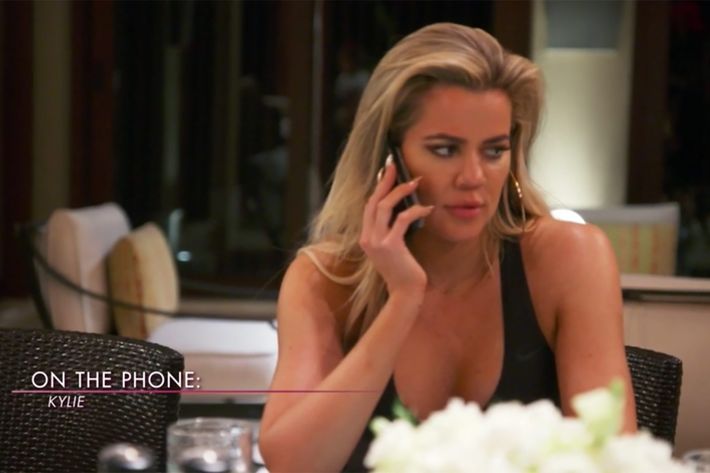 Scene 11:
For their first full day in Costa Rica, Khloé wakes up everyone via intercom, while King rests on her lap and Tyga and Kylie look on like two tired parents. After doing her wake-up duties, Khloé heads outside for breakfast in a completely different look. She's joined for the morning meal by Kris Jenner and Corey Gamble, who prefer to eat at a table entirely separate from Khloé's. Less than 24 hours into her vacation, Khloé's so annoyed that she rests a knife on the side of her forehead, but decides to finally join her mom. Kris asks about Khloé's boyfriend, Tristan Thompson, wondering if Khloé would ever bring him on a family vacation. Khloé says she would, but it would have to be a "private" family vacation without cameras. Well, if that's how you feel Khloé, why are we even playing this game?! This scene was filmed on the 30th and the 27th of January 2017.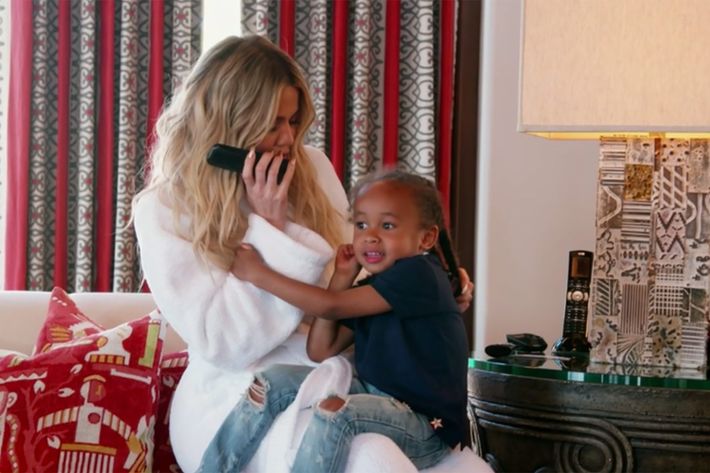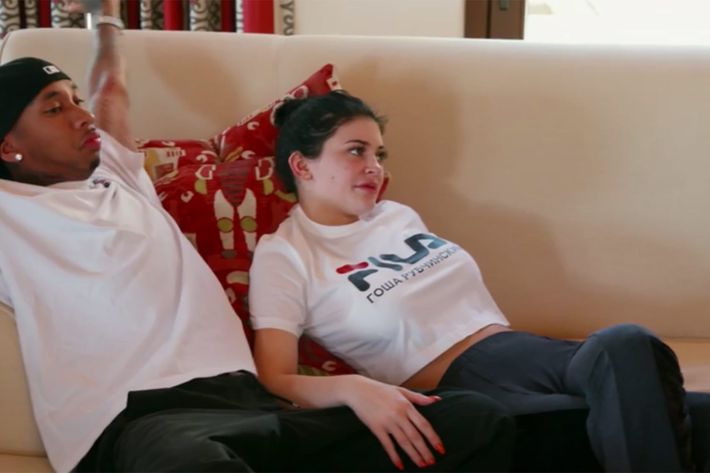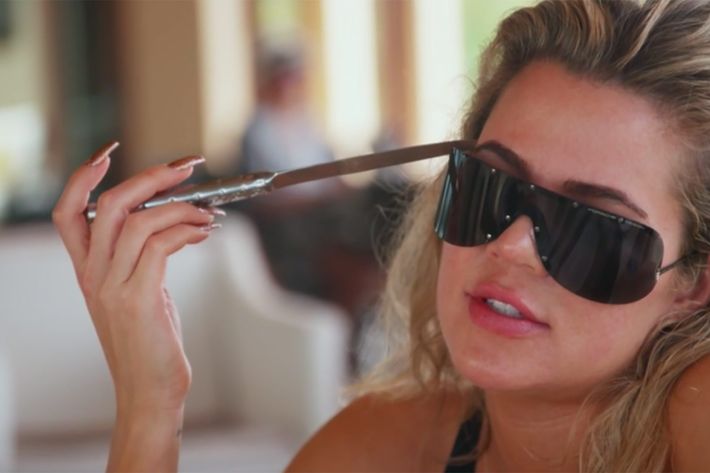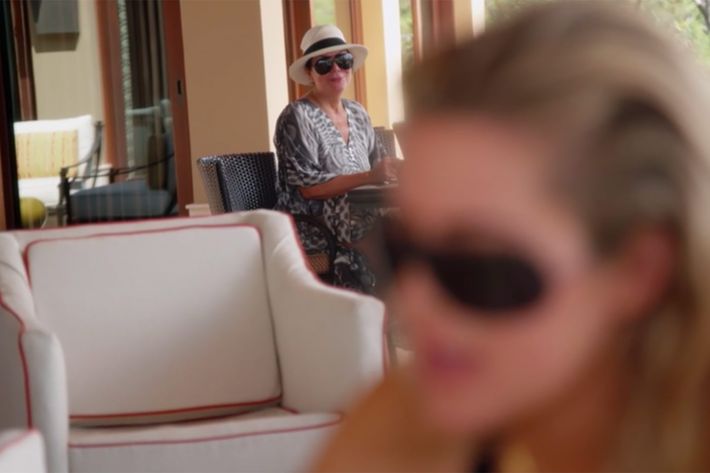 Scene 12:
Later that day, Kourtney, Kim, and Khloé relax in bed. Corey comes in to suggest that they do this relaxation thing more often, but maybe make it a sister slumber party sans phones. The sisters think that's a good idea, and agree to do that sometime in the future. Scott, who's redder than a sunburnt Satan, joins the fun. He heads directly to Kourtney's side of the bed, cuddling and kissing her, much to the discomfort of everyone in the room. Because Scott aggressively pisses off the family later on and is nowhere to be seen for the rest of their Costa Rican vacation, this scene was filmed on January 27, 2016, the only full day Scott spent with the family in Costa Rica.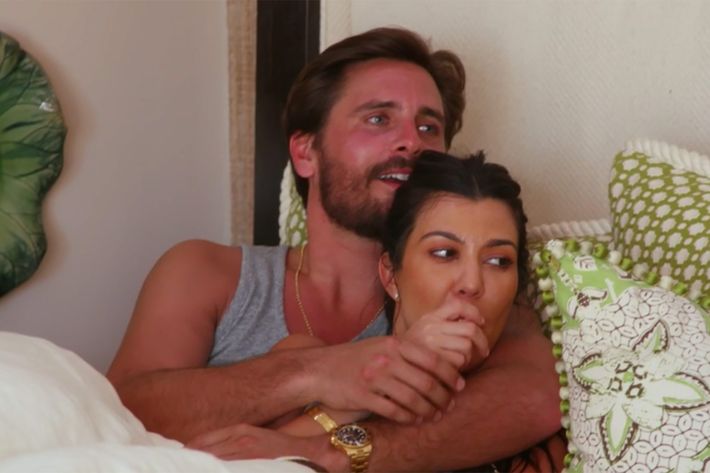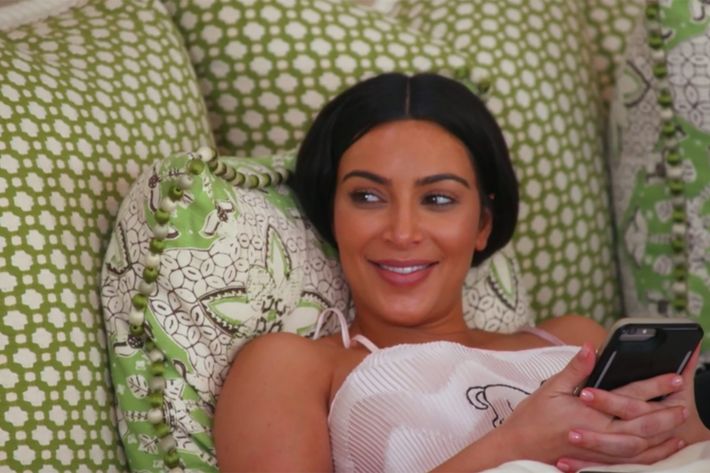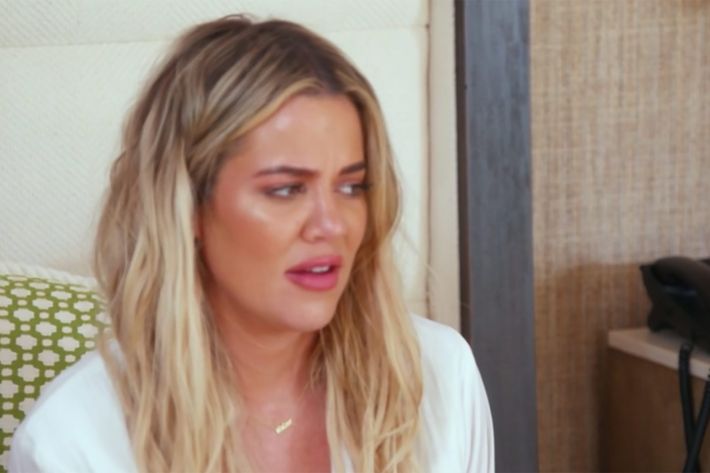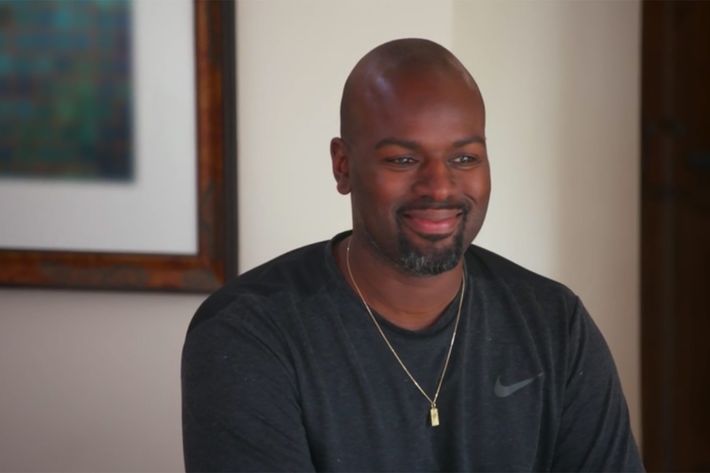 Scene 15:
It's nighttime in Costa Rica, and Kim Kardashian West is holding a coven meeting in her room. She's gotten intel from assistant Steph Shep: Scott Disick's brought a woman named Chelsea to Costa Rica. The woman in question was apparently trying to get past security to Scott's room, so the security team called Steph, who immediately told Kim. They've deduced that this is the real reason why Scott is staying in a hotel away from the family, which makes his whole entire existence even more disgusting.
Kim tells Khloé the news first, who can't settle on anger or amusement. Then the two of them tell Kourtney, who is stunned into smiling and pretending that she's okay with the news. She does say that this is "hurtful" and "disrespectful"; Kim calls him a "loser." The sisters aren't shocked to hear Scott is seeing this woman, but they are shocked that he's unable to keep his junk tucked away during a four-day trip with his children. Once they tell Kris, she remains calm as well, and just asks Kourtney how she wants to proceed. Oddly enough, they're all about to head to Scott's hotel for dinner, and instead of bailing, they decide to go. Kourtney doesn't want a confrontation, but her sisters do. Kim and Khloé basically say it's not Kourtney's decision — they're ready for war and want answers from Scott. This scene was filmed on January 27, 2017.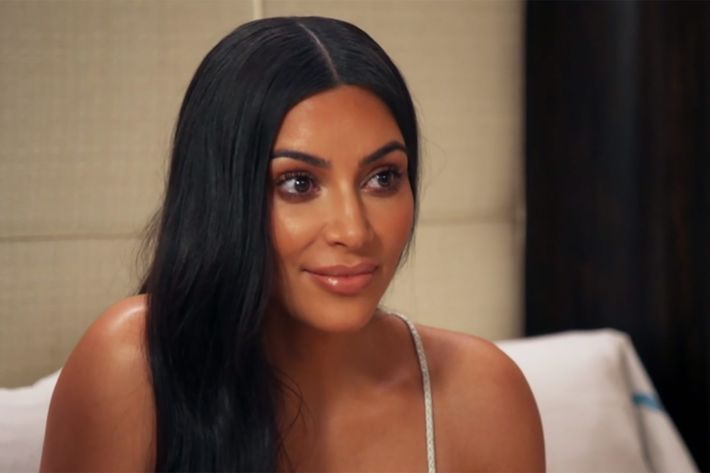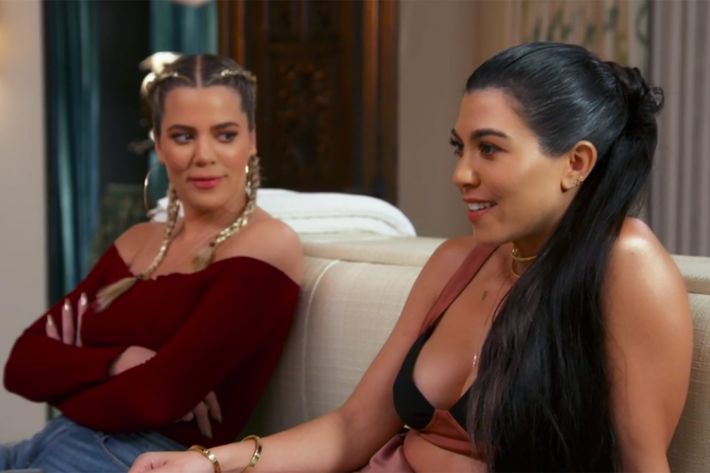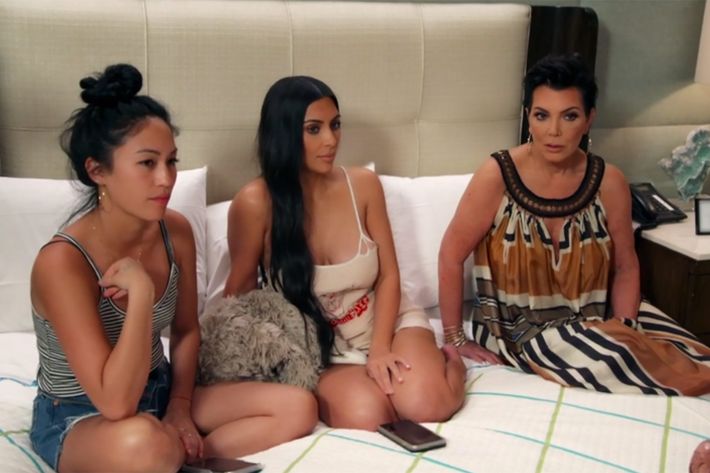 Scene 16:
At Scott's hotel, Kris, Corey, Kourtney, Kim, and Khloé sit patiently, waiting for Scott to show up. Possibly losing her mind, Kourtney yells that "GOD IS FUCKING GOOD!" She's decided to see this as a sign that she needs to drop Scott for good and replace him with someone who has better morals and can be a legitimate role model for her kids. She says that removing him from her life is the only option.
When Scott walks up, Kourtney reminds her sisters not to cause a scene. Scott's extremely uncomfortable as he takes a #SeatAtTheTable, and after some small talk and a fire dance, Kim smirks as she readies herself for blast off. With a sly grin, she turns to Khloé and asks, "Did you hear what Chelsea said?" sparking a conversation about Chelsea Clinton and Chelsea Handler that results in her saying "Chelsea" 1,000 times and making Scott so uncomfortable I actually said "cringe" out loud to myself. Finally, Kris asks the table to cut the shit, turns to Scott, looks him straight in his beady eyes, and asks him if it's true he brought a woman out to Costa Rica. Scott says nothing, and the screen flashes to black with the third "To Be Continued …" ending of the season. Like the scene prior, this scene was filmed on January 27.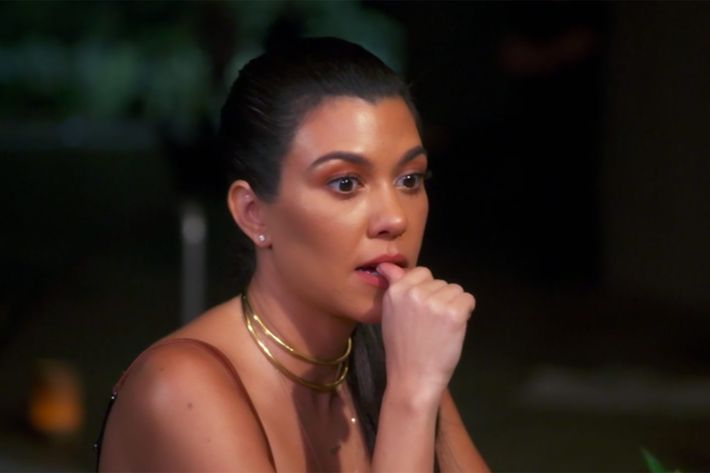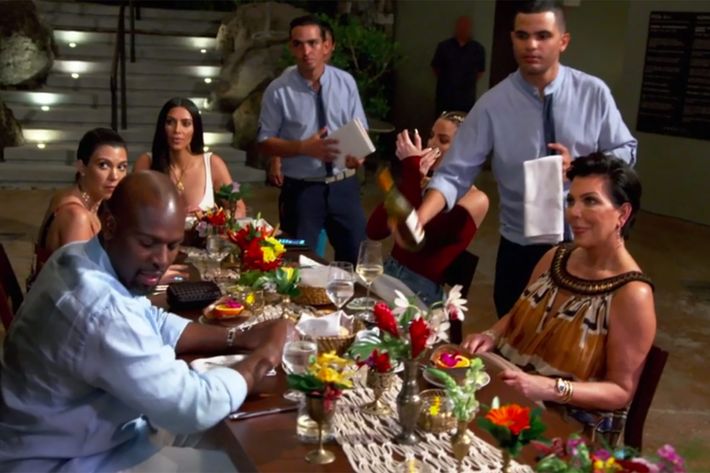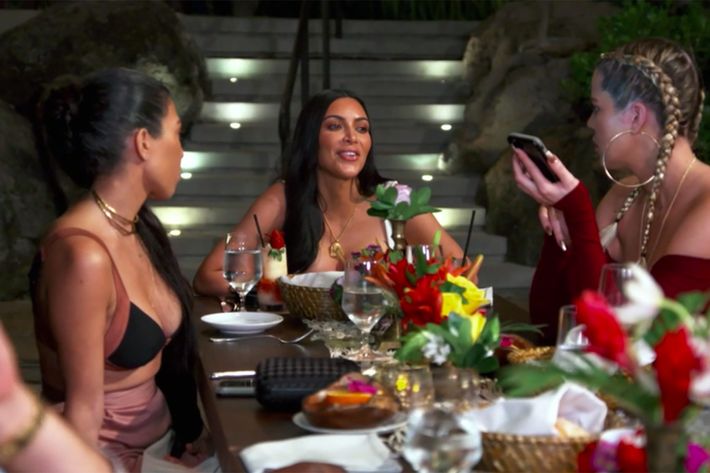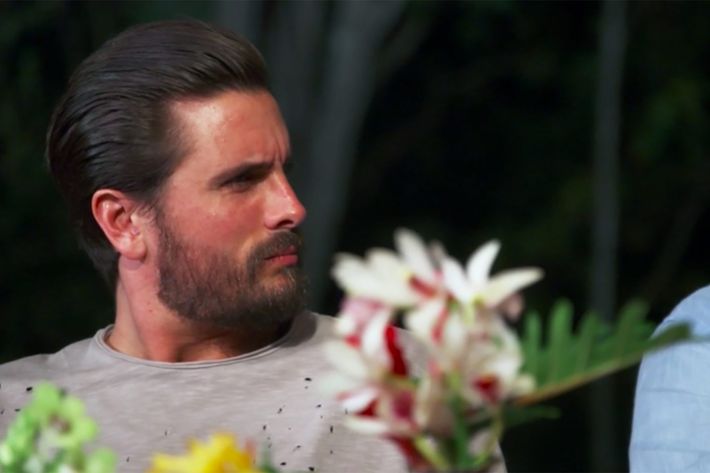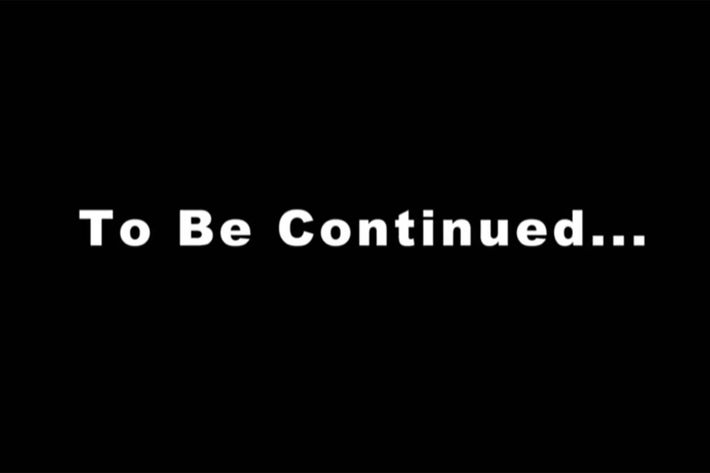 Dolls, that's all for this week, but I'll give you one guess about where you can find me in seven days. Come back then for another #KUWTKE recap of Keeping Up With Chelsea. #RIPKYGA